FBI raids Jul 10 & 25
FBI Domestic Terrorism Training Guides on Anarchists, Environmentalists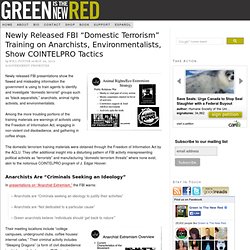 Newly released FBI presentations show the flawed and misleading information the government is using to train agents to identify and investigate "domestic terrorist" groups such as "black separatists," anarchists, animal rights activists, and environmentalists.
May Day investigation continuing | SPD Blotter
Seattle Police threaten possible new warrants after today's SWAT raid Details Category: Repression Created on Tuesday, 10 July 2012 14:59 Written by Detective Mark Jamieson SWAT picture from Seattle Police website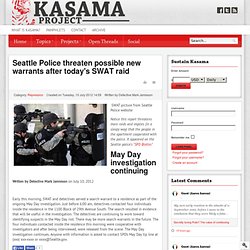 Seattle Police threaten possible new warrants after today's SWAT raid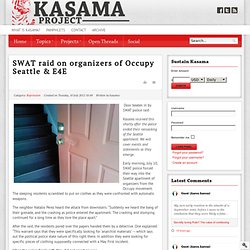 Details Category: Repression Created on Tuesday, 10 July 2012 10:49 Written by kasama Door beaten in by SWAT police raid. Kasama received this shortly after the police ended their ransacking of the Seattle apartment.
SWAT raid on organizers of Occupy Seattle & E4E
Seattle May Day violence, May 1, 2012. #seamayday
SEATTLE - A group of May Day protesters marched through Seattle's streets Tuesday, many dressed in black clothing and wearing masks and face makeup.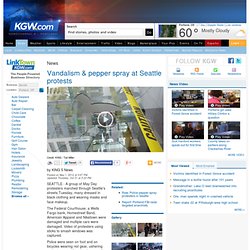 Vandalism & pepper spray at Seattle protests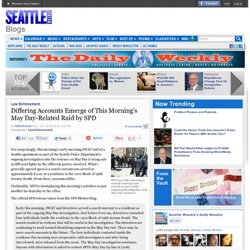 Differing Accounts Emerge of This Morning's May Day-Related Raid by SPD
Not surprisingly, this morning's early-morning SWAT raid of a Seattle apartment as part of the Seattle Police Department's ongoing investigation into the violence on May Day is being cast in different lights by the different parties involved. What's generally agreed upon is a search warrant was served at approximately 6 a.m. at a residence in the 1100 Block of 29th Avenue South. From there, accounts differ.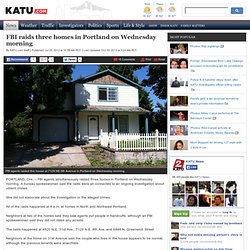 PORTLAND, Ore. – FBI agents simultaneously raided three homes in Portland on Wednesday morning. A bureau spokeswoman said the raids were all connected to an ongoing investigation about violent crimes.
FBI raids three homes in Portland on Wednesday morning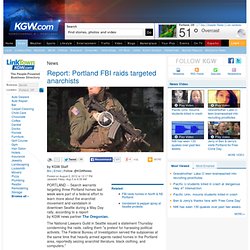 PORTLAND -- Search warrants targeting three Portland homes last week were part of a federal effort to learn more about the anarchist movement and vandalism in downtown Seattle during a May Day rally, according to a report by KGW news partner The Oregonian. The National Lawyers Guild in Seattle issued a statement Thursday condemning the raids, calling them "a pretext for harassing political activists.
Report: Portland FBI raids targeted anarchists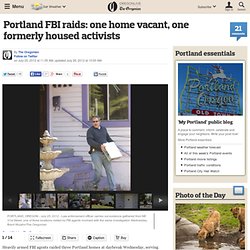 Heavily armed FBI agents raided three Portland homes at daybreak Wednesday, serving search warrants for what FBI officials would only describe as an "ongoing violent crime investigation."
Portland FBI raids: one home vacant, one formerly housed activists
View full size Courtesy of Committee Against Political Repression Leah Plante, left, stands beside Dennison Williams, Wednesday morning at Peninsula Park to announce that they don't plan to answer questions before a federal grand jury in Seattle on Thursday. They received the subpoenas when FBI agents raided their Northeast Portland residences last week. Two Portland residents whose homes were the target of FBI raids last week have been subpoenaed to appear on Thursday before a federal grand jury in Seattle.
Two Portland residents facing federal grand jury subpoena from Seattle vow they won't cooperate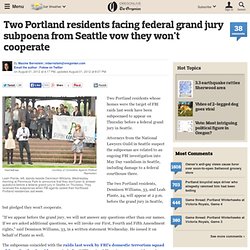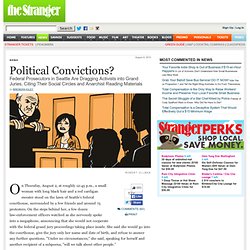 O n Thursday, August 2, at roughly 12:45 p.m., a small woman with long black hair and a red cardigan sweater stood on the lawn of Seattle's federal courthouse, surrounded by a few friends and around 75 protesters.
Political Convictions? by Brendan Kiley - Seattle News
Leah-Lynn Plante refused to share any other information besides her name at a federal grand jury in Seattle on August 2.
Subpoenaed Portland Activists Intend to Resist Grand Jury Investigating Anarchists
8.1.12 Grand Jury Resistors on Vimeo
The two of us, Dennison Williams and Leah-Lynn Plante, were subpoenaed to the secret grand jury to begin meeting on Thursday investigating anarchists. Leah and Dennis We are releasing this statement to make clear our intention to resist the grand jury.
Statement by the subpoenaed from Portland | Pacific Northwest Grand Jury Resistance
August 1, 2012 For Immediate Release
Seattle Chapter of the National Lawyers Guild Urges FBI and US Attorney to Drop Grand Jury Subpoenas | nlgseattle.org
PORTLAND, Ore. – Two people from Portland say they're refusing to testify in front of a grand jury in connection with three Portland homes the FBI raided last week . One of the homes that were raided is off Northeast 8th Avenue.
Two Portlanders refuse to testify before grand jury after FBI raid
Alleged squatters leave home then bolt from questions | KATU Investigators
PORTLAND, Ore. - For the past nine months a group of people has taken over the home of a 66-year-old school teacher and Portland police say they're part of a radical arm of the Occupy Movement . The house is in the 6100 block of North Mississippi . Last August the homeowner, Gloria Johnson, got a letter from her bank saying she had three months to get out, but that letter was bogus and she now wonders if the people living in her home were the ones who sent it.
BREAKING: Interview and Documents from FBI Raid Show Feds are Targeting Anarchists
FBI Agents Raid Homes in Search of "Anarchist Literature"
media.oregonlive.com/pacific-northwest-news/other/DWsearchwarrant.pdf
Northwest FBI Raids Target Occupy's 'Black Bloc'
Media Round Up and Solidarity Actions | Committee Against Political Repression
Solidarity actions and statements to date | Pacific Northwest Grand Jury Resistance