China
The emerging markets hub News and comment from more than 40 emerging economies, headed by Brazil, Russia, India and China. Sign up for our morning news, opinion and markets data round up from the FT and around the web. We have two emails per day - London and New York morning espresso (sent at approx 6am and 11am GMT).
Underground banks squeeze business | beyondbrics | News and views on emerging markets from the Financial Times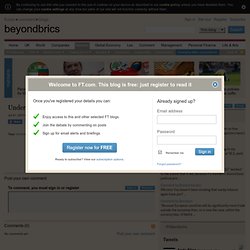 Comment / Analysis - China: A sharper focus
Five Stripes: Rise and Fall of China's Youngest Political Star - China Real Time Report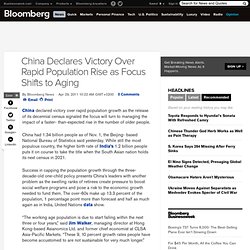 China Declares Victory Over Population Growth, Focuses on Aging
China declared victory over rapid population growth as the release of its decennial census signaled the focus will turn to managing the impact of a faster- than-expected rise in the number of older people. China had 1.34 billion people as of Nov. 1, the Beijing- based National Bureau of Statistics said yesterday. While still the most populous country, the higher birth rate of India's 1.2 billion people puts it on course to take the title when the South Asian nation holds its next census in 2021. Success in capping the population growth through the three- decade-old one-child policy presents China's leaders with another problem as the swelling ranks of retirees create pressure to boost social welfare programs and pose a risk to the economic growth needed to fund them. The over-60s make up 13.3 percent of the population, 1 percentage point more than forecast and half as much again as in India, United Nations data show.
Security Solution for China's Rich: Emigrate - China Real Time Report
Inflation, What Inflation? China's Cheap Vegetables Problem - China Real Time Report
China - CIC set for up to $200bn in fresh funds
Special Reports - On good terms: Chinese banks fuel 'going global' drive
These days, when the governor of China Development Bank travels abroad, he is treated almost like a head of state. Chen Yuan is not only the most senior official at China's biggest "policy" lender, but also a "princeling", the son of a founding leader of the Chinese Communist party, which means he wields enormous political clout in Beijing. His bank's role as a substantial source of cheap financing for domestic companies looking to invest overseas makes him a very important man outside the country as well as at home. In recent years, China's government has rapidly ramped up its decade-old policy of encouraging domestic companies to "go global", especially through international mergers and acquisitions. The country's outbound foreign direct investment reached a total of $220bn in 2006-10, according to government figures.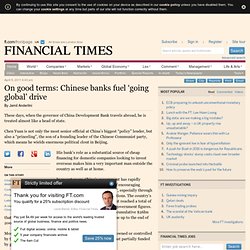 Goldman Sachs, the investment bank, began courting the Agricultural Bank of China five years ago in the hope of winning the mandate to help the large state bank go public last July, bringing over senior executives from New York and Hong Kong to woo AgBank officials. "How much does it cost to bring [Goldman Sachs chief executive] Lloyd Blankfein to Beijing?" asks the head of one of the bank's competitors rhetorically. "That is why you can never quantify the fees versus the costs of doing business in China.
Special Reports - Scraps from the feast: competing in the China fees pool
China / Economy & Trade - China reveals surge in exports
Comment / Analysis - China and the US: Access denied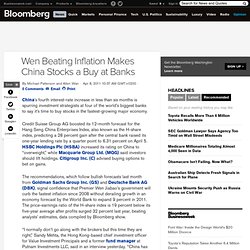 Wen Beating Inflation Makes China Stocks a Buy at Banks
China's fourth interest-rate increase in less than six months is spurring investment strategists at four of the world's biggest banks to say it's time to buy stocks in the fastest-growing major economy. Credit Suisse Group AG boosted its 12-month forecast for the Hang Seng China Enterprises Index, also known as the H-share index, predicting a 28 percent gain after the central bank raised its one-year lending rate by a quarter point to 6.31 percent on April 5. HSBC Holdings Plc (HSBA) increased its rating on China to "overweight," while Macquarie Group Ltd.
Retail & Consumer - Street smarts needed to thrive in China
Comment & analysis / FT Columnists - How China should rule the world
World - Corruption hits China's high-speed railway
Columnists / Lucy Kellaway - China rekindles fondness for western ways
PetroChina Co. pledged to accelerate acquisitions of energy assets and develop the country's domestic natural gas resources as demand for the fuel rises following Japan's nuclear reactor crisis. "We will accelerate our global expansion," PetroChina President Zhou Jiping said at a media briefing in Hong Kong yesterday, after the company posted a record quarterly profit. "The nuclear plant closure in Japan will boost its demand for oil and gas. That will have a pretty big impact as Japan is the world's largest liquefied natural gas importer." Gas prices rose to a two-year high in Europe after the March 11 temblor crippled Japan's Fukushima Dai-Ichi plant, triggering the worst nuclear disaster since Chernobyl. PetroChina bought a $5.4 billion stake in Encana Corp.'s Cutbank Ridge shale-gas assets last month and is intensifying exploration to supply the world's fastest-growing major economy.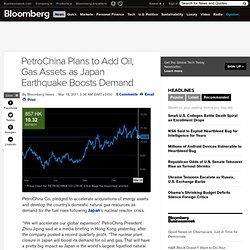 PetroChina Plans to Add Gas Assets as Japan Quake Boosts Demand
SHANGHAI—China Petrochemical Corp. struck a deal late Wednesday to invest in a Saudi Arabian refinery, in a move likely to strengthen China's overseas energy ties but that also carries risks amid rising volatility in the Middle East. Sinopec will take a 37.5% stake in the Red Sea Refining Company joint venture that will build the Yanbu refinery once its agreement with Saudi Arabian Oil Co., known as Saudi Aramco, becomes binding.
Sinopec to Invest in Saudi Refinery
Lex - Youku: China's leading online video site
Lex - China's slowdown: what slowdown?
Comment / Opinion - China must bridge the growth gap
Companies news – Industrial Goods – FT.com
Columnists / Andrew Hill - Why do so many get it so wrong in China?
Guest post: Why China's rebalancing will be bad news for profits | beyondbrics | News and views on emerging markets from the Financial Times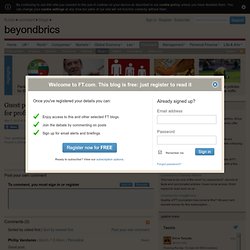 The emerging markets hub News and comment from more than 40 emerging economies, headed by Brazil, Russia, India and China. Sign up for our morning news, opinion and markets data round up from the FT and around the web. We have two emails per day - London and New York morning espresso (sent at approx 6am and 11am GMT). Pretty much everything you need to know about beyondbrics is in our About this site page.
China's Leaders Vow to Lift Livelihoods
BEIJING—Looking to head off the kind of anger that is reshaping the Middle East, China's leaders pledged to boost incomes for its less wealthy citizens and to tame inflation, goals accompanied by the mobilization of police to snuff out online appeals for antigovernment protests. The country's economic plans for this year and for the five-year period through 2015, unveiled at the National People's Congress, the annual legislative session that started Saturday, commit to raising income levels at the rate of economic...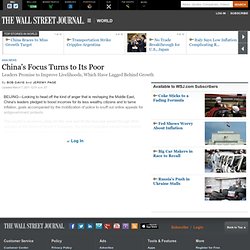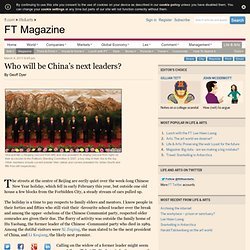 FT Magazine - Who will be China's next leaders?
The streets at the centre of Beijing are eerily quiet over the week-long Chinese New Year holiday, which fell in early February this year, but outside one old house a few blocks from the Forbidden City, a steady stream of cars pulled up. The holiday is a time to pay respects to family elders and mentors. I know people in their forties and fifties who still visit their -favourite school teacher over the break and among the upper -echelons of the Chinese Communist party, respected older comrades are given their due.
Comment / Analysis - The China Syndrome
Comment & analysis / FT Columnists - Lying low no longer an option for Beijing
China - JPMorgan and Fidelity eye China licences
China - China plans airport building spree
Global insight - Nervous China puts security apparatus into overdrive
Columnists / David Pilling - What could bring down China's rulers?
China - China cracks down on lawyers and activists
Asia-Pacific - China in fresh interest rate rise
Chinese Bank Takes Aim at Germany
China Development Bank, the large government-owned lender, is among the finalists to buy a large stake in Germany's WestLB AG bank, a development that underscores Chinese banks' appetite for Western expansion. China Development Bank is one of four bidders in the final round of the auction for WestLB, which is seeking a cash infusion to repair its finances, according to people familiar with the matter. The others are U.S. leveraged-buyout firms Blackstone Group LP, Apollo Global Management LP and J.C. Flowers & Co....
The View From Hong Kong: Behind the Yuan Borrowings are Dollars
Updated Jan. 24, 2011 12:01 a.m. ET A Chinese property developer's recent record-breaking bond issue highlighted soaring demand for ways to play appreciation of China's currency. It also underscores the limits of China's nascent efforts to create an international market for the yuan in Hong Kong. Evergrande Real Estate Group Ltd. 3333.HK -0.78% Evergrande Real Estate Group Ltd. Hong Kong $3.84 -0.03 -0.78% April 14, 2014 4:01 pm Volume : 16.93M P/E Ratio 3.93 Market Cap $56.22 Billion Dividend Yield 4.71% Rev. per Employee $3,106,910 3.903.853.8010a11a12p1p2p3p 03/20/14 Bond Investors Are Skittish Ov...
China / Business - China's banks face overseas pitfalls
Chinese Firm to Invest in North Korea
Updated Jan. 19, 2011 12:01 a.m. ET A Chinese firm has signed a letter of intent to invest $2 billion in a North Korean industrial zone, representing one of the largest potential investments in Kim Jong Il's authoritarian state and a challenge to U.S. policy in the region. The agreement was signed with little fanfare in Pyongyang on Dec. 20—a day otherwise marked by pitched tension on the Korean peninsula following the North's shelling of a South Korean island—according to documents viewed by the Wall Street Journal. Confirmation of the deal comes as Chinese President Hu Jintao visits Washington this week in a bid to forge closer security and economic ties with the U.S.
Emerging Markets - The west needs to stand up to Beijing
China - An embarrassment of riches, albeit 'unreal'
China - Hong Kong used as lab in currency experiment
China - China's lending hits new heights
UBS CEO: China Should Push Reform
SHANGHAI—China should take advantage of its positive economic environment to make reforms, Swiss bank UBS AG Chief Executive Oswald Grübel said on Monday. At a UBS conference in Shanghai, Mr. Grübel highlighted areas where UBS thought reform was necessary, such as liberalization of interest rates, adjustment of resource pricing, adoption of binding state-owned enterprise dividend policies, improvement of the social safety net, and...
ICBC to Double its European Presence
Bloomberg Businessweek Continue to Businessweek Sign in with Facebook Or use your Businessweek account
China / Economy & Trade - China steps up fight against inflation
Lex - Loans in China
Asia-Pacific - China's forex reserves show record leap
Comment / Opinion - Rising wages will burst China's bubble