Malcom X v MLK
Martin Luther King Jr. Day: Facts, Timeline, History, Activities, Bio
History - Historic Figures: Martin Luther King (1929 - 1968)
Pictures of Martin Luther King
Martin Luther King, Jr. Quotes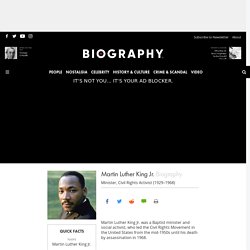 Synopsis Martin Luther King Jr. was born on January 15, 1929, in Atlanta, Georgia.
Dr. Martin Luther King, Jr. Remembered
Martin Luther King
Martin Luther King was born in Atlanta, Georgia on 15th January, 1929. Both his father and grandfather were Baptist preachers who had been actively involved in the civil rights movement.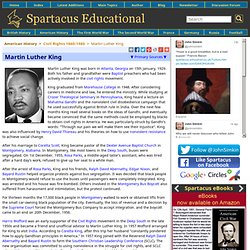 How were Malcolm X and MLK different?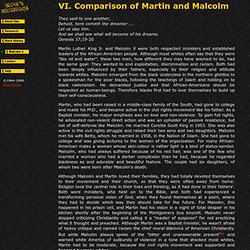 They said to one another, Behold, here cometh the dreamer ...
Elke Moritz: Two Roads To Freedom
Professor X And Magneto: Allegories For Martin Luther King, Jr. And Malcolm X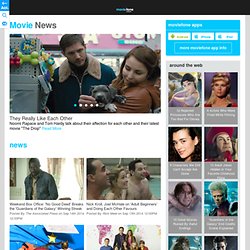 Professor X And Magneto: Allegories For Martin Luther King, Jr. And Malcolm X
malcolm x - documents > letter to martin luther king (the southern christian leadership conference)
Martin Luther King Jr. on Malcolm X
Martin Luther King and Malcolm X Debate
History - Better Day Coming: Civil Rights in America in the 20th Century
Malcolm X Quotes
Synopsis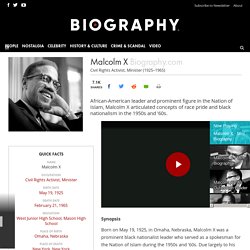 Malcolm X Biography
MALCOLM X: OUR HISTORY WAS DESTROYED BY SLAVERY
The Malcolm X Project at Columbia University
Pictures of Malcolm X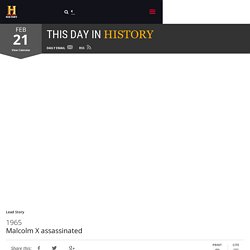 Malcolm X assassinated — History.com This Day in History — 2/21/1965
In New York City, Malcolm X, an African American nationalist and religious leader, is assassinated by rival Black Muslims while addressing his Organization of Afro-American Unity at the Audubon Ballroom in Washington Heights. Born Malcolm Little in Omaha, Nebraska, in 1925, Malcolm was the son of James Earl Little, a Baptist preacher who advocated the black nationalist ideals of Marcus Garvey.
King was the target of many threats during his life, but this didn't stop him from carrying on his work. In April 1968 he was planning a campaign to focus attention on the poverty of black and white Americans.
Heroes & Villains | King & civil rights | After his death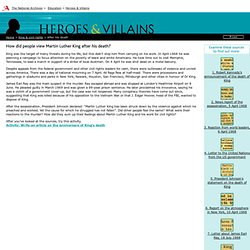 Obama honours Martin Luther King
Martin Luther King Jr. News
It is a testament to the greatness of Martin Luther King Jr. that nearly every major city in the U.S. has a street or school named after him. It is a measure of how sorely his achievements are misunderstood that most of them are located in black neighborhoods. Three decades after King was gunned down on a motel balcony in Memphis, Tenn., he is still regarded mainly as the black leader of a movement for black equality.
Martin Luther King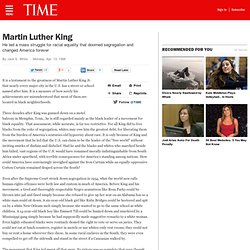 Gluekit
How Important Was Malcolm X?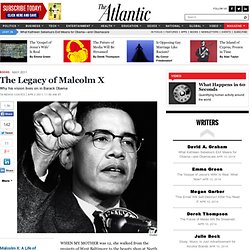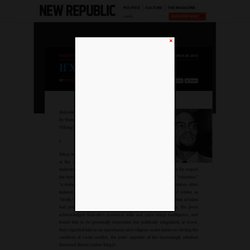 Steve Hahn: If X, Then Why?
Malcolm X: A Life of Reinvention By Manning Marable (Viking Press, 594 pp., $30) When Malcolm X died in a hail of assassin's gunfire at the Audubon Ballroom in February 1965, the mainstream media in the United States was quick to suggest that he reaped the harvest of bloodshed he had brazenly sown. Calling him an "extremist," "a demagogue," a "racist," and a "spiritual desperado," commentators often insisted that Malcolm advocated the use of violence, regarded whites as "devils," and was an embodiment—as a television series on the Nation of Islam had put it in 1959—of the "hate that hate produced."
Q: It's perhaps a little unfair to ask what you remember of your father, but what do you remember of him as a family man? So much is made of him as a fire-breathing public figure. What personal dimensions of the man can you share? Shabazz: Of course I was in love with my father as a child. He was daddy and our house came alive in a special way whenever he walked through the door. He'd romp and play with us; my sisters and I would literally squeal with excitement when daddy came home.
An interview with Malcolm X's daughter - News - Black History Month
Remembering Malcolm X
Malcolm X was assassinated 47 years ago today, and his legacy somehow continues to be controversial both in mainstream America's school of racial thought as well as within the black community.
World | Americas | Misunderstanding Malcolm X
Joby Waldman of BBC radio station 1Xtra looks at the extraordinary life of Malcolm X and asks why his message has had such a lasting impact on generations of young people. On 21 February 1965, Malcolm X was gunned down in broad daylight at a political rally at the Audobon Ballroom in Harlem, New York.