ICT Coordinator
Posted by José Picardo on December 31, 2008 I have been thinking a lot over this holiday, as this year draws to a close, about just what shape teachers will take in the not so distant future. I am not talking about robot teachers or a revolutionary educational utopia.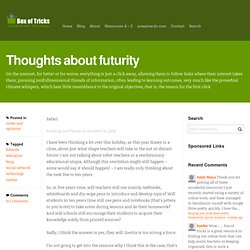 Technology and Education | Box of Tricks
April 18, 2014 Notability lets students choose the best tools to make their notes thorough and ... More » April 18, 2014 This virtual map shows the routes of Paul Revere, William Dawes, and Dr. Samuel...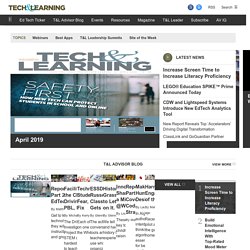 TISS Home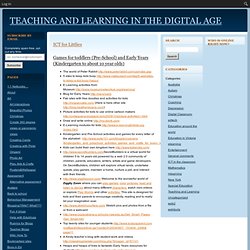 ICT for Littlies
ICT for Littlies Games for toddlers (Pre-School) and Early Years (Kindergarten to about 10 year olds)
How to use ICT to support young children's learning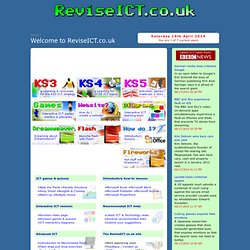 ReviseICT.co.uk - interactive revision materials to help learn ICT
German media boss criticises Google In an open letter to Google's Eric Schmidt the boss of German publishing firm Axel Springer says it is afraid of the search giant. 04/17/2014 02:20 PM BBC and Sky experience fault on iOS The BBC and Sky's video-on-demand apps simultaneously experience a fault on iPhones and iPads that prevents TV shows from streaming. 04/17/2014 10:35 PM Kim Dotcom wins back cars and cash Kim Dotcom, the multimillionaire founder of closed file-sharing site Megaupload, has won back cars, cash and property seized in a January 2012 raid. 04/17/2014 01:11 PM Lavabit loses contempt appeal A US appeals court upholds a contempt of court ruling against the secure email service provider Lavabit used by whistleblower Edward Snowden. 04/17/2014 11:37 AM
This is a guest post from Samantha Morra of EdTechTeacher.org, an advertiser on Free Technology for Teachers. Many of us using technology in the classroom find ourselves caught between two worlds: Apple and Google. Apple's iPad is a fantastic tool in the classroom which provides students with various opportunities to consume, create, and communicate. Similar to a swiss-army knife, it is only limited by how we choose to use it. At the same time, Google apps provide students with cloud-based services, from search to document creation and sharing, that work seamlessly on iPad. So, what are some of the best ways to experience Google on the iPad?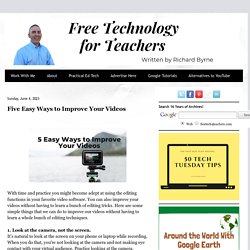 Eductechalogy | iGeneration - 21st Century Education
Differentiating Instruction
Design Your Digital Classroom
ICTEV | ICT in Education Victoria
Powerful Learning eCourses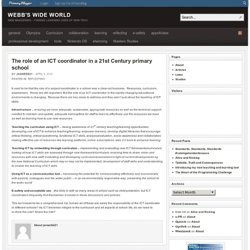 It used to be that the role of a subject coordinator in a school was a clear-cut business. Resources, curriculum, assessment. Those are still important. But the role of an ICT coordinator in the rapidly changing educational environments is changing. Because there are key areas to address and they aren't just about the teaching of ICT skills: Infrastructure – ensuring we have adequate, sustainable, appropriate resources as well as the technical support needed to maintain and update; adequate training/time for staff to learn to effectively use the resources we have as well as learning how to use new resources
The role of an ICT coordinator in a 21st Century primary school - Webb's Wide World
Another way of thinking about this is to pose another question: how will you a good ICT leader if you see one? Much of what follows – perhaps all of it – is generic, ie what you'd expect to find in any field of endeavour. The issue is, what does it all look like in the context of educational technology in a school?
Articles - Educational Technology - ICT in Education
Does ICT Improve Learning?
The intuitive answer to those of us involved in ICT is "of course it does". However, the evidence from research is not conclusive. I think the reason is that it's actually very difficult to carry out robust research in this area. As the impact of ICT has been a topic for discussion recently in the Naace and Mirandanet mailing lists, I thought it might be useful to try and clarify the issues as I see them. The question "Does ICT improve learning?"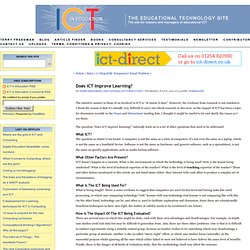 25 Features of Outstanding ICT Lessons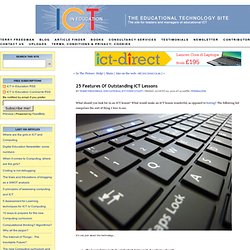 What should you look for in an ICT lesson? What would make an ICT lesson wonderful, as opposed to boring? The following list comprises the sort of thing I love to see.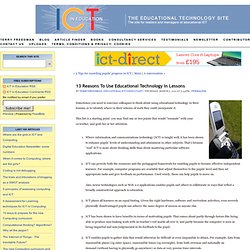 13 reasons to use educational technology in lessons
Sometimes you need to convince colleagues to think about using educational technology in their lessons, or to identify where in their scheme of work they could incorporate it. This list is a starting point: you may find one or two points that would "resonate" with your co-worker, and grab his or her attention. Where information and communications technology (ICT) is taught well, it has been shown to enhance pupils' levels of understanding and attainment in other subjects. That's because "real" ICT is more about thinking skills than about mastering particular software applications.ICT can provide both the resources and the pedagogical framework for enabling pupils to become effective independent learners. For example, computer programs are available that adjust themselves to the pupils' level and then set appropriate tasks and give feedback on performance.
Summer 2010 A national curriculum: looking forward An Australian curriculum to promote 21st century learning
Education Quarterly Australia | EQA Archive
Harnessing technology to support teaching and learning requires careful planning to engage students in a meaningful manner. Igniting the learning spirit in students has always been a challenge for any teacher; however, technology provides the catalyst to challenge students to learn and use their imagination. Technological tools support learning by providing the ideal venue for engaging students who live in a fast paced technological world. The abundance of technology tools and Web 2.0 applications available today provides a wealth of resources for any classroom, regardless of content area. The use of Twitter, Wikis, blogs, Google Docs, concept mapping tools, productivity applications, and more are at the finger tips of both teachers and students.
7 Technology Tips for the Classroom: Strategies and Techniques for Integrating Web 2.0 Tools
Login / Join VITTA > Teachers > Professional Reading > digital-learning-resources Knowledge > Professional Reading > Digital-learning-resources Digital Learning Resources
Victorian Information Technology Teachers Association Inc. - Digital Learning Resources
iLearn Technology » Fun & Games
Anastasis is in the midst of gearing up for the start of a new school year. It is year number 3! In some ways, we are still very much a start-up (I think this will always be the case in some respect, it's part of our philosophy to keep innovating!).
Graham Quince's e-learning blog