Games
Trophies
PS3™ | User's Guide (Online Instruction Manuals)
| BioWare Social Network
Video Games, Cheats, Walkthroughs, Game Trailers, Reviews, News, Previews & Videos at IGN
Demon's Souls Wiki Forums • Portal
The Shantotto Wiki's Featured Article My name is Shantotto ( シャントット , Shantotto ? ) , and you'll find that a great deal of respect is due. If you don't know your place already, I will be forced to educate you.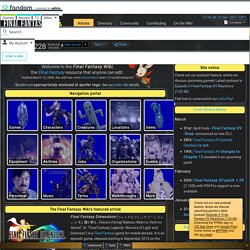 Demon's Souls for PlayStation 3 - Demon's Souls English Wiki
Fallout 3 - The Vault, the Fallout wiki - Fallout: New Vegas and more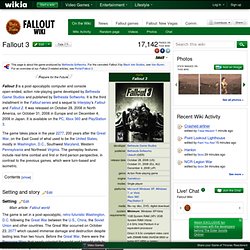 Prepare for the Future... Fallout 3 is a post-apocalyptic computer and console semi-open-ended, action role-playing game developed and published by Bethesda Softworks as the third installment in the Fallout series and a sequel to Interplay 's Fallout and Fallout 2 . It was released on October 28, 2008 in North America, on October 31, 2008 in Europe and on December 4, 2008 in Japan. It is available on the PC , Xbox 360 and PlayStation 3 . The game takes place in the year 2277 , 200 years after the Great War , on the East Coast of what used to be the United States of America , mostly in Washington, D.C. , Southwest Maryland , Western Pennsylvania and Northeast Virginia . The gameplay features include real-time combat and first or third person perspective, in contrast to the previous games, which were turn-based and isometric.