twitter
Get flash to fully experience Pearltrees
If more conservation-minded citizens were aware of certain environmental threats and how to resolve them, these issues could be resolved more effectively. Scientific conferences focusing on conservation bring together countless experts on environmental problems and solutions, but are not an effective means of reaching the interested public on a large scale. This paper discusses the use of twitter to share important conservation information from scientific conferences with the interested public. The basic usage of twitter is explained, and strategies to promote live-tweeting of scientific conferences are introduced. A case study (the 2011 International Congress for Conservation Biology) is discussed. If used properly, twitter and other social media technology can be a powerful tool for conservation education and outreach from scientific conferences.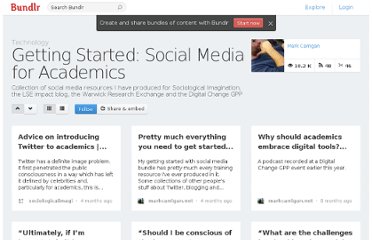 Twitter has a definite image problem. It first penetrated the public consciousness in a way which has left it defined by celebrities and, particularly for academics, this is unattractive. If you want to persuade academics to use it, it's important to illustrate that the academic twittersphere (I hate the term but have yet to come across a better one) has some quite specific characteristics. Perhaps by demonstrating some of the varied kinds of high-quality interaction you get on there e.g.
Life on this planet is incredibly complex, but many biologists and chemists out there help us make sense of it--on Twitter. From live-tweeting big science conferences, to sharing small victories (or failures) in the lab, to ranting about that #ScienceGirlThing video , these scientists are full of interesting things to say. So get in on the action, join the conversation, make friends with the science superstars. Click through the slideshow below to see 30 of our favorite biology and chemistry tweeters.
May 26, 2010 Posted by Suzanne Marlatt