6.0.3 SEARCH-BASED APPLIES
PolyMeta - Universal Meta Search and Discovery Engine. Metamoteur de recherche Ithaki. Web Search Home Page. IncyWincy: The Invisible Web Search Engine. Yabigo. IncyWincy: The Invisible Web Search Engine. Mamma Metasearch. SurfWax. Carrot Search. Lingo3G Document Clustering Engine Lingo3G clustering engine organizes your search results into topics.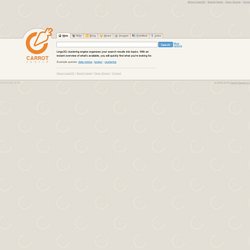 With an instant overview of what's available, you will quickly find what you're looking for. Choose where to search: Type your query: More options. Askboth.com. WebCrawler. Dogpile Web Search. Web Recherche. KartOO. Un article de Wikipédia, l'encyclopédie libre.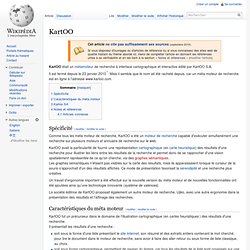 KartOO était un métamoteur de recherche à interface cartographique et interactive édité par KartOO S.A. Il est fermé depuis le 23 janvier 2010[1]. Mais il semble que le nom ait été racheté depuis, car un méta-moteur de recherche est en ligne à l'adresse www.kartoo.com. Spécificité[modifier | modifier le code] Moteur de recherche KartOO.
Twazzup: Realtime News. Slashtag search.
---