Plans
Scissors extending work light. This article contributed by Ron Walters Make all the slats you will need for the project plus a few extra in case of breakage or warping.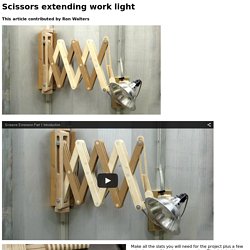 The slats in this project are 15-1/2" long x 1-1/2" wide x 3/8" thick cut from a piece of 2x4. I used 5/8" dowel. Construct a simple two-pin drilling jig, which will allow you to drill all of the holes with one setup. Murphy Door | Bi-Fold Hide-a-Door. If you can build a set of book shelves ...
Or you know someone who can, you can build a Murphy Door - the amazing Bi-fold Hide-a-Door. Replaces your old door or passageway ... This is an attractive "bi-fold bookcase" that glides smoothly out of the way with a light tug on one of the center pilasters. It's an excellent way to utilize unused space for display or storage, and it neatly hides unattractive rooms, such as laundry rooms, closets and pantries. Meisel Hardware Specialties.
How to Build a Murphy Bed. Like many homeowners, I converted a small bedroom into a home office.
It's a trade-off that makes sense, except when we have visitors and must give up our bed. In my search for bed that wouldn't take up space I found a solution that isn't new at all — a murphy bed. It's an ingenious piece of furniture that combines the comfort of a standard mattress with the appearance of a closet or cabinet that is less than 18 in. deep.
Diy platform bed with storage. Build a Full Storage (Captains) Bed. Preparation Instructions: Fill any holes with wood filler (overfill) and let dry.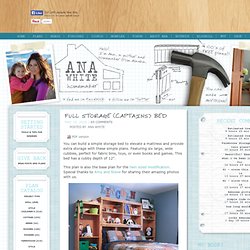 Start sanding with coarse sandpaper and work your way to fine. Vacuum with a soft bristled brush. For paint grade, prime and apply multiple coats of paint. I always paint the insides first, then the outsides and finally the trim. How to build a platform storage bed for under $200. Bed size. Single size bed Bed size refers to the dimensions of a mattress and the names by which standard sizes are called.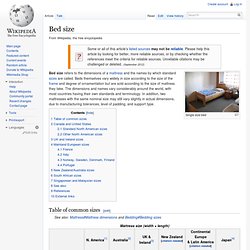 Beds themselves vary widely in size according to the size of the frame and degree of ornamentation but are sold according to the size of mattress they take. 'Free Woodworking Plans' Blog. Free Woodworking Plans On The Internet ! Frame-Miter Sled Plans. PLANS FOR A FRAME (flat) MITER SLED This page contains plans for the frame-miter table saw sled I use for cutting frame-mitered ring segments.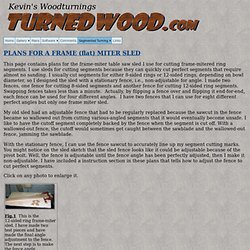 I use sleds for cutting segments because they can quickly cut perfect segments that require almost no sanding. I usually cut segments for either 8-sided rings or 12-sided rings, depending on bowl diameter, so I designed the sled with a stationary fence, i.e., non-adjustable for angle. I made two fences, one fence for cutting 8-sided segments and another fence for cutting 12-sided ring segments. Swapping fences takes less than a minute. Making a Tumbling Block Cribbage Board - by WoodMosaics. I will start this blog the same way I started the one on making a Lazy Susan.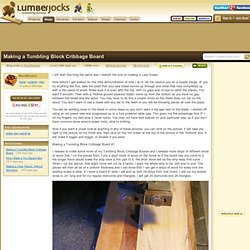 Now before I get started on this little demonstration of how I do it, let me caution you on a couple things. IF you try anything like this, take the plate that your saw blade comes up through and close that hole completely up with a thin piece of wood. Make sure it is even with the top, with no gaps and no lips to catch the pieces. You want it smooth. Then with a "Hollow ground plywood blade" come up from the bottom so you have no gap between the blade and the wood.