Crafts/Games
Get flash to fully experience Pearltrees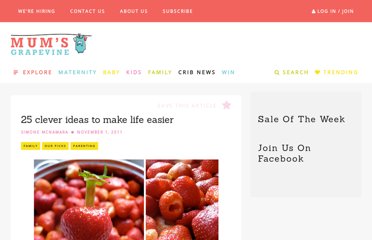 Posted on November 01, 2011 in Bed, Bath & Kitchen , Decor & Furniture , Organise & Personalise by Simone Via: amy-newnostalgia.blogspot.com Why didn't I think of that?!
Hi there! I'm Sharon from Two Girls Being Crafty , and I am so delighted to be today's guest blogger on Everyday Mom Ideas! Thank you so much, Julia, for having us. My co-blogger, Tristin, and I create fun and inexpensive crafts that anyone could do. Our goal is to inspire.
Did y'all know that you can take this and turn it into… This? And that this will eventually produce…
This project comes to you at the request of Twitterer @GCcapitalM. I used to believe that a person could never have too many books, or too many bookmarks. Then I moved into an apartment slightly larger than some people's closets (and much smaller than many people's garages) and all these beliefs got turned on their naïeve little heads. But what a person can always look for more of is really cool unique bookmarks. Placeholders special enough for the books that are special enough to remain in your culled-out-of-spacial-necessity collection. Page corner bookmarks are cute, practical and deeply under-represented in the world.* They're easy to make, easy to customize, and will set you apart from all those same-same flat rectangular bookmarks.
You should all know by now that we are all about stacking bracelets on our wrists. The more, the better. In fact . . . the most, the best! With that being said, we'll show you how to master a version of the ever so popular wrap bracelet.
Gift Box This box made from two bills. The bills/box can be the gift itself, but it is also just about the right size for a ring box.
they are all over pinterest.... (i still am not signed up for pinterest because i don't have time for one more thing but browsing is fun!) so we made one. i took a box of 64 crayons and took out the blacks and browns. i used another small box and doubled up on the good colors i liked and hot glued them to the top of our canvas. then we turned our blow dryer to hot on high. not long after you set the hair dryer by the crayons they get shiny and then the wax starts to melt!