Gaming
Construct 2 is a game maker for Windows that lets everyone create amazing games. BuyDownload Make games for... Web (HTML5) Wii U iOS * Android Windows 8 & RT Windows Phone 8 Windows Desktop Mac Desktop Linux Desktop Blackberry 10 Firefox Marketplace Tizen Facebook Chrome Web Store Amazon Appstore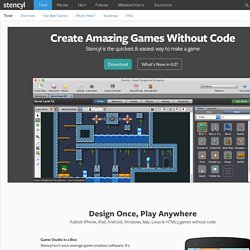 Publish to all the major platforms without code (but you can if you want!) Stencyl isn't your average game creation software; it's a gorgeous, intuitive toolset that accelerates your workflow and then gets out of the way. Our drag-and-drop gameplay designer pays homage to the successful MIT Scratch project, where creating logic is literally a matter of snapping blocks together. Advanced users can use code to add new features and create complex behaviors.
Clickteam.co.uk - Creative Tools for the Creative Age
Jun 1st, 2012 - Clickteam, developer of video game authoring tool Multimedia Fusion 2, adds XNA export capability as an addon product. The new XNA export module allows users to create 2D XNA games quickly and cost effectively when combined with one of Clickteam's amazing creation tools, Multimedia Fusion 2 or Multimedia Fusion 2 Developer. With this recent release MMF2 users can now export their projects to Xbox and Windows Phone 7, along with Windows, Java and the existing optional addon platforms of Adobe® Flash® Player, Mac and iOS. Users wishing to develop for XNA will need a copy of the XNA module, Visual Studio 10 or Visual Studio Express, an XNA developer account with Microsoft (annual subscription $99.00), Multimedia Fusion 2 or Multimedia Fusion 2 Developer and a device for testing (such as an Xbox 360 console or Windows Phone 7).