Web Dev
How Reddit's cofounders built Reddit with an army of fake accounts
The problem with Mechanical Turk is that you tend to get a lot of low-quality content. If people don't have an emotional investment in the site's success, they'll usually just write drivel and collect their fee. That sets a whole tone for the site which isn't really sustainable. Common approaches I've seen for seeding a UGC site: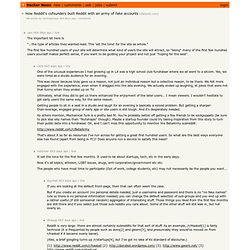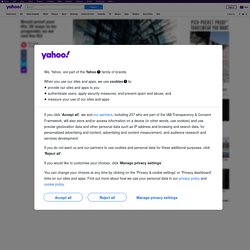 View the most recent patterns added to the library.
Computing Thoughts Web App with jQuery, CoffeeScript, Ajax, Web.py & Heroku by Bruce Eckel September 30, 2011 Summary Following up on my previous article, I create a super-simple example where a web page communicates with the server (written in Web.py) sending a JSON request object and receiving a JSON object as a response, which it uses to dynamically update the page. Afterwards, James Ward quickly loads the example into Heroku using their new Python support.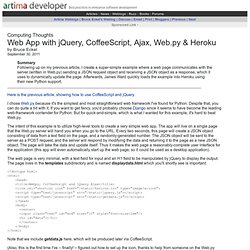 Web App with jQuery, CoffeeScript, Ajax, Web.py & Heroku
Computing Thoughts WebSockets: A Glimpse of the Future by Bruce Eckel December 31, 2011 Summary In order for HTML5 to become the true user interface technology of the future, servers must be able to transparently push data to clients. People have been trying to do this for a long time, and WebSockets look like they will solve the problem once and for all.
WebSockets: A Glimpse of the Future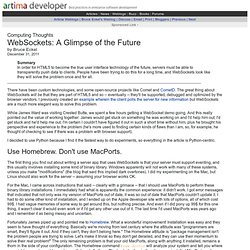 Content delivery networks (CDNs) are an important part of Internet infrastructure that are frequently used without a full understanding of what's happening behind the scenes. You'll hear people saying, "oh, we put that on the CDN" or "make sure static assets go on the CDN," when they have only a rudimentary idea of what CDNs are and how they work.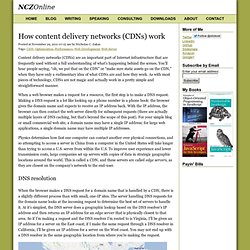 How content delivery networks (CDNs) work
Blog Interesting - 32 Ways to Keep Your Blog from Sucking
Course Description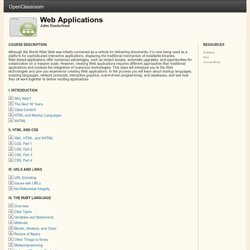 Web Applications
Marking up data using microformats Microformats are simple conventions (known as entities ) used on web pages to describe a specific type of information —for example, a review, an event, a product, a business, or a person.
About microformats - Webmaster Tools Help
rentzsch.tumblr.com: HOWTO Use UTF-8 Throughout Your Web Stack
Web browsers are probably the most widely used software.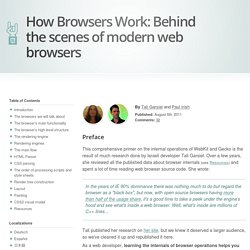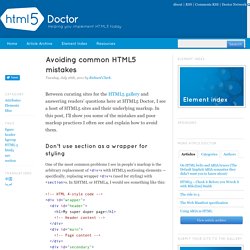 Between curating sites for the HTML5 gallery and answering readers' questions here at HTML5 Doctor, I see a host of HTML5 sites and their underlying markup.
To ensure optimal performance and reliability when rendering pages, you should order the elements within the HEAD element carefully.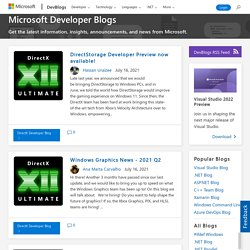 Best Practice: Get your HEAD in order - EricLaw's IEInternals
career - Best approach to learning web programming - Programmers - Stack Exchange
We have a huge problem on the web today. If I built an image gallery application and I wanted to let users edit an image so that they can remove red-eye from a photo I either have to build an application that edits the images, or integrate with a 3rd party solution.
Web Intents: A fresh look - Tales of a Developer Advocate
Coding Better Object-Oriented JavaScript with Closure Compiler
Intro
Flexie
By Chris Mills 11th October 2012: Material moved to webplatform.org The Opera web standards curriculum has now been moved to the docs section of the W3C webplatform.org site .
TV - CakePHP Blog Tutorial Part 1 - Installation produced by andrewperk
David J.
Building Dynamic Websites / OpenCourseWare