Classroom Ideas
Below is a graphic I come across while wading through my feeds today. The visual emphasizes the importance of read-alouds in early literacy learning. It also features a set of interesting facts on how reading aloud helps in kids' literacy development.
Awesome Visual on The Importance of Reading Aloud to Kids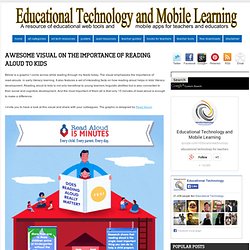 "Table Texting" is a strategy to use with any ... | Graphic Organizers
10 tips for creating a class agreement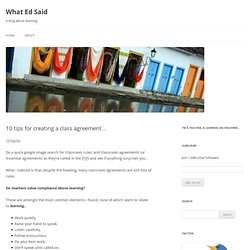 Do a quick google image search for 'classroom rules' and 'classroom agreements' (or 'essential agreements' as they're called in the PYP) and see if anything surprises you… What I noticed is that, despite the heading, many classroom agreements are still lists of rules.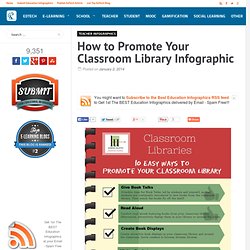 How to Promote Your Classroom Library Infographic
Classroom libraries can make a big difference in the reading lives of students in your classroom—no matter their age or reading ability.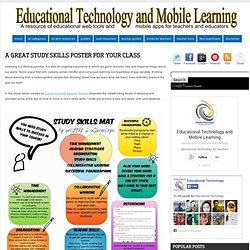 A Great Study Skills Poster for Your Class
Learning is a lifelong process.
Cooperative Learning Strategies for the Inclusive Classroom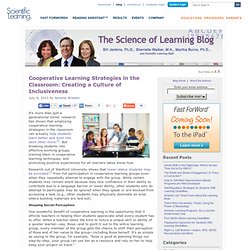 July 9, 2013 by Norene Wiesen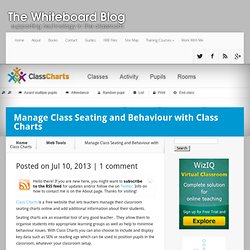 Class Charts is a free website that lets teachers manage their classroom seating charts online and add additional information about their students.
Manage Class Seating and Behaviour with Class Charts
speech stuff / Teacher's Pet - Our iPad Rules Poster - FREE Classroom Display Resource - EYFS, KS1, KS2, apple, computer, safety, ICT, IT, ipad, tablet
Improve Your Learning From A to Z
Hexagon learning: making and justifying connections | ThinkEdu Blog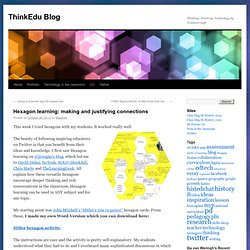 This week I tried hexagons with my students.
The Global Classroom Project: 2013-14 - home
A Really, Really Well-Written Set Of Classroom Rules
A Really, Really Well-Written Set Of Classroom Rules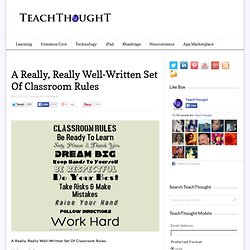 Glue a pom pom ball to the top of students' dry erase ... | Ryan s...
Essential Questions in Teaching and Learning | Teaching
Death by Anchor Chart! |
It has become quite a running joke with my year 5/6 students that I am obsessed with posters- or 'anchor charts' in our classroom. For months I have continued to brush off their comments, believing what I have always been told…that students need these visual displays that have 'captured their learning'…that I was creating a 'print rich' classroom environment that gives my students (and visitors to the room) a clear image of our classroom culture and what we are currently learning about.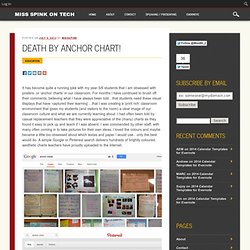 school / Great activity for the beginning of the school year! Art Projects for Kids: Me & My Goals Self Portrait
Bouncy Balls: A Fun Way To Monitor Classroom Noise Level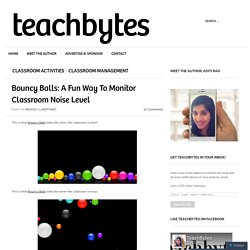 This is what Bouncy Balls looks like when the classroom is silent:
There's no shortage of resources out there to give teachers feedback on what pupils have learned.
Are mini-whiteboards the ultimate teaching and learning resource? - Mathematics teaching - TES Mathematics - TES Community
School ideas / Marzano: "This is probably one of my favorite things for my classroom so far. It's a little self-assessment flip chart. I have made one for each student and it will sit on the corner of their desk. It is small enough that it won't be embarr
It's Not How Your Classroom Looks, It's About How It Feels
Last week, before the arrival of Ida and Oskar, I was able to sneak in some work time in my new room.
total learning: shoeless learning | superclasses | rooms within rooms | write-on surfaces | toilets | schools-within-schools | sound | learner led | science spaces | phones: how young?
shoeless learning spaces
School / NOISE…removing one letter at a time when our voice level gets too loud. When NO is left, there is NO more talking! Love this! A lot more clearer than just putting up strikes on the board or letting the noise escalate to a point where you just cut
EDUC For the Teacher / Class objectives I like the "I'll know I've got it when" section
A teacher's heart at Good Shepherd Academy / Inspiration Quotes, Inspiration Sayings, Inspiring Quotes
It's commonly accepted that you should start every lesson by displaying the learning objectives.
6 Creative Tools for Displaying Learning Objectives
These Are My Kind of Classroom Rules
Simple Teaching Tip
The First Five Minutes #EdChat #EdcampSWO
Personalize Learning: The Expert Learner with Voice and Choice
What Does It Mean To Inspire? |
Work Hard, Be Courageous, Celebrate Growth: The Story of Our Brain Books
lt-litlearningwalks.pdf
Teaching / Timer Trick! Put your timers on stretchy bracelets to keep your students from wandering on washroom trips, extra-long library visits or manage computer sharing time! Kiddos love it!!
This sign posted outside our classroom door gets lots of stop
Learning Hub banner (SB9276)
Tips for Holding Students Accountable to Choice Reading: Reading Ladders | B10 Loves Books