SEO
Article - Ranking Factors for International SEO: 2012 Research By Marcus Tober, Searchmetrics. About The Author: Marcus Tober brings pioneering experience in SEO to Searchmetrics.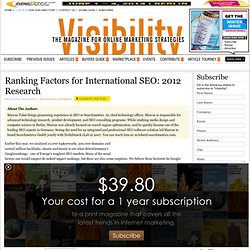 As chief technology officer, Marcus is responsible for advanced technology research, product development, and SEO consulting programs. While studying media design and computer science in Berlin, Marcus was already focused on search engine optimization, and he quickly became one of the leading SEO experts in Germany. 25 Link-Building Tips to Drive Traffic to Your Website CIO. CIO — You may have an amazing website, but not many people will see it if other sites aren't linking to it.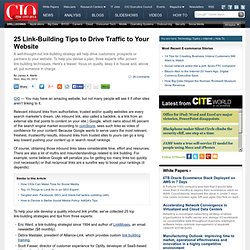 Relevant inbound links from authoritative, trusted and/or quality websites are every search marketer's dream. (An inbound link, also called a backlink, is a link from an external site that points to content on your site.) Google, which owns about 66 percent of the search engine market according to comScore, sees such links as votes of confidence for your content. Because Google wants to serve users the most relevant, freshest, trustworthy results, inbound links from trusted sites to yours can go a long way toward pushing your content up in search result rankings. Why Measuring Marketing Performance is the Key to B2B Success. When speaking to marketing directors and business owners, one of the most common questions I am asked is – 'Is all of this measurable?'
We are living in a world where ROI is at the heart of every business process and marketing is not an exception. With the availability of tools such as Google Analytics and HubSpot there is a whole host of things that you can drill down and report on. You do, however, run the risk of information overload so what are the top three things you should be tracking in addition to measuring leads generated and customers won? Are you getting found? Gauging SEO performance. Search Engine Land: Must Read News About Search Marketing & Search Engines. Crowdsourced Online Advertising Specialists | Trada Crowdsourcing. Algorithms That Rule the Web. Google helps us think, Facebook finds us friends, and Pandora plays our own personalized soundtrack.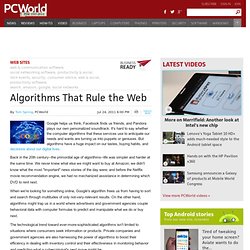 It's hard to say whether the computer algorithms that these services use to anticipate our needs and wants are turning us into puppets or geniuses. But algorithms have a huge impact on our tastes, buying habits, and decisions about our digital lives. Google+ Posts Will Appear on Google Social Search Results. Google has started integrating Google+ users' public posts into the search engine's social search results, one-upping Facebook by wielding its search strengths to boost its fledgling social network's features.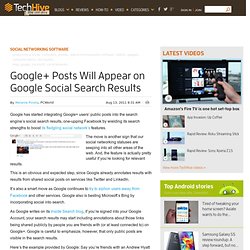 The move is another sign that our social networking statuses are seeping into all other areas of the web. And, the feature is actually pretty useful if you're looking for relevant results. This is an obvious and expected step, since Google already annotates results with results from shared social posts on services like Twitter and LinkedIn. The Periodic Table Of SEO Ranking Factors.
---