Sort later
Most Popular Repurposing Tricks of 2011 - StumbleUpon. The best trick of all is repairing broken stuff.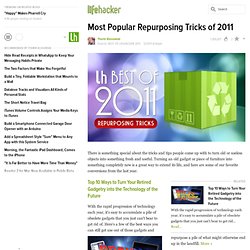 You would be amazed that in this throw away age so many things can be repaired easily. Invest your money in quality tools, and you will find the tool pays for itself in the first few repairs you make with it. There are wonderful adhesives and tapes that people aren't aware of that work wonders. Take an hour and go to a home hardware store and really browse around to discover some of these wonders of the modern world. Baby names like Bonnie. Magic Baby Names is a unique search site with 57,796 names collected from 22,211,902 people.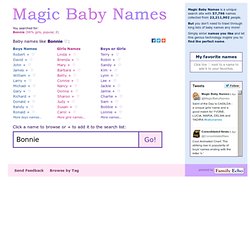 But you don't need to trawl through long lists of baby names any more! Simply enter names you like and let this genius technology inspire you to find the perfect name. My favorite names Click the ♡ next to a name to add it to your favorites. You searched for: Bonnie (98% girls, popular, B, B) Lemon Cleanse. Gynotex Soft Tampons. Full Body Workout From Answer Fitness. Photo Effects and Photo Editing with One Click - BeFunky.com.
Freeware Files - Free Software Downloads. Death by PowerPoint. Bath & Body. Eco-Friendly Toothbrush Review. 08/24/2013 Update: My new favorite bamboo toothbrush is called Brush with Bamboo.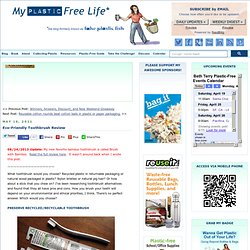 Read the full review here. It wasn't around back when I wrote this post. 50+ Reusable Grocery Bags You Can Make: Free Patterns. Earthgirlfabrics.com.au Quick Carrier: Design features short handles that don't require turning and french seams, quick to whip up.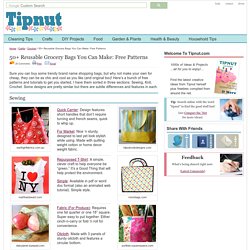 For Market: Nice 'n sturdy, designed to last yet look stylish while using. Made with quilting weight cotton or home decor weight fabric. Poem for April. What the Living DoJohnny, the kitchen sink has been clogged for days, some utensil probably fell down there.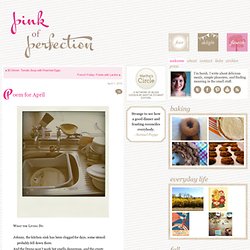 And the Drano won't work but smells dangerous, and the crusty dishes have piled upwaiting for the plumber I still haven't called. This is the everyday we spoke of. It's winter again: the sky's a deep headstrong blue, and the sunlight pours throughthe open living room windows because the heat's on too high in here, and I can't turn it off. For weeks now, driving, or dropping a bag of groceries in the street the bag breaking,I've been thinking: This is what the living do. And yesterday, hurrying along those wobbly bricks in the Cambridge sidewalk, spilling my coffee down my wrist and sleeve,I thought it again, and again later, when buying a hairbrush: This is it. Elizabeth Gadd's Photostream. Search for Music Using Your Voice by Singing or Humming, View Music Videos, Join Fan Clubs, Share with Friends, Be Discovered and Much More For Free! - midomi.com.
Zombie Manor House Experience - book online with free delivery | Wish.co.uk. Buying multiple tickets?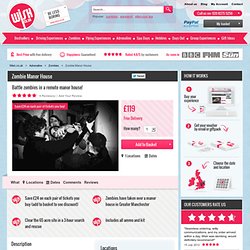 Save £24 on each pair you buy. Discounts are applied automatically in your basket. SCI International Voluntary Projects - Registration. The drawings of Leonardo da Vinci - StumbleUpon. DiaperFreeBaby. New Leadership at DiaperFreeBaby Posted by: melinda on 11/19/2013 10:28 AM To the Community of DiaperFreeBaby, Today I share with you the news that I am passing on leadership of DiaperFreeBaby to a new generation of parents as passionate about Elimination Communication as I and my co-founder Rachel Milgroom were ten years ago!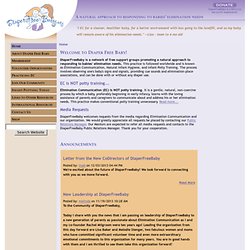 Leading the organization from this day forward are Lisa Baker and Melodie Stenger, two fabulous women and moms who have committed significant volunteer time and even more extraordinary emotional commitments to this organization for many years. You are in good hands with them and I am thrilled to see them take this organization forward! Simple Genius Ideas. Snowboard wedding. Skier – Snowboarder Wedding January 31st, 2012 Skiers and snowboarders are getting married and nobody can do anything about it.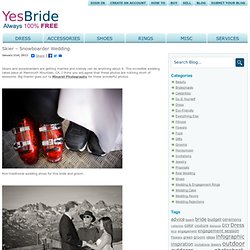 This incredible wedding takes place at Mammoth Mountain, CA. Tips and Recipes. This page offers homesteading tips and recipes that have worked for us and our readers.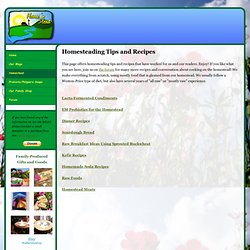 Enjoy! If you like what you see here, join us on the forum for many more recipes and conversation about cooking on the homestead! We make everything from scratch, using mostly food that is gleaned from our homestead. We usually follow a Weston-Price type of diet, but also have several years of "all raw" or "mostly raw" experience. Lacto-Fermented Condiments. 29 life lessons. EDIT: This blog post was written on my 8 year travel anniversary in 2011.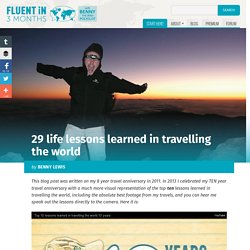 THIS year (2013) I celebrated my TEN year travel anniversary with a much more visual representation of the top ten lessons learned in travelling the world, including the absolute best footage from my travels, and you can hear me speak out the lessons directly to the camera. Here it is: If you liked this video, please copy and paste this: Living Wisely During Hard Times at Wise Living Journal - StumbleUpon. July 31st, 2008 Most homesteaders know as well as anyone that the current state of the US economy isn't very good.
Are probably aware enough to see that it's not getting better any time soon, either. Hopefully the homesteader has been wise enough to purchase his/her chunk of land far enough away from the 'boom' cities and regions that they got a good deal on it, as it probably represents the only real assets that family has. Of course, there are the other assets related. Anti-Boredom pocket kit. What I put in my Anti-Boredom kit may be different then what you would put. Here's what I gathered for mine (my kids helped). The tin is an Altoids tin that I painted Black. Inside: -Tiny deck of cards-Small vial of touchable bubbles-Two tubes of plastic bubbles-Tiny colored pencils-Note pad-String for cats cradle-Quarter to vend treats (a dollar fits nicely too for bigger treats)-Balloon (for playing don't touch the ground or keep away) Other ideas: Tiny harmonica, Fortune telling fish, Small sand timer for timing word games or how long you can hold your breath, Small deck of fortune telling cards (I saw some on ebay), Stickers, Small stencils and markers (sharpie makes a nice little marker that fits perfectly)
Words to Try to Use in Colloquial Speech Without Sounding Like a Pretentious. Deaths, Annually. Wendell Berry: People, Land and Fidelity. M. A. Grubbs University of Kentucky Wendell Berry lives and farms with his family in Henry County, Kentucky, and is the author of more than thirty books of fiction, non-fiction, and poetry. Among his novels (set in the fictional community of Port William Kentucky) are Nathan Coulter (1960), A Place on Earth (1967), and The Memory of Old Jack (1974); short story collections include The Wild Birds (1986), Remembering (1988), Fidelity (1993), and Watch With Me (1994); collections of essays include, among many others, A Continuous Harmony (1972), The Unsettling of America (1977), Recollected Essays (1981), and Sex, Economy, Freedom, & Community (1993); and among his many volumes of poetry are A Part (1980), The Wheel (1982), Collected Poems (1985) and Entries (1984).
---