Europe
The Cruise People Ltd [Trans-Atlantic Passenger Ship Service] Main Menu | Ultra-Luxury | Cruises | Small Ships|| Expeditions|| Freighters | Australasia | The World | Media | Our Blog | About Us Trans-Atlantic Passenger Service by Sea 2014-15 r.m.s.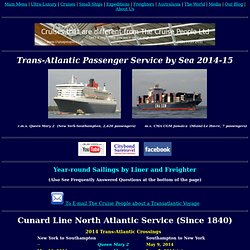 Queen Mary 2 (New York-Southampton, 2,620 passengers) m.v. Backpacking Worldwide — Around the World Backpacking Blog. Smashing Picture. How to Find Cheap Accommodation in Italy. If you're trying to save money while you travel in Italy, finding budget accommodation is the key.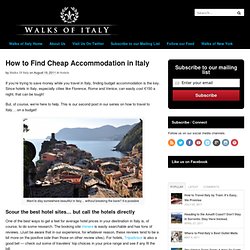 Since hotels in Italy, especially cities like Florence, Rome and Venice, can easily cost €150 a night, that can be tough! But, of course, we're here to help. This is our second post in our series on how to travel to Italy… on a budget! Want to stay somewhere beautiful in Italy… without breaking the bank? It is possible. Count from 1 to 10 in Irish Gaelic - Free online lesson. Lesson: Count from 1 to 10 is part of Bitesize Irish Gaelic.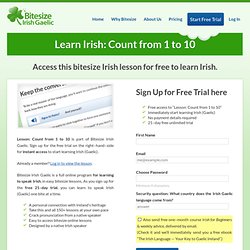 Sign up for the free trial on the right–hand–side for instant access to start learning Irish (Gaelic). Already a member? Select the destination for your trip - Plnnr.com. Sign in or | No account yet?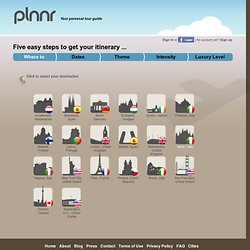 Sign up. Switzerland. Switzerland In June 2011, we spent a week in Switzerland, flying into Geneva, with an initial stop in Montreux, followed by a picturesque stay in Wengen, located above the Lauterbrunnen valley.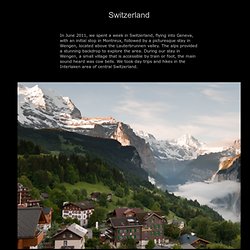 The alps provided a stunning backdrop to explore the area. During our stay in Wengen, a small village that is accessible by train or foot, the main sound heard was cow bells. We took day trips and hikes in the Interlaken area of central Switzerland. The village of Wengen where we stayed in an alpine chalet/hotel, above the Lauterbrunnen valley. Green Lake - An Austrian Lake That Is Used for Hiking | Oddity Central -... A rare natural phenomenon turns one of Austria's most beautiful hiking trails into a 10 meter-deep lake, for half the year.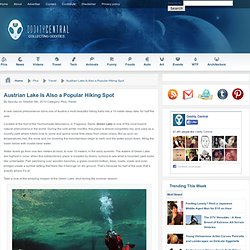 Located at the foot of the Hochschwab Mountains, in Tragoess, Styria, Green Lake is one of the most bizarre natural phenomena in the world. During the cold winter months, this place is almost completely dry, and used as a country park where hikers love to come and spend some time away from urban chaos. But as soon as temperatures rise, the snow and ice covering the mountaintops begin to melt, and the water pours down, filling the basin below with crystal-clear water.
Earlsferry sunset photo - Simon Prosser photos at pbase.com. Plitvice Lakes National Park, Croatia. The stunning Plitvice Lakes National Park lies in the Lika region of Croatia.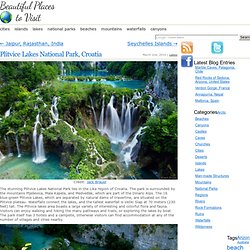 The park is surrounded by the mountains Plješevica, Mala Kapela, and Medveđak, which are part of the Dinaric Alps. The 16 blue-green Plitvice Lakes, which are separated by natural dams of travertine, are situated on the Plitvice plateau. Waterfalls connect the lakes, and the tallest waterfall is Veliki Slap at 70 meters (230 feet) tall. The Plitvice lakes area boasts a large variety of interesting and colorful flora and fauna. Most Amazing Time Lapse Video of Milky Way Ever Made. Seriously. | ShutterSalt. Ireland's top 10 unusual places to stay - travel tips and articles - L... The more we stay in travel lodges and soulless hotels, the more we all crave an experiential night's stay.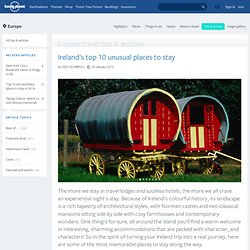 Because of Ireland's colourful history, its landscape is a rich tapestry of architectural styles, with Norman castles and neo-classical mansions sitting side by side with cosy farmhouses and contemporary wonders. One thing's for sure, all around the island you'll find a warm welcome in interesting, charming accommodations that are packed with character, and characters! So in the spirit of turning your Ireland trip into a real journey, here are some of the most memorable places to stay along the way. Cullintra House, Inistiogue, Co Kilkenny. The Best Time To visit - When To go - Best Weather & Climate. Backpack Europe on Budget--Backpacking and travel info for budget travelers.
---