Cakes & Pies
Three Minute Cupcakes. [ Close Privacy Policy ] Privacy Policy / Your California Privacy Rights Revised and posted as of March 4, 2013 Prime Publishing, LLC and Ginsburg Enterprises Incorporated ("Company," "we" or "us") reserves the right to revise this Privacy Policy at any time simply by posting such revision, so we encourage you to review it periodically.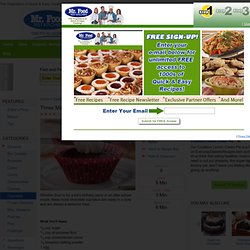 In order to track any changes to this Privacy Policy, we will include a historical reference at the top of this document. Peanut Butter Chocolate Cupcakes. 20 Min What You'll Need: 1 (18.25-ounce) package chocolate cake mix 1 cup peanut butter chips 1 (8-ounce) package cream cheese, softened 1/2 cup (1 stick) butter, softened 1 cup peanut butter 2 cups confectioners' sugar 1 teaspoon vanilla extract 1 cup hot fudge sauce, heated What To Do: Preheat oven to 350 degrees F.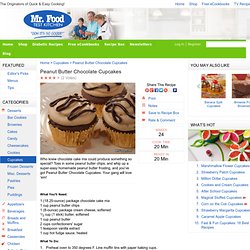 Line muffin tins with paper baking cups. Nutter Butter Peanut Butter Pie. Nutter Butter- Peanut Butter Pie If you hadn't heard already, our food blogging friend Jennie lost her husband Mikey last week.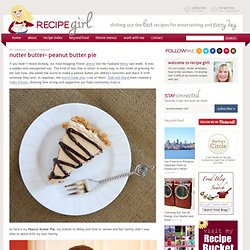 It was a sudden and unexpected loss. The kind of loss that is unfair in every way. In the midst of grieving for her lost love, she asked the world to make a peanut butter pie (Mikey's favorite) and share it with someone they love. In response, the world made pies. Almost-Famous Molten Chocolate Cake Recipe : Food Network Kitchens. Directions Preheat the oven to 350 degrees F.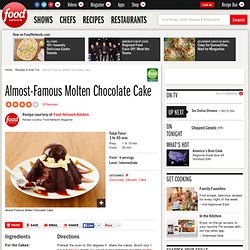 Make the cakes: Brush four 1 1/4-cup brioche molds (or use 10-ounce ramekins or jumbo muffin cups) with the 2 tablespoons melted butter. Dust the molds with cocoa powder and tap out the excess. A bit of nostalgia and some delicious Peach Pie. I know it's the end of October and most people can't find fresh peaches anymore.
But I live in Georgia……and apparently, peaches are in season year round here. Ha. But I was at the grocery store this past weekend and came across a whole pile of locally grown peaches…..all plump and full of color. I just couldn't resist. To Die For Healthy Chocolate Cake. Love for Haiti. A heavy heart.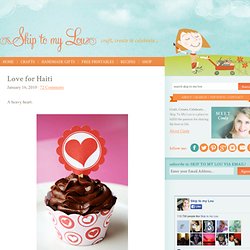 I have tried not to think about it, actually keeping myself quite busy, but thoughts keep coming back. The complete devastation in Haiti is overwhelming. The pictures on the news of the blood flowing down the street made my heart hurt and my stomach ache. Easy Apple Crumb Cake. March 8, 2010 | By Adam Roberts | 23 Comments A lot of people want to know: "Does Craig ever cook for you?"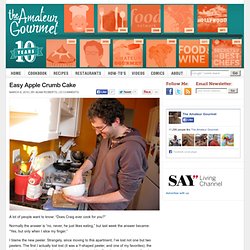 Normally the answer is "no, never, he just likes eating," but last week the answer became: "Yes, but only when I slice my finger." I blame the new peeler. Strangely, since moving to this apartment, I've lost not one but two peelers. The first I actually lost lost (it was a Y-shaped peeler, and one of my favorites); the other I accidentally broke when it mysteriously inverted itself so the peeler part was faced inwards and the non-peeling part was faced outwards. New York Coffee Cake. Ahhh, coffee and cake.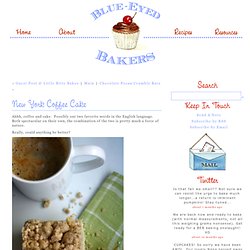 Possibly our two favorite words in the English language. Both spectacular on their own, the combination of the two is pretty much a force of nature. Really, could anything be better? Dark Chocolate Mousse Pie. June 19, 2009 | Print | E-mail | Filed under chocolate, pie If you're looking for an easy, no-bake dessert recipe, you've come to the right blog post.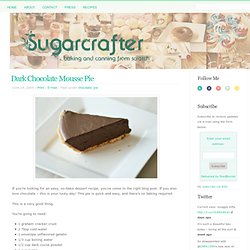 If you also love chocolate – this is your lucky day! This pie is quick and easy, and there's no baking required. Blueberry Muffins. April 6, 2010 | Print | E-mail | Filed under blueberry, muffins Last weekend, I was craving some good old fashioned blueberry muffins for breakfast.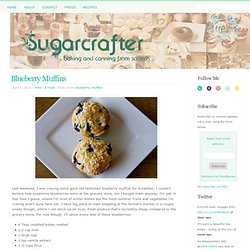 I couldn't believe how expensive blueberries were at the grocery store, but I bought them anyway. I'm just in that funk I guess, where I'm tired of winter dishes but the fresh summer fruits and vegetables I'm craving aren't quite here yet. I have big plans to start shopping at the farmer's market in a couple weeks though, where I can stock up on local, fresh produce that's incredibly cheap compared to the grocery store. My I-thought-I-had-an-original-idea ice cream cone cupcake pan.
Don't you hate it when you get all your ice cream cones filled with batter only to have them tip over and spill in the pan when you try to put them in the oven? I decided to make a pan prototype to bake my cones in to stop the spills and mess! Yup, I made a prototype. And I was going to mass-produce it and sell it on HSN and become a billionaire, er, or at least a thousand-aire. But my dreams were crushed when I realized someone else already designed one. And it was better than mine. Pancake Cupcakes with Maple-Bacon Frosting. So, bacon is all the rage right now. Bacon and chocolate, bacon and popcorn, bacon and… pretty much anything. Bacon, bacon, bacon. I'm actually not sure why it's so trendy now; I mean, isn't bacon something that most people (aside from vegetarians and vegans) have loved since they were a kid eating breakfast on Saturday morning?
I, personally, am one of those lifelong bacon lovers. BLT's, bacon cheeseburgers, bacon and eggs, bacon and pancakes, bacon in mac n' cheese, bacon and… pretty much anything. Peach Crumble. French toast and bacon cupcakes. Rocky Road Pudding Cake. [ Close Privacy Policy ] Privacy Policy / Your California Privacy Rights Revised and posted as of March 4, 2013 Prime Publishing, LLC and Ginsburg Enterprises Incorporated ("Company," "we" or "us") reserves the right to revise this Privacy Policy at any time simply by posting such revision, so we encourage you to review it periodically.
In order to track any changes to this Privacy Policy, we will include a historical reference at the top of this document. Raw Chocolate Mousse Layer Cake Recipe | Real Raw Health. Normally I am not a chocolate fanatic, but this chocolate cake is one of my favorite raw creations. It's not too sweet, but it is super rich so save it for a special occasion. And don't forget to enjoy how the simple the ingredients are. The cake has two main parts, the chocolate cake and the mousse. Cherry Hand Pie Recipe. HoHo Cake. Homemade Funfetti Cupcakes. Chocolate Covered Strawberry Cake Truffles and Pink Velvet Cake Truffles. Dark Chocolate Cupcakes with White Chocolate Ganache and Candied Bacon.
---