Otras ciencias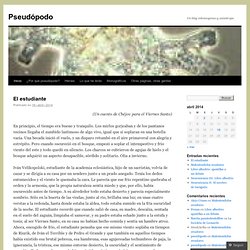 Pseudópodo | Un blog inhomogéneo y anisótropo
(Un cuento de Chéjov para el Viernes Santo) En principio, el tiempo era bueno y tranquilo. Los mirlos gorjeaban y de los pantanos vecinos llegaba el zumbido lastimoso de algo vivo, igual que si soplaran en una botella vacía.
Científicos españoles ayudan a Audi a mejorar el color de sus coches Investigadores españoles están colaborando con el fabricante de automóviles Audi para desarrollar fórmulas de color avanzadas como los materiales gonioaparentes o con pigmentos de efecto. Estos materiales cambian de color dependiendo del ángulo de observación e iluminación, y presentan además otr... Europa revisa el sistema español de ciencia, tecnología e innovación Nueve expertos de cinco países de la Unión Europea han estado esta semana analizando la situación de la ciencia, tecnología e innovación española.
Gaussianos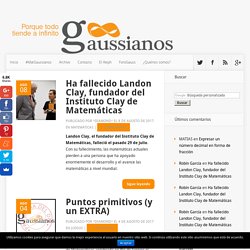 El concepto de infinito es un concepto complicado de entender (de hecho no sé si alguien es capaz de comprenderlo a la perfección), como ya hemos comentado en una gran cantidad de ocasiones. Pero si es complicado ahora, mucho más lo era en el siglo XIX, cuando realizó sus importantes estudios sobre los cardinales infinitos y dejó la famosa conjetura denominada . (Leer el resto del post) Las Octavas (y últimas) Clasificaciones Parciales de los Premios Bitácoras 2012 , en los que Gaussianos participa en "Ciencia" y "Cultural", ya están en la calle.
Un estudio publicado recientemente en la revista Brain reveló que el cerebro de Einstein, a pesar de ser de tamaño normal poseía un número inusual de dobleces o pliegues, pudiendo esto explicar su extraordinaria inteligencia. A raíz de su muerte en 1955 el cerebro de Einstein fue dividido en 240 segmentos y repartido a diferentes investigadores. La mayoría de estas muestras se perdieron y muy poco se había escrito acerca de los resultados de estas investigaciones. Se utilizaron fotografías del cerebro antes de ser seccionado para generar un "mapa" que conecta los 240 segmentos y los 2000 trozos en los que fueron posteriormente divididos.
no es poca cosa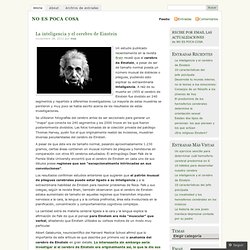 Emerging Regulatory Environment The August '07 World Chemistry Leadership Meeting (WCLM) focused on the promising, yet challenging, global effort to meet the commitment that by 2020 chemicals are used and produced in ways that minimize significant adverse effects on human health and the environment. Colin Humphris and Mark Cesa summarize the proceedings of the WCLM. Protecting Cultural Heritage Over the past 40 years, scientific research activities in support of the conservation and restoration of objects and monuments belonging to the world's cultural heritage, have grown in number and quality. Jan Wouters offer his reflections on the position of science in multidisciplinary approaches. "Chemistry is Beautiful" —echoes from Torino Aug '07: Report on the Opening Plenary Lecture by Roald Hoffmann. Toward Global Leadership in Knowledge Sharing In his first column as IUPAC President Jung-Il Jin suggests a goal of celebrating IUPAC's centennial with 100 member countries.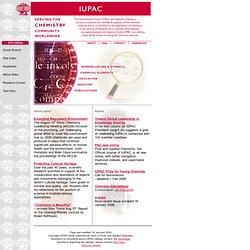 IUPAC
Depto de Bioquímica
colostate.edu
Bioquímica Médica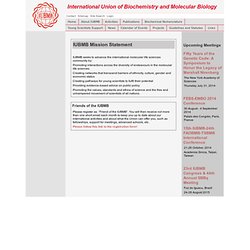 IUBMB
IUBMB seeks to advance the international molecular life sciences community by: Promoting interactions across the diversity of endeavours in the molecular life sciences Creating networks that transcend barriers of ethnicity, culture, gender and economic status Creating pathways for young scientists to fulfil their potential Providing evidence-based advice on public policy