Lesson Plans
PowerMyLearning. ThinkQuest. As of July 1, 2013 ThinkQuest has been discontinued.
We would like to thank everyone for being a part of the ThinkQuest global community: Students - For your limitless creativity and innovation, which inspires us all. CK-12. Gooru - STEM. Raft - STEM. Digital Citizenship Education. Curriculum Overview The Digital Citizenship and Creative Content program was developed to create awareness of intellectual property rights and foster a better understanding of the rights connected with creative content.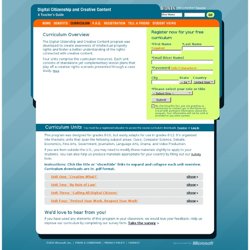 Four units comprise the curriculum resources. Each unit consists of standalone yet complementary lesson plans that play off a creative rights scenario presented through a case study. Thinkfinity. OER Commons. ClassTools. Common Sense Media. Intel Journey. Curriki. Project Based Learning | BIE. Edutopia. Lessonopoly. CLRN.