Mental health
60 Small Ways to Improve Your Life in the Next 100 Days. Contrary to popular belief, you don't have to make drastic changes in order to notice an improvement in the quality of your life.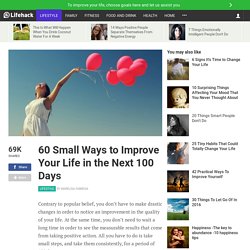 At the same time, you don't need to wait a long time in order to see the measurable results that come from taking positive action. All you have to do is take small steps, and take them consistently, for a period of 100 days. Below you'll find 60 small ways to improve all areas of your life in the next 100 days. Home 1. Alternate Sleep Cycles. Most people only think that there is one way to sleep: Go to sleep at night for 6-8 hours, wake up in the morning, stay awake for 16-18 hours and then repeat.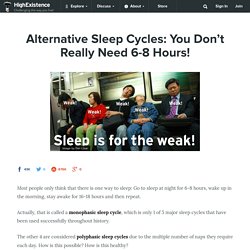 Actually, that is called a monophasic sleep cycle, which is only 1 of 5 major sleep cycles that have been used successfully throughout history. The other 4 are considered polyphasic sleep cycles due to the multiple number of naps they require each day. 50 Life Secrets and Tips.
---