Links
Share photos on Twitter. TLists - Search. Curate. Join. Quite literally a spork | TweetPhoto. Must Watch Video: LeWeb 09: What would be the last Tweet of your. Online - Romenesko. Nielsen Business Media Update Message from Greg Farrar Dear Colleagues, Today, we announced that Nielsen Business Media has reached an agreement with e5 Global Media Holdings, LLC, a new company formed jointly by Pluribus Capital Management and Guggenheim Partners, for the sale of eight brands in the Media and Entertainment Group, including Adweek, Brandweek, Mediaweek, The Clio Awards, Backstage, Billboard, Film Journal International and The Hollywood Reporter. e5 Global Media Holdings has also agreed to acquire our Film Expo business, which includes the ShoWest, ShowEast, Cinema Expo International and CineAsia trade shows.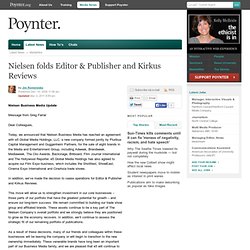 In addition, we've made the decision to cease operations for Editor & Publisher and Kirkus Reviews. This move will allow us to strengthen investment in our core businesses – those parts of our portfolio that have the greatest potential for growth – and ensure our long-term success. The X Factor: none of the finalists deserve to win | Television. The X Factor finalists: Olly, Stacey and Joe.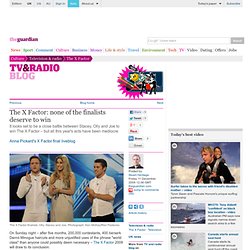 Photograph: Ken McKay/Rex Features On Sunday night – after five months, 200,000 contestants, 400 berserk Dannii Minogue haircuts and more unjustified uses of the phrase "world class" than anyone could possibly deem necessary – The X Factor 2009 will draw to its conclusion. And what a conclusion it promises to be. Either Stacey Solomon, Olly Murs or Joe McElderry will reign triumphant, and their long-held dream of releasing a slightly underwhelming cover version of a Miley Cyrus power ballad will finally be realised. It's the closest final in The X Factor history, and you're legally required to have an opinion about it, so who are you going to get behind? Linchpin by Seth Godin – Video Book Review. Are you indispensible?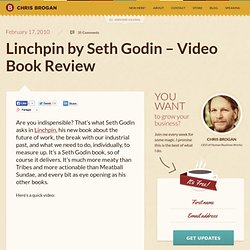 That's what Seth Godin asks in Linchpin, his new book about the future of work, the break with our industrial past, and what we need to do, individually, to measure up. It's a Seth Godin book, so of course it delivers. It's much more meaty than Tribes and more actionable than Meatball Sundae, and every bit as eye opening as his other books. Here's a quick video: Direct link to the video. Paywall and subscription models: a study of 30+ organisations | Patrick Smith quits paidContent:uk. Photo of @NickHalstead showing off @TweetMeme at #LeWeb on Twitp. Le Web: Marissa Mayer of Google. Marissa Mayer's appearances at Le Web have never been particularly noteworthy.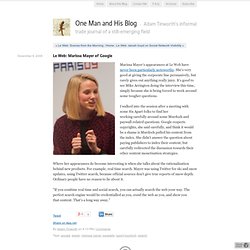 She's very good at giving the corporate line persuasively, but rarely gives out anything really juicy. It's good to see Mike Arrington doing the interview this time, simply because she is being forced to work around some tougher questions. I walked into the session after a meeting with some Six Apart folks to find her working carefully around some Murdoch and paywall-related questions. Google respects copyrights, she said carefully, and think it would be a shame is Murdoch pulled his content from the index. She didn't answer the question about paying publishers to index their content, but carefully redirected the discussion towards their other content monetisation strategies.
Cameron Hires Obama Advisers for TV Debates With Brown - Iain Ma. By Iain Martin David Cameron has hired a pair of senior advisers to President Obama to help in his election campaign against Gordon Brown, I can reveal.
They have been appointed to help prepare him for his TV debates with the Prime Minister. Until November, one of the advisers – Anita Dunn – was Communications Director at the White House. The other, Bill Knapp, also worked on the Obama election campaign (making TV ads particularly). Knapp is very close to New York Mayor Mike Bloomberg, a lifelong Democrat who has run and won election in the city as a registered Republican three times. Cwgl - Uploaded by klauslovgreen. Le Web: Chris Pirillo on Genuine Community - One Man and His Blo.
Chris Pirillo has just given the most animated keynote of the conference so far, talking with great passion about community.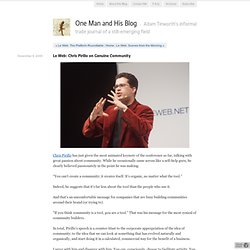 While he occasionally came across like a self-help guru, he clearly believed passionately in the point he was making: "You can't create a community; it creates itself. It's organic, no matter what the tool. " Indeed, he suggests that it's far less about the tool than the people who use it. Galerie de Robert Scoble. Q&A: Mark Josephson on Outside.in and the rise of local content. As the recession continues to hurt major media organizations, many news outlets are having to shutter their regional bureaus due to budget cuts, even though the prospects for local content — and advertising — online are growing.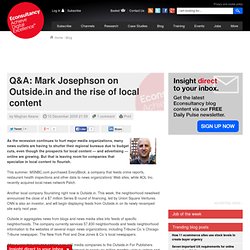 But that is leaving room for companies that specialize in local content to flourish. This summer, MSNBC.com purchased EveryBlock, a company that feeds crime reports, restaurant health inspections and other data to news organizations' Web sites, while AOL Inc. recently acquired local-news network Patch. Average person consumes 34GB of data daily - V3.co.uk - formerly. Customer Engagement Report 2010 | Survey Reports | Market Data | InShare00inShare This is the fifth annual Customer Engagement Report, produced in association with cScape.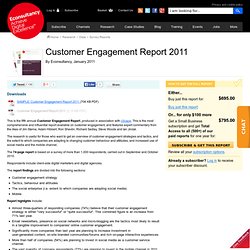 This is the most comprehensive and influential report available on customer engagement, and features expert commentary from the likes of Jim Sterne, Adam Hibbert, Ron Shevlin, Richard Sedley, Steve Woods and Ian Jindal. The research is useful for those who want to get an overview of customer engagement strategies and tactics, and the extent to which companies are adapting to changing customer behaviour and attitudes, and increased use of social media and the mobile channel. The 74-page report is based on a survey of more than 1,000 respondents, carried out in September and October 2010. Respondents include client-side digital marketers and digital agencies. Liverpool Echo.co.uk - News - Caught On Camera - Caught on Camer.
Feb 20 2010 By Ben Rossington WELCOME to the first Liverpool Echo Caught on Camera picture line-up, in conjunction with Merseyside Police.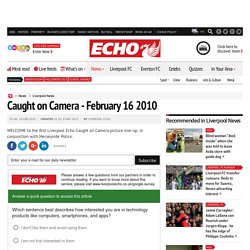 Some people have been identified and dealt with. You can see which ones as their pictures have been replaced with our Helping Police With Enquiries sign. If you recognise anyone in these images, please contact Merseyside Police special incident line - quoting the picture number - on 0151 777 4055, quoting the number under the picture. Or, alternatively, ring the anonymous Crimestoppers hotline on 0800 555111. Queen's English is favoured phone accent - Media news - Media We. Listeners' choice: study reveals Queen's English as preferred phone accent Research by Nuance Communications, conducted by YouGov, shows that more than half of British consumers find the Queen's English the most appealing accent in a call centre, followed by the 34% who prefer a Scottish accent and 26% who prefer a Geordie accent.
The study revealed that half of British consumers are more likely to listen to a special offer or promotion if they find the voice appealing. By contrast, the Merseyside accent is the least popular, followed by the Midlands and West Country accents. Men have more confidence when hearing a women's voice when it comes to complaining via a customer services line than women, with only 8% of women believing female voices inspire confidence when complaining, compared to 15% of men. More than 60% of Britons find it hard to understand a call centre abroad and among those aged more than 45, this figure rises to more than 70%. This Web Surfing Flowchart Is Way Too Accurate - achewood - Gizm. Jim Murphy: We will 'get it right' - The Record Opinion: Serving. I have been involved in the Web side of the newspaper business in one way or another for a little more than a decade.
My direct involvement started when I was named online manager of a Gannett newspaper and asked to produce that organization's first Web site, continuing through last spring when a newspaper online site I oversaw in another company was recognized as the best community Web site in the nation by a trade organization. And I have never been more energized about a newspaper company's future digitally as I was when I recently met our company's brand new CEO, John Paton, on his first day of work. Paton joins the Journal Register Company from impreMedia LLC, a company he co-founded in 2003. impreMedia has evolved into the top news and information company in online and print serving the U.S.
Hispanic community. The media, the internet and the 2010 British election. Last night, I went to a panel discussion at the Frontline Club here in London looking at the role that the internet and social media might play in the upcoming general election. I wrote a summary of the discussion on the Guardian politics blog. As I said there, the discussion was Twitter heavy, but as Paul Staines aka Guido Fawkes of Order-order.com said, Twitter is sexy right now. The panel was good. Staines made some excellent points including how the Conservatives were focused on Facebook rather than Twitter for campaigning. Google eyes translation for images - V3.co.uk - formerly vnunet.
AP is Visionary: They See a "Siteless Web" - The Steve Rubel Lif. The Clip Report: An eBook on the Future of Media In the early 1990s when I began my career in PR there were clip reports. These were physical books that contained press clips. It seems downright archaic now but that's how I learned about the press - by cutting, pasting up and photocopying clippings. My fascination with the media never abated. Your Printer is a Brat. The AP Is Using Twitter To Send People To Facebook. Wait. What? Oh the Associated Press, our most favorite banned news source.
It seems almost monthly they do something that defies logic and/or looks to be a suicidal act. And today brings another oddity. The AP is using their Twitter feed to tweet out their stories — nothing new there, obviously — but every single one of them links to the story on their Facebook Notes page. The President Sets the Pace for Fathers. Vancouver 2010, part 1 of 2. FarmVille Surpasses 80 Million Users [PIC]
FarmVille, the massively popular Facebook game, surpassed 80 million monthly active users this week (source: AppData). Facebook has around 400 million users in total. FarmVille has been a breakout hit, with its active user count growing by around 10 million users per month. Note that this isn't simply signups: This is a count of people using the app at least once in the 30-day span. FarmVille's daily active user count is currently 29.7 million — that's almost 30 million people using FarmVille every day. FarmVille's parent company, Zynga, was valued at 1 billion dollars late last year.
Foursquare Gets Some MAJOR Lovin' From The New York Times (Again. Twitter Phishing Attack Spreading via Direct Message [WARNING] Microsoft's Courier 'digital journal': exclusive pictures and de. Labour kicks off social media campaign - Brand Republic News - B. eBay seeks annulment of Craigslist divorce - 11/12/2009 - Comput. My Favourite Tweets. Vodafone becomes UK's most valuable brand. Untitled. BBC signals an end to era of expansion - Times Online. Value of Social Media Report | Survey Reports | Market Data | Re.
Big Biz Embracing Twitter. Did Chatroulette Just Launch the Interactive Video Conferencing. Koua Fong Lee: 'Toyota Defense' May Free Jailed Minnesota Man. LeWeb'10 Dec 8th & 9th 2010 and New Venue !
---