Stuff
Languages - French - Ma France. 1 Sur la Côte d'Amour - French: Ouverture. This unit is taken from Ouverture, a language course that concentrates on French as a tool for communication, but it also provides some insights into French society and culture through authentic printed, audio and video materials.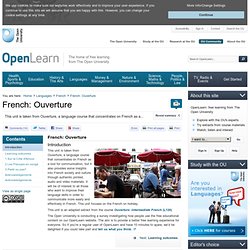 It will be of interest to all those who want to improve their language skills in order to communicate more easily and effectively in French. This unit focuses on the French on holiday. This unit is an adapted extract from the course Ouverture: intermediate French (L120)14 [Tip: hold Ctrl and click a link to open it in a new tab. (Hide tip15)] The Open University is conducting a survey investigating how people use the free educational content on our OpenLearn website.
Food. Cats. Google. 11 Fun Google Tricks You Might Not Know. Design 11 Fun Google Tricks You Might Not Know We all love the big G especially because it is there for us when we need to find pretty much everything and also a good provider of innovative and creative solutions such as Earth, Maps, Android and tons of others who changed the world we live in.
I would need days to list all of the great things done by Google and it's associates, but besides that the company really knows how to create a bond with their customers and I believe that's what made them as good as they are today. Bellow you have few cool tricks that make Google even more interesting and creative than it's already is.
Geneology
---