Chemistry
Chemistry Resources for teachers Resource listing - Learn Chemistry
periodic table tetris game
View selected lessons from MSC translated into Spanish. Ver las Lecciones ► Investigate the world of atoms and molecules through hands-on inquiry-based activities and molecular model animations. View the Lessons ► View selected lessons from MSC translated into Spanish.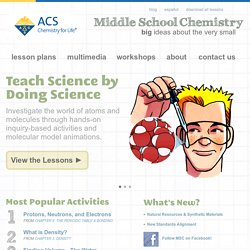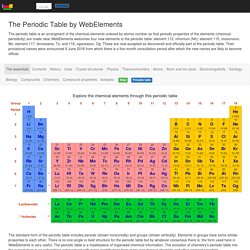 The periodic table is a table of the chemical elements in which the elements are arranged by order of atomic number in such a way that the periodic properties (chemical periodicity) of the elements are made clear. The standard form of the table includes periods (usually horizontal in the periodic table) and groups (usually vertical). Elements in groups have some similar properties to each other. There is no one single or best structure for the periodic table but by whatever consensus there is, the form used here is very useful.
Fiery explosions, beautiful reactions, and hilarious music videos are great reasons to be excited about chemistry. Here are some of our favorites. 10. Thermite vs.
Tables charting the chemical elements have been around since the 19th century - but this modern version has a short video about each one. We've done all 118 - but our job's not finished. Now we're updating all the videos with new stories, better samples and bigger experiments. Plus we're making films about other areas of chemistry, latest news and occasional adventures away from the lab.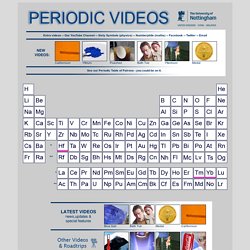 The graph shows the results of an experiment to monitor the pH of mouth fluids when various foods are eaten. In this case, Jim and Jane were enjoying sweet cakes and eating one every five minutes from 10 minutes to 30 minutes of the experiment. The pH was still measured before they started eating and for 15 minutes after they were told to stop eating. The experiment lasted a total of 45 minutes and Jane brushed her teeth 5 minutes after eating her last cake.What could you say is most likely TRUE based on the graph of results? [7e-102]
KS3 Science-Chemistry Quiz on "ACIDS and ALKALIS" (based on QCA 7E)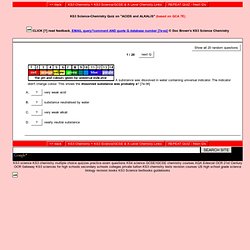 KS3 Science-Chemistry Quiz on "SOLUTIONS and separation of mixtures" (based on QCA 7H)
KS3 Science-Chemistry Quiz on "Particle models of gases, liquids & solids & solutions" (QCA 7G & 7H)
KS3 Science-Chemistry Quiz on "PARTICLE MODELS of gases, liquids, solids" (based on QCA 7G)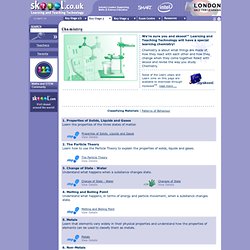 We're sure you and skoool™ Learning and Teaching Technology will have a special learning chemistry! Chemistry is about what things are made of, how they react with each other and how they change when they come together. React with skoool and revise the way you study Chemistry.
KS3 Bitesize: Game - Elemental