Trucs divers sur les start up, la webosphere, le design...
After disappointing post-IPO performances from Facebook, Groupon and Zynga, there's been a clarion call from top investors like Union Square's Fred Wilson, Y Combinator's Paul Graham and Kleiner Perkins' Mary Meeker for everyone to simmer down with valuations.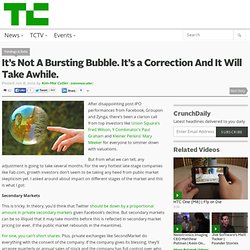 It's Not A Bursting Bubble. It's a Correction And It Will Take Awhile.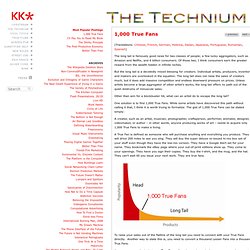 [Translations: Chinese, French, German, Hebrew, Italian, Japanese, Portuguese, Romanian, Spanish] The long tail is famously good news for two classes of people; a few lucky aggregators, such as Amazon and Netflix, and 6 billion consumers. Of those two, I think consumers earn the greater reward from the wealth hidden in infinite niches. But the long tail is a decidedly mixed blessing for creators. Individual artists, producers, inventors and makers are overlooked in the equation.
Le « Web indépendant » fête ses dix ans - Médias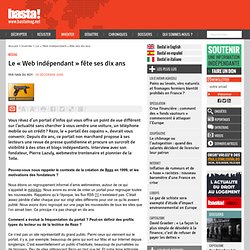 Vous rêvez d'un portail d'infos qui vous offre un point de vue différent sur l'actualité sans chercher à vous vendre une voiture, un téléphone mobile ou un crédit ? Rezo, le « portail des copains », devrait vous convenir. Depuis dix ans, ce portail non marchand propose à ses lecteurs une revue de presse quotidienne et procure un surcroît de visibilité à des sites et blogs indépendants. Interview avec son fondateur, Pierre Lazuly, webmestre trentenaire et pionnier de la Toile.
Findings - People Share News Online That Inspires Awe, Researche
5 Fresh and Extreme Useful Fonts for Logos – woorkup.com
Lazarus récupère le contenu d'un formulaire dans firefox
Toutes les versions d'Internet Explorer en images
I did interviews with most of the TechCrunch50 experts backstage and there was a common gripe about the companies launching there: Not enough passion, not enough swinging for the fences, not enough trying to change the world. There were too many people building safe businesses, too many companies just trying to make existing things slightly better, and too many people wanting to be the next Mint.com, not the next Google. Nothing against Mint, but Silicon Valley wasn't built on $170 million exits.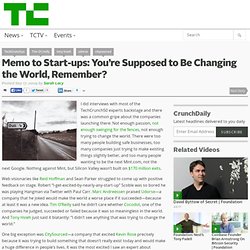 Memo to Start-ups: You're Supposed to Be Changing the World, Rem
Certes, leurs bureaux sont très chouettes, leurs employés sont jeunes et ont l'air détendus, et ils se défendent de vouloir dominer le monde comme la première compagnie pétrolière venue. Pourtant, la guerre économique que se livrent Google, Facebook, Microsoft, Apple et Yahoo est sans merci, et les marchés qu'ils veulent conquérir se chiffrent en milliards de dollars.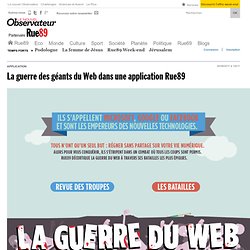 l'info cartographiée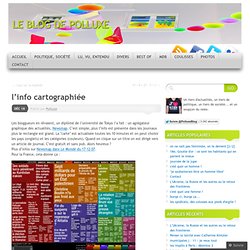 Les bloggueurs en rêvaient, un diplômé de l'université de Tokyo l'a fait : un agrégateur graphique des actualités, Newsmap. C'est simple, plus l'info est présente dans les journaux plus le rectangle est grand.