Kate Moss
Today's Rumor: Galliano for Topshop. Photo: Getty Images London's a hotbed of crazy rumors these days.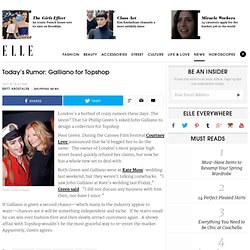 The latest? That Sir Phillip Green's asked John Galliano to design a collection for Topshop. Poor Green. During the Cannes Film Festival Courtney Love announced that he'd begged her to do the same. Les invités au mariage de Kate Moss. Can John Galliano Make A Comeback? We Want to Ruin Our Career the Kate Moss Way | MediaWorks. Lessons from the Lady Gaga School of Celebrity Endorsement - Erika Morphy - Selling It.
Celebrity Endorsements Still Push Product | CMO Strategy. The Biggest Celebrity Comebacks - Dorothy Pomerantz - Show Me The Money. 7 brands give Kate the boot. Kate Moss: The Waif That Roared - Beauty Industry and Products News. For the last 20 years, Kate Moss has been the world's most famous model, celebrated equally for her killer sense of style and striking looks.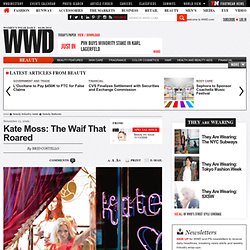 Now, at 35, her influence is more far reaching than ever, as her interests have grown to include designing a fashion line with Topshop and collaborating on a hair care brand with hairstylist James Brown, plus developing an expanding collection of fragrances with Coty. (Note to marketers: She's also keen to work on a makeup line.) Her latest scent, dubbed Vintage, plays on her famed fashion sense and love of clothing from bygone eras. WWD Beauty Biz recently spoke with the supermodel about her very fashionable life, her myriad inspirations and why she loves being in a jam. All About Kate: Fashion. Tweet share on facebook pin it share on google+ On one series of sublimely honest images, she is stripped naked, her bare body and face captured in unforgiving daguerreotypes by master artist Chuck Close.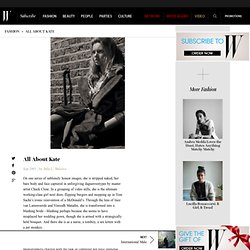 In a grouping of video stills, she is the ultimate working-class girl next door, flipping burgers and mopping up in Tom Sachs's ironic reinvention of a McDonald's. Through the lens of Inez van Lamsweerde and Vinoodh Matadin, she is transformed into a blushing bride—blushing perhaps because she seems to have misplaced her wedding gown, though she is armed with a strategically held bouquet. And there she is as a nurse, a tomboy, a sex kitten with a pet monkey. Document sur "Kate Moss Machine" de Christian Salmon. Vogue Magazine's Cover Archive. Kate Moss, The Top 100 Celebrities - Forbes.com. Rimmel Keeps Moss In Limbo - Forbes.com. Kate Moss Brings Clothing Line To U.S. - Forbes.com. The Celebrity 100. Moss Appeal - Forbes.com. #91 Kate Moss - Forbes.com. Kate Moss – the heroin chic of glory. * * Nowadays the British model earns more money than before her cocaine scandal Kate Moss is one of the most controversial persons on the world fashion scene.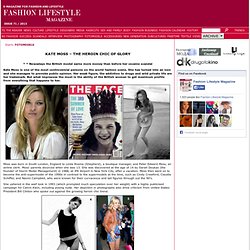 She has turned into an icon and she manages to provoke public opinion. Her weak figure, the addiction to drugs and wild private life are her trademark. But what impresses the most is the ability of the British woman to get maximum profits from everything that happens to her. Heroin Chic: The Fashion Phenomenon Analyzed Through the Writing of Christine Harold and Timothy Hickman. Heroin chic emerged in the 1990s as a high class fashion trend which appropriated visual imagery of heroin junkies and their environment into fashion photography.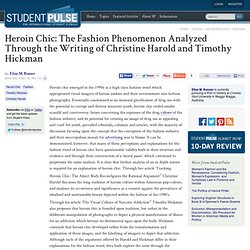 Eventually condemned as an immoral glorification of drug use with the potential to corrupt and destroy innocent youth, heroin chic ended amidst scandal and controversy. Issues concerning the exposure of the drug culture of the fashion industry, and its potential for creating an image of drug use as appealing and 'cool' for youth, pervaded editorials, columns and articles, with the majority of discussion focusing upon the concept that the corruption of the fashion industry and their unscrupulous morals for advertising was to blame. It can be demonstrated, however, that many of these perceptions and explanations for the fashion trend of heroin chic have questionable validity both in their structure and evidence and through their construction of a 'moral panic' which continued to perpetuate the same analysis.
Fashion and Art Embrace, if Not Passionately. Her comments were apropos of the September issue of W, which asked 17 artists and photographers, including Ms.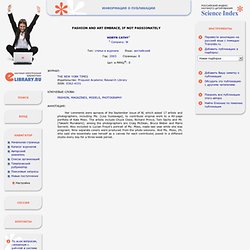 [Lisa Yuskavage], to contribute original work to a 40-page portfolio of Kate Moss. The artists include Chuck Close, Richard Prince, Tom Sachs and Mr. [Takashi Murakami]; among the photographers are Craig McDean, Bruce Weber and Mario Sorrenti. Also included is Lucian Freud's portrait of Ms. Moss, made last year while she was pregnant. Rinne Day - Exhibitions. Celebrities in Advertising Are Almost Always a Big Waste of Money - Advertising Age - CMO Strategy. S Money Girls - 5-1. Last updated: Sep 06 2013 There is an interesting device you can use to get an estimate on a model's money girl status.
You take a list of the highest paying clients in fashion, weigh the going rates these clients pay for their contracts and then apply it against the body of models employed by those clients. Who are the power clients? S Icons - 5-1. Last updated: Mar 24 2014 The fashion business is no cakewalk.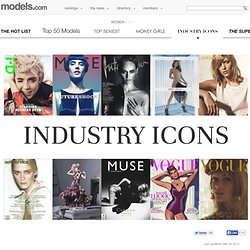 For a model to gain the respect of designers, photographers, editors, and casting directors is no small feat; and when a girl is not only respected but also revered, she becomes a legend in her own right. The industry icons are models who have built stellar careers, they've snagged every cover, walked every show, booked every campaign, and lived to tell the tale. Before you can be a true supermodel, you have to become one of the industry's preferred stars and these girls are all bonafide favorites. Kate Moss. Biography Birth Date: January 16, 1974 Nationality: United Kingdom Born in Britain, Kate Moss was discovered at the age of 14 by the owner of Storm models at JFK International airport.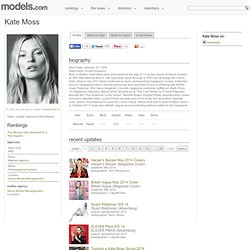 Her big break came through a 1993 ad campaign for Calvin Klein. Now in her 40's, Moss continues to work, commanding magazine covers, editorials, and ad campaigns. EXCLUSIVE: COCAINE KATE. Christian Salmon sur "Kate Moss Machine" - une vidéo Art et Création.
---