Cupcakes
Mini OREO Surprise Cupcakes Recipe. Chocolate Cupcakes with Flaming Strawberries. Call me easily amused, but these little torch-topped cupcakes delight me.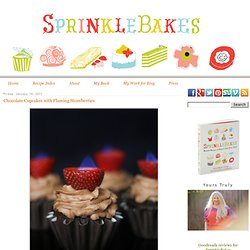 Besides being a cute novelty item for a party, I think they would add a little drama to the end of a romantic meal. I've been looking for something different to serve for Valentine's dessert, and this is definitely different. The strawberries are hollowed out and filled with a bit of liquor, then ignited with a match. Big Red Kitchen: Little Peach Cakes. More Food Crafts:Chocolate Covered Strawberry Mallow CandiesRainbow Cupcakes with Rainbow FrostingCandy Cake The title of this post sounds like a term of endearment someone may bestow on a cute little child, but no, the photo is a shot of my Little Peach Cakes made this morning for when my niece and nephew come over to play.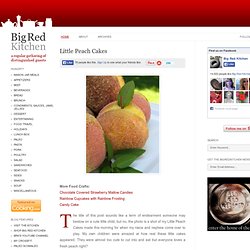 My own children were amazed at how real these little cakes appeared. They were almost too cute to cut into and eat but everyone loves a fresh peach right? I had spotted these in a magazine years and years ago (maybe Southern Living?) And just today thought to make them. Big Red Kitchen: Rainbow Cupcakes. So when it came time for our school's bake sale a week ago, I thought Rainbow Cupcakes would be fun for a change.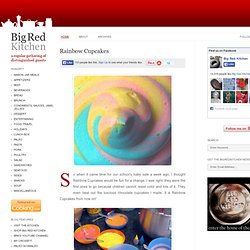 I was right, they were the first ones to go because children cannot resist color and lots of it. They even beat out the luscious chocolate cupcakes I made. Chocolate Chip Cookie Dough + Cupcake = The BEST Cupcake. Ever. Recipe. 20 Most Inventive Cupcakes Known To Man | The Sixth Wall - KoldCast Media.
---