Drinks
Get flash to fully experience Pearltrees
Save to your Collections Sorry for the inconvenience! Saving is temporarily unavailable as we work through a few kinks in our new recipe design (we hope you like it!).
Cut watermelon flesh into 2-inch chunks and discard rind. Purée one fourth of watermelon in a blender with 1 Tbsp sugar, 1 tsp lemon juice, 4 cups ice, and a pinch of salt.
Far from just a mundane alternative to caffeinated brews, herbal teas (or tisane), like the popular jasmine or chamomile, each offer unique health benefits.
Strawberry Margarita Jell-O Shooters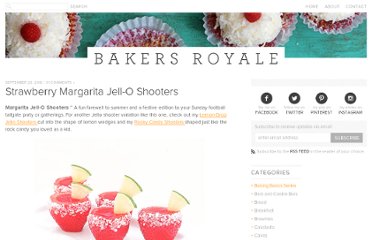 I know what you're thinking: "What if I attached a faucet to a watermelon and filled it with spiked watermelon juice so party guests could serve themselves right from the melon?" Well, my husband finally turned that dream into a reality.
I've had a few requests over the last few weeks for some smoothie recipes because I let it slip that Betsy and I generally just have a big smoothie for breakfast everyday. Turns out our daily smoothie recipe is a mix between yellow, red, and indigo, but that'll make more sense to you later.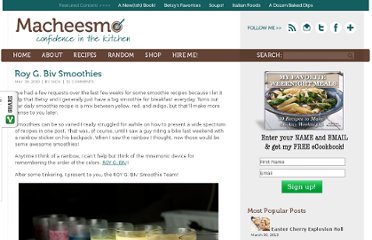 It's no secret… I'm a big fan of the Chocolate-Hazelnut flavor combination. So far I've used this flavor profile to make these cookies…
1. PB Frappe Puree 1/4 cup peanut butter with 1 cup milk.
May 4, 2010
Can I pleeeeeeeeeease meet the man or woman who invented Agua Fresca? I've got a hug, a kiss, a handshake and a future newborn that I'd like to name after them. I'm serious.
Warm spices, strong tea and steamed milk swirling around in my tummy make chai lattes a favorite during the winter months.