Language
100 Free Foreign Language Classes Online. March 1st, 2010 If you have always wanted to learn a language but were too put off by the high cost associated with most classes, then take a look at all these great opportunities to learn a foreign language online, at no cost to you.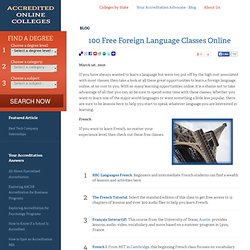 With so many learning opportunities online, it is a shame not to take advantage of all that you can, so be sure to spend some time with these classes. What is the fastest way to learn a foreign language? A problem with 'don't speak your own language with your child' is also when the parent isn't fluent in the language of the country they live in* it seems it's way better if a child speaks one (grammatically correct) language at home and another at school, than to learn a garbled language at home. children are perfectly capable of growing up bi-lingual, without mixing up those languages. but teach them a mangled and incorrect language at home and they will have a great problem getting the whole concept of grammar-rules. living in the netherlands i just can't imagine how it's like to only speak 1 language. that's for kids. english is mandatory in every highschool (together with math and dutch), and french and german are very common. i think that maybe a problem for those native english-speakers is 'if you start learning something you think it's easy, but then you start to find out how much you don't know and it seems an unsurmountable challenge'.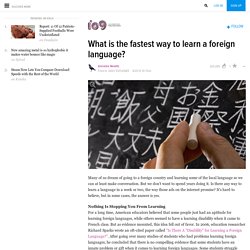 Open & Free Courses. Indo-European Languages: Free Online Tutorials & Exercises • www.ielanguages.com • Learn French • Learn Spanish • Learn Italian • Learn German • Learn Dutch • Learn Swedish. English to French, Italian, German & Spanish Dictionary. Learn 40 Languages for Free: Spanish, English, Chinese & More. How to learn languages for free?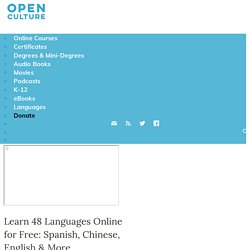 This collection features lessons in 40 languages, including Spanish, French, English, Mandarin, Italian, Russian and more. Download audio lessons to your computer or mp3 player and you're good to go. Learning Chinese. One Minute Mandarin. One Minute Mandarin provides an introduction to basic Mandarin.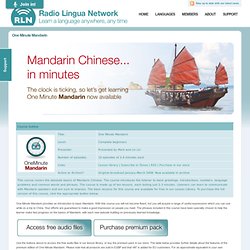 With this course you will not become fluent, but you will acquire a range of useful expressions which you can use while on a trip to China. Your efforts are guaranteed to make a good impression on people you meet. The phrases included in this course have been specially chosen to help the learner make fast progress on the basics of Mandarin, with each new episode building on previously-learned knowledge.
Use the buttons above to access the free audio files in our lesson library, or buy the premium pack in our store. The table below provides further details about the features of the premium edition of One Minute Mandarin. Learn Chinese - Clear and Easy Mandarin Lessons. Speak Chinese. Learn Chinese - Study Chinese - ChinesePod. Love love love, Jolin Tsai (Cai Yilin) - 蔡依林 - Chinese song. 5 lessons from the way that a child learns a new language | memrise blog.
ViewInside - Maintaining Control. Signing Online - Learn American Sign Language. Spanish Verb Conjugation Trainer > Future Tense - Learn Spanish online. Learn Spanish free online, learn German free... Fluent in 3 months. Korean Language series Video Lecture Course. Learn to read Korean in 15 minutes. I Learned to Speak Four Languages in a Few Years: Here's How. A Base Vocabulary List for any language.
[Author's note: Behold, the new, improved list:] [Available until Jan 2 via Kickstarter.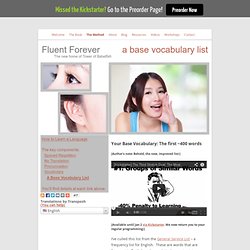 We now return you to your regular programming:] I've culled this list from the General Service List – a frequency list for English. These are words that are frequent in English and are relatively easy to picture. Language Network Resources. Three different organizations have been crucial to the development of Chinese language learning K-12 in the U.S., listed here in the order that they became involved in promoting Chinese language instruction since the 1980s: the Chinese Language Association for Elementary-Secondary Schools (CLASS), the College Board, and the Asia Society.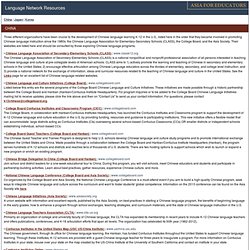 Their websites are listed here and should be consulted by those exploring Chinese language programs. • Chinese Language Association of Secondary-Elementary Schools (CLASS) | www.classk12.org The Chinese Language Association of Secondary-Elementary Schools (CLASS) is a national nonpolitical and nonprofit professional association of all persons interested in teaching Chinese language and culture at pre-collegiate levels of American schools.
---