Language
Spanish Dictionaries There are two free Spanish-English dictionaries: our very own dictionary and one from Collins. Each has its own strengths. Combined, they are unbeatable. French and Italian Dictionaries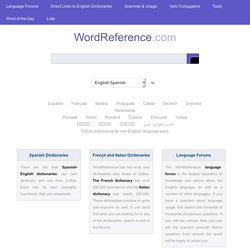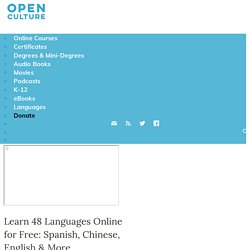 How to learn languages for free? This collection features lessons in 40 languages, including Spanish, French, English, Mandarin, Italian, Russian and more. Download audio lessons to your computer or mp3 player and you're good to go.
Learning Chinese
One Minute Mandarin
One Minute Mandarin provides an introduction to basic Mandarin. With this course you will not become fluent, but you will acquire a range of useful expressions which you can use while on a trip to China. Your efforts are guaranteed to make a good impression on people you meet. The phrases included in this course have been specially chosen to help the learner make fast progress on the basics of Mandarin, with each new episode building on previously-learned knowledge. Use the buttons above to access the free audio files in our lesson library, or buy the premium pack in our store. The table below provides further details about the features of the premium edition of One Minute Mandarin.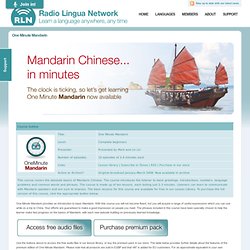 All you need to learn Chinese Welcome. This website is aimed at providing people who want to learn Mandarin with the online resources they need. If you want to learn Chinese online, then we offer you a useful and highly customizable Chinese-English dictionary, Learn Chinese (a free Chinese course) , a Chinese writing tutorial and a set of useful mp3 Chinese lessons.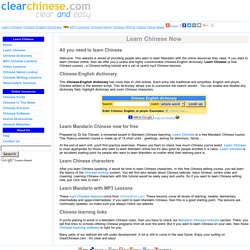 Learn Chinese - Clear and Easy Mandarin Lessons
Speak Chinese
Love love love, Jolin Tsai (Cai Yilin) - 蔡依林 - Chinese song
5 lessons from the way that a child learns a new language | memrise blog
ViewInside - Maintaining Control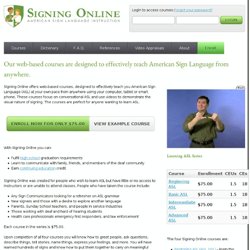 Signing Online - Learn American Sign Language
Learning ASL Series The four Signing Online courses are: Beginning ASL (ASL 101) – learn the basics of the language and simple conversations.Basic ASL (ASL 102) – based on what you learned in Beginning ASL, you will learn additional vocabulary, more and more advanced conversation.Intermediate ASL (ASL 103) – expanded learning enables you to express and comprehend more advanced signs and finger spellingAdvanced ASL (ASL 104) – this course ties together all that you have learned and you will now have the knowledge to enhance your fluency and continue your learning in ASL. Signing Online offers web-based courses, designed to effectively teach you American Sign Language (ASL) at your own pace from anywhere using your computer, tablet or smart phone. These courses focus on conversational ASL and use videos to demonstrate the visual nature of signing.
Spanish Verb Conjugation Trainer > Future Tense - Learn Spanish online
Learn Spanish free online, learn German free...
Korean Language series Video Lecture Course
[Author's note: Behold, the new, improved list:] [Available until Jan 2 via Kickstarter. We now return you to your regular programming:] I've culled this list from the General Service List – a frequency list for English. These are words that are frequent in English and are relatively easy to picture.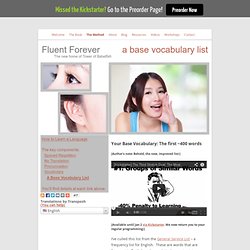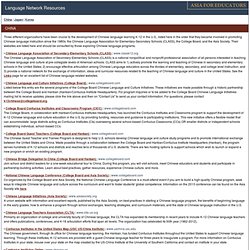 Language Network Resources | Asia for Educators | Columbia University
Three different organizations have been crucial to the development of Chinese language learning K-12 in the U.S., listed here in the order that they became involved in promoting Chinese language instruction since the 1980s: the Chinese Language Association for Elementary-Secondary Schools (CLASS), the College Board, and the Asia Society. Their websites are listed here and should be consulted by those exploring Chinese language programs. • Chinese Language Association of Secondary-Elementary Schools (CLASS) | www.classk12.org The Chinese Language Association of Secondary-Elementary Schools (CLASS) is a national nonpolitical and nonprofit professional association of all persons interested in teaching Chinese language and culture at pre-collegiate levels of American schools.