Sewing
gathered clutch tutorial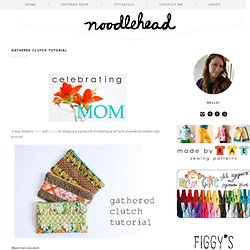 A huge thanks to Dana and Disney for doing such a great job of rounding up all sorts of wonderful mother's day projects! Materials needed: 1/4 yard each of three coordinating fabrics (you'll definitely have scraps leftover)8" zipper (you can always purchase a longer zipper and shorten it, just follow the directions on the packagescraps of medium weight fusible interfacingCutting the pieces: For the main exterior, cut two pieces, one 5.5" tall by 9" wide, and one 5.5" tall by 13" wide (this will be the gathered front) Pieces of medium weight fusible interfacing for exterior pieces of clutch: (2) 5.5" tall by 9" wide For the front band, cut one piece 4" tall by 9" wide.
Reversible bag from top of straps to bottom of bag: 50 cm / 20 inchesheight: 28 cm / 11 incheswidth: 40 cm / 16 inches I don't know because I used leftover fabric for my bag.
Making reversible bag | :: verypurpleperson ::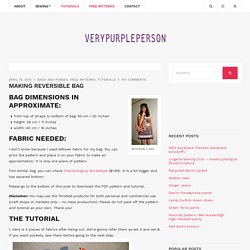 The silk lotus flower is easy to construct, but looks very luxurious. You can make it in any size, but pick fabrics that tend to be stiff, like silk taffeta or dupione. You can singe the edges of the petals with a flame, or just leave the cut edges raw.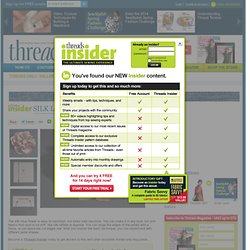 Silk Lotus Flower
make your own 6-pocket mini pocketbook and stay organized — insatiable need
I'm sure that many of you, like me, are on an eternal quest for organization. I know I'm not alone in finding the Container Store's promise of a perfect, organized life utterly seductive. But here's the thing…I don't really like purging, I love my stuff. Therefore I also love pretty things in which to stash my stuff, so I get to enjoy my fantasy of being organized and contained. This tutorial is about helping you stay organized, in a quick, easy, and super-cute way.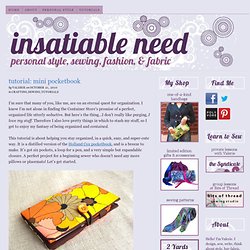 Having a reversible tote bag is like having 2 bags in one, now with the adjustable strap, you can have even more styling with it. Be it full length till your hip and sling across your chest, or shorten it till just below your armpit, inside out or outside in, style it with your mood and base on your outfit. I made this bag with one of my favorite fabrics.
How To Sew A Reversible Tote Bag With Adjustable Strap | craftpassion.com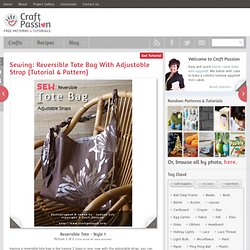 Princess seams, and other treacherous curves!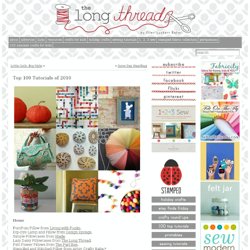 Home PomPom Pillow from Living with Punks. Dip-Dye Lamp and Pillow from Design Sponge. Simple Pillowcases from Made.
Top 100 Tutorials of 2010
Costume Creations » Playing dress up is fun, and sewing costumes is even better
Learning to Sew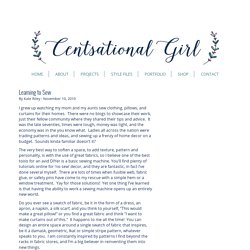 I grew up watching my mom and my aunts sew clothing, pillows, and curtains for their homes. There were no blogs to showcase their work, just their fellow community where they shared their tips and advice. It was the late seventies, times were tough, money was tight, and the economy was in the you know what. Ladies all across the nation were trading patterns and ideas, and sewing up a frenzy of home decor on a budget. Sounds kinda familiar doesn't it?
All Free Sewing - Free Sewing Patterns, Sewing Projects, Tips, Video, How-To Sew and More
[ Close Privacy Policy ] Privacy Policy / Your California Privacy Rights Revised and posted as of March 4, 2013 Prime Publishing, LLC ("Company," "we" or "us") reserves the right to revise this Privacy Policy at any time simply by posting such revision, so we encourage you to review it periodically. In order to track any changes to this Privacy Policy, we will include a historical reference at the top of this document. This Privacy Policy will tell you, among other things: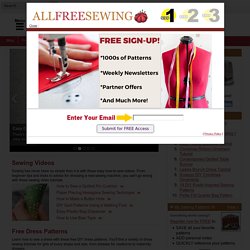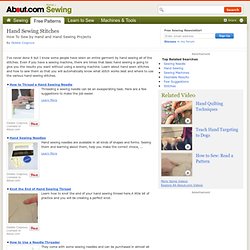 Hand Sewing - Stitches and How Tos
I've never done it but I know some people have sewn an entire garment by hand sewing all of the stitches. Even if you have a sewing machine, there are times that basic hand sewing is going to give you the results you want without using a sewing machine. Learn about hand sewn stitches and how to sew them so that you will automatically know what stitch works best and where to use the various hand sewing stitches. How to Thread a Hand Sewing Needle Debbie Colgrove, Licensed to About.com
by Jo Anne Yada Mookychick shows you how to customise an old sweatshirt to make a scarf with a hood attached. It's handy when you don't have a hood on your jacket, and it adds interest to a normal scarf when the hood is down. Start with a long-sleeved sweater. Fleece, knits, anything warm will work.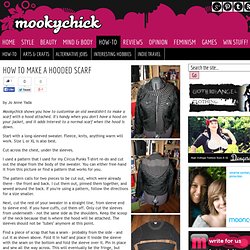 Indie Arts and Craft ideas: How to make a hooded scarf
Sewing Ideas
For the beginner sewer, SINGER ® makes sewing simple and easy. Bobbin Winder Stops bobbin winding when the bobbin is full Horizontal Spool Pin
More Free Purse & Tote Bag Patterns - sew-whats-new.com
Difficulty: ** You will need: gabardine; lining; fusing; 1 zipper; 3 buttons. Attention! Fabric consumption varies depending on the size of garment. First of all, print out paper patterns and lay them out at the width of fabric/ knit you plan to use, to see how much fabric you will need. When sewing the garment, pay attention to notches- they must coincide.
Dresses :. #5203 Petit black dress
EDIT: (11/11/09) Pictures are fixed! Again. If they don't work again at some point, PM me & I'll do my best to fix it right away. If you only comment in the thread, I might not notice for weeks! Now go make pretty hoodies. Okay!
Hoodie Tutorial (So. Many. Pictures.) - ThreadBanger Forums
First off, Rachel is one of the craftiest gals in the blogosphere. If you're in need of a little modern, down-to-earth Martha in your blog life right now you must visit Heart of Light. Next, she was nice enough to let us come over and do a little project with her that we are super-dy duper-dy excited to share with you all. Surely we've all noticed the crazy belt trend in the wedding world as of late (thank you, J Crew). Well it turns out you don't have to spend a ton on said accessory. They are surprisingly easy to make.
DIY ruffly belt with Rachel from Heart of Light « 100 Layer Cake
Beyond the Basics | Embroidery | Knit Simple Magazine
Beginner's Bias Tape Bag with Free Downloadable Pattern
39 free apron tutorials | frugalandthriving.com.au
Free Clothes Patterns
How to ruche - free tutorial on ruching a classic 3-dimensional flower
craft blog : My Kanzashi Hairpin
Easy Ruffled T-shirt Scarf
Out Of Order: DIY Tutorial - Full Skirt
Make a Dress from a Button-Down Shirt
Exclusive: DC Universe Online -- Early Gameplay
...love Maegan: Feather Skirt DIY
How To Make An Easy Dress (For Cheap!)
DIY: Skinny Ties