Art/Craft Ideas
1000 journals - Journals. Watercolour - Page 1. Big Doodle. Still life: Bent objects. UPDATE: The Return of Bent Objects Wires transform these objects from inanimate to hilarious works of art.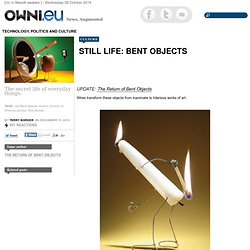 Little polish girl. Soap Making Instructions | Soap Making Recipes and Tutorials | Teach Soap. 106 of the most beloved Street Art Photos – Year 2010 | Street Art Utopia. More info.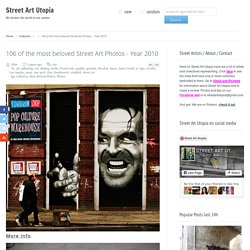 More info. More Banksy on streetartutopia.com. More info. Tugboat Printshop: Woodblock Cuts and Prints | Design Blog. Tugboat Printshop is the home woodblock print studio of artists Paul Roden and Valerie Lueth.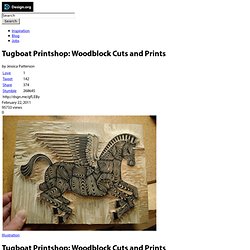 They create their prints completely by hand—art, woodblock carving, printing and all. In doing so, they hope to preserve and expand the art of woodcutting and woodblock prints. DEAR BLANK, PLEASE BLANK - Pìcame – Visual arts smugglers. Un progetto ironico e geniale di Jared Wunsch e Hans Johnson.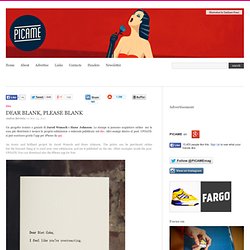 Le stampe si possono acquistare online ma la cosa più divertente è inviare le proprie submission e vedersele pubblicate sul sito. Altri esempi dentro al post. 30 Funny Illustrations about Simple Truths of Life. DIY Doily Lamp. Drawing Hands. This short tutorial is a just a small taste of a larger and much more in-depth book I wrote called The Mad Art of Caricature!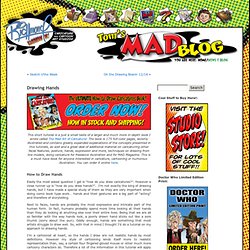 The book is 175 full-color pages, lavishly illustrated and contains greatly expanded explanations of the concepts presented in this tutorials, as well and a great deal of additional material on caricaturing other facial features, posture, hands, expression and more, techniques on drawing from live models, doing caricature for freelance illustration and for MAD Magazine. This is a must have book for anyone interested in caricature, cartooning or humorous illustration. Crafty. Most favorited all-time. Figurative Paintings & Drawings by James Bertucci. James Bertucci (Artist)Modern Figurative Painting About the Artist James Bertucci, 21, is a fine artist and sculptor.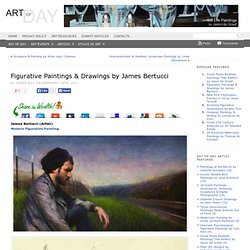 Bertucci at an early age began studying under John Tylk, who taught him the foundation skills in both drawing and painting. James has won national awards from 2004-2008 in the National Scholastic Art & Writing Awards and his senior year (2008) was selected as 1 of top 5 senior art portfolios in the nation. Bertucci's work has been exhibited in New York, Washington D.C., Chicago and Laguna Beach. James is currently studying at the Laguna College of Art & Design where he will complete his BFA in the Spring 2012.
Drawing Tutorial: Male. Hot or Cool? Color-Changing Chameleon Tiles. There is virtually no limit to what you can decorate with color-changing tiles (from Inventables).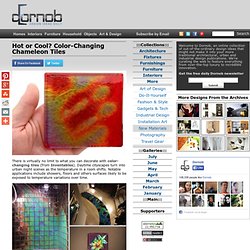 Daytime cityscapes turn into urban night scenes as the temperature in a room shifts. Notable applications include showers, floors and others surfaces likely to be exposed to temperature variations over time. While some of these are simply colored and relatively inexpensive there are all kinds of untapped design potentials yet to be explored. Perhaps they would make a good interior design match for an exterior application of some light transmitting concrete. Andrea Joseph. 15 creative and nerdy wedding invitations « blah blah blah… <——– To keep updated with my blog, take a minute and like me on Facebook!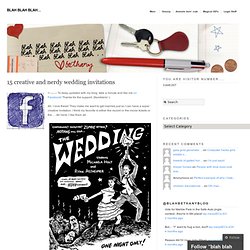 Thanks for the support, Stumblers! :) Ah, I love these! They make me want to get married just so I can have a super creative invitation. Digi-Color. Register for FREE!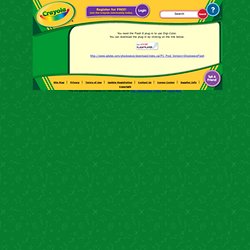 Join the Crayola community today. You need the Flash 8 plug-in to use Digi-Color. You can download the plug-in by clicking on the link below. 10 Ways to Take Stunning Portraits. A Post By: Darren Rowse How do you take Portraits that have the 'Wow' factor?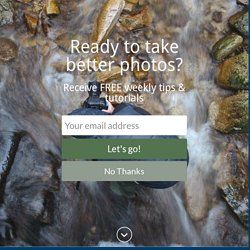 Today and tomorrow I want to talk about taking Portraits that are a little out of the box. You see it's all very well and good to have a portrait that follows all the rules – but it hit me as I was surfing on Flickr today that often the most striking portraits are those that break all the rules. I want to look at some ways to break out of the mold and take striking portraits by breaking (or at least bending) the rules and adding a little randomness into your portrait photography.
Art Department Photography 2010 - Thumbnail View. Online | How-To: Carve astounding art-pumpkins. Wire & Paper.
---