WebDev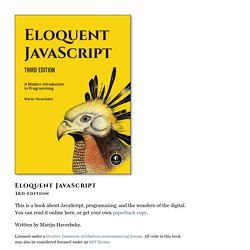 Eloquent JavaScript is a book providing an introduction to the JavaScript programming language and programming in general. A concise and balanced mix of principles and pragmatics. I loved the tutorial-style game-like program development. This book rekindled my earliest joys of programming.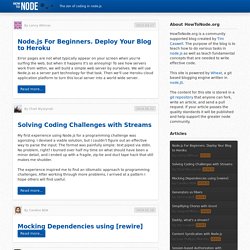 By Tim Caswell Generators vs Fibers Both ES6 generators and node-fibers can be used to block a coroutine while waiting on some I/O without blocking the entire process. This means that you can wait for an I/O result within your code but still have the performance benefits of the single-threaded, non-blocking I/O model you all know and love.
An example: Webserver This simple web server written in Node responds with "Hello World" for every request. To run the server, put the code into a file example.js and execute it with the node program from the command line: % node example.js Server running at http://127.0.0.1:1337/ Here is an example of a simple TCP server which listens on port 1337 and echoes whatever you send it:
Backbone.js gives structure to web applications by providing models with key-value binding and custom events, collections with a rich API of enumerable functions, views with declarative event handling, and connects it all to your existing API over a RESTful JSON interface. The project is hosted on GitHub, and the annotated source code is available, as well as an online test suite, an example application, a list of tutorials and a long list of real-world projects that use Backbone. Backbone is available for use under the MIT software license. You can report bugs and discuss features on the GitHub issues page, on Freenode IRC in the #documentcloud channel, post questions to the Google Group, add pages to the wiki or send tweets to @documentcloud. Backbone is an open-source component of DocumentCloud.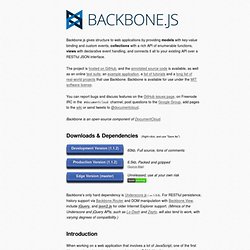 Backbone.js
Loading... Improve this doc A great way to get introduced to AngularJS is to work through this tutorial, which walks you through the construction of an AngularJS web app. The app you will build is a catalog that displays a list of Android devices, lets you filter the list to see only devices that interest you, and then view details for any device.
angular.js