Sutainability
Case-control studies: design, conduct, analysis - James J. Schlesselman, Paul D. Stolley. Projects. Following is a partial list of projects thatwe hope will inspire your understanding of what we call 'Slow design.'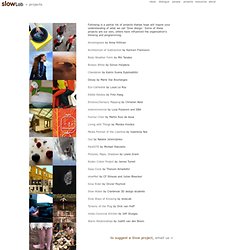 Some of these projects are our own, others have influenced the organization's thinking and programming. Amazingness by Anna Hillman Architecture of Subtraction by Karmen Franinovic Body Weather Farm by Min Tanaka Broken White by Simon Heijdens. Can music learn from the slow-food movement? - Art in Crisis. This past summer, Zenph Sound Innovations had a problem.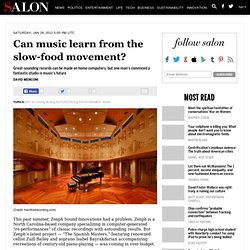 Zenph is a North Carolina-based company specializing in computer-generated "re-performances" of classic recordings with astounding results. But Zenph's latest project — "The Spanish Masters," featuring renowned cellist Zuill Bailey and soprano Isabel Bayrakdarian accompanying recreations of century-old piano-playing — was coming in over budget. That's when Zenph's management took a cue from the project's setting, Manifold Recording Studio, which was designed with both old-school live performance and new-school open-source philosophy in mind.
Manifold co-owner Michael Tiemann suggested that Zenph go the crowd-funding route to raise the money needed. "I proposed that we offset the costs by holding a recording salon," Tiemann says. Sustain: the alliance for better food and farming. Projects filtered by All. Www.forumforthefuture.org/sites/default/files/images/Forum/Projects/Consumer-Futures/Consumer Futures exec summary web_reduced size.pdf. Projects filtered by All. Sustainability report - Carrefour Group. An interactive game exploring what sustainability means and how it relates to our homes. Talk to Me. Welcome to Talk to Me, an exhibit at MoMA July 24–November 7, 2011 Whether openly and actively or in subtle, subliminal ways, things talk to us.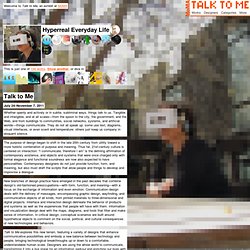 Tangible and intangible, and at all scales—from the spoon to the city, the government, and the Web, and from buildings to communities, social networks, systems, and artificial worlds—things communicate. They do not all speak up: some use text, diagrams, visual interfaces, or even scent and temperature: others just keep us company in eloquent silence. Social networking sites go local and hope to allow users to 'virtually' knock on each other's doors. By Meghan Keneally Updated: 23:22 GMT, 17 December 2011 It is a tool the older generation never needed - relying on a good old fashioned knock on the door.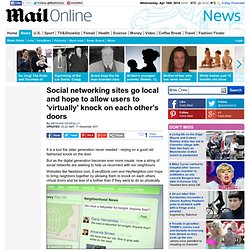 But as the digital generation becomes ever more insular, now a string of social networks are seeking to help us reconnect with our neighbours. Websites like Nextdoor.com, EveryBlock.com and HeyNeighbor.com hope to bring neighbors together by allowing them to knock on each others virtual doors and be less of a bother than if they were to do so physically. Help a neighbor out: Nextdoor.com only allows people who truly live in the neighborhood to participate by limiting access. Sustainable Everyday Explorations. Free programmes for Hackney schools | ecoACTIVE. Due to generous support by the London Borough of Hackney's Waste and Recycling Department we are able to offer a wide range of activities free of charge to schools in Hackney.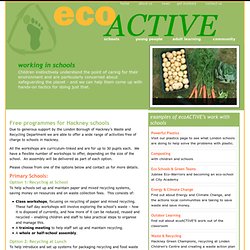 All the workshops are curriculum-linked and are for up to 30 pupils each. We have a flexible number of workshops to offer, depending on the size of the school. An assembly will be delivered as part of each option. Who we are · Waste Watch. Our vision is a world where we use resources sustainably and make a positive contribution to each other and the environment.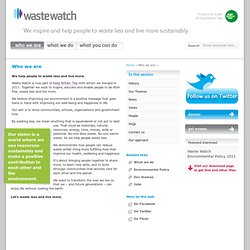 We help people to waste less and live more. Waste Watch is now part of Keep Britain Tidy with whom we merged in 2011. Together we exist to inspire, educate and enable people to be litter free, waste less and live more. We believe improving our environment is a positive message that goes hand in hand with improving our well-being and happiness in life. London Food Link. London Food Link. Game for Change: Fate of the World. New Computer Game Simulates Challenges of Global Warming A British company has developed a new computer game that allows players to save the planet from the effects of global warming — at least in a simulated setting.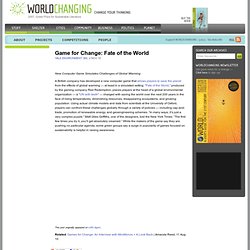 "Fate of the World," produced by the gaming company Red Redemption, places players at the head of a global environmental organization — a "UN with teeth" — charged with saving the world over the next 200 years in the face of rising temperatures, diminishing resources, disappearing ecosystems, and growing population. Energy Production and Consumption. Publications Annual Business Inquiry Department: Office for National StatisticsThe Annual Business Inquiry (ABI) is conducted in two parts: employment and financial information.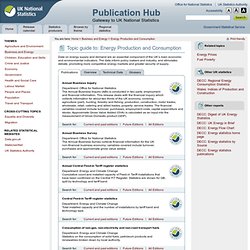 Aquaponics Uk - Welcome. Generating Power from Sidewalks. Clean Power Published on January 10th, 2012 | by Zachary Shahan That little green slab creates electricity.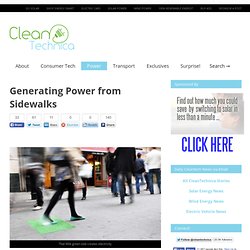 Mobile. England | London | Generating interest in wind power. When Donnachadh McCarthy decided he wanted to generate his own electricity using a wind turbine, he almost fell at the first hurdle.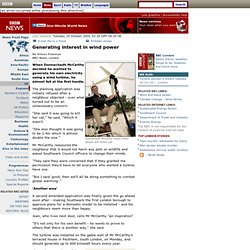 The planning application was initially refused after a neighbour objected - over what turned out to be an unnecessary concern. "She said it was going to kill her cat," he said, "Which it wasn't. "She also thought it was going to be 2.4m which is almost double the size. " Mr McCarthy reassured the neighbour that it would not harm any pets or wildlife and asked Southwark Council officers to change their minds. Generating Power From Waste - Recycling Expert. Author: James Murray-White - Updated: 28 November 2013| Comment Dealing with the huge amount of waste being thrown into landfill sites on a daily basis and exploring the growing need to find new solutions to the massive consumption of power and energy in the western world, are two areas scientists are examining right now. With the first problem, coping with waste, educating the public to use less and recycle more is the first part of the solution, but that still leaves the problem of what to do with the waste we already have?
What we do | | Thames21Thames21. Thames21 works on a wide range of inclusive and community-focused projects across the capital. We will work on any river, stream, canal, lake or pond, but below are our more dedicated community projects made possible through generous support. To find out more about our work generally or see if we can get involved in your area, please get in touch. Angling in London. London Green Map - London 21 Sustainability Network.
150 Examples of Sustainability. Next stop, the Olympics: Urban farmers are digging for eco-victory - Green Living - Environment. Across the country, more than 2,000 new spaces for growing food have been created over the past three years. And this is just the start of the upsurge of inner-city farming. Already, eco-designers have been invited to look round the Olympic site in east London to see if there is potential for a farm after the Games. While city allotments have long been popular, people are now growing produce to sell: Gordon Ramsay's Bread Street Kitchen features Bermondsey Frier cheese on its menu, while St Mungo's, the homeless shelter in south London, sells its vegetables to The Table Café in Southwark. In Nottingham, Ecoworks runs a local vegetable scheme delivering vegetable boxes to eight points across the city, and in Newcastle, bees on the roof of Fenwick yield the honey sold in the department store.
Top Corporate Sustainability Trends To Watch In 2012. The making of microfinance – six steps to significant change | Guardian Sustainable Business. Action for a sustainable world. How to Nudge Consumers to Be Environmentally Friendly. Michael Pawlyn: Using nature's genius in architecture. More is Less. Www.greenbiz.com/sites/default/files/ernst-young-shareholder-resolutions.pdf.
Nike Better World. EcoATM recycling kiosks for those unwanted gadgets | Eco-Friendly Gadgets.
---