Genealogy
Background | Search With a long tradition both in the United States and Europe dating back to the 1800's, funeral cards (also sometimes called mass, mourning or remembrance cards) are an excellent source of information for genealogists. While not a traditional "vital record", they often provide great clues like death and birth dates, name of the cemetery where the deceased was interred, name of the funeral home, and sometimes even a photo of the ancestor.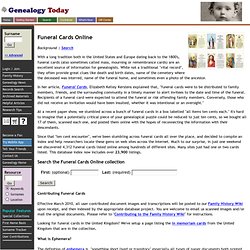 USGenNet. The First and Only Nonprofit Historical-Genealogical Web Hosting Service on the Internet! History, Historical, Family History, Genealogy, Genealogical. Family Values. History and Genealogy. Genealogy and History. ISP
Historic Map Works, Residential Genealogy ™
Find Family Bible Records One popular section of the site is our Bible Records Transcriptions and Images. These Family Bibles are completely indexed by surname and there over 500 pages of transcriptions and scanned images which we are adding to on a regular basis. Bible records are a great primary source for genealogy research and you will find many different surnames listed in many of these Bibles which include old photos, obituaries and other artifacts. Also see: Cherokee County, Alabama Bible Records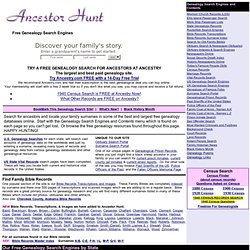 mymcpl.org - Mid-Continent Public Library
Profile of the Week: George Allen (ca. 1583-1648) Are you related to A.J. Jacobs yet, author of the Feb. 2 Sunday New York Times op-ed "Are You My Cousin?" and organizer of the global family reunion? Login to check. "After three years on WikiTree, it is still amazing to me that I can find such a rich online experience with so many different options ... totally FREE.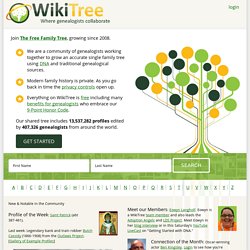 FamilyTree.com | Genealogy, Ancestry, and Family Tree Research
Federation of Genealogical Societies - About FGS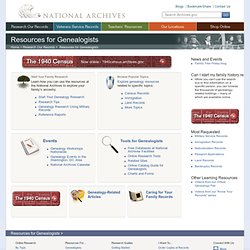 Skip Navigation. Resources for Genealogists Home > Research Our Records > Resources for Genealogists Now online - 1940census.archives.gov Start Your Family Research
CastleGarden.org is an educational project of The Battery Conservancy. This free site offers access to an extraordinary database of information on 11 million immigrants from 1820 through 1892, the year Ellis Island opened. More than 100 million Americans can trace their ancestors to this early immigration period. Castle Garden, today known as Castle Clinton National Monument, is the major landmark within The Battery, the 25 acre waterfront park at the tip of Manhattan. From 1855 to 1890, the Castle was America's first official immigration center, a pioneering collaboration of New York State and New York City.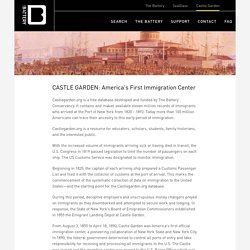 Castle Garden
Ellis Island - FREE Port of New York Passenger Records Search
Broad Name Search Begin by searching the website for your family records using broad queries. Remember, less is often times more. If your ancestor has an unusual first or last name, try searching the genealogy archives for one name at a time. Then refine your family search by adding additional information such as date range, occupation and location. Note that using both first and last name search fields will return genealogy records in which the surname is automatically "near2" the first name.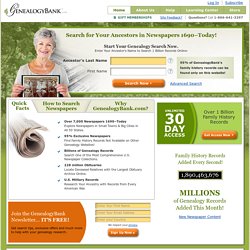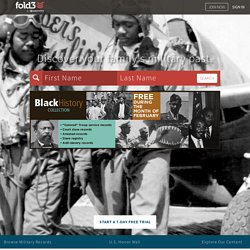 <div class="error site-message">Javascript must be enabled in order to use several pages found on Fold3. You will need to enable JavaScript by changing your browser options. <a href="http://www.google.com/support/bin/answer.py?answer=23852" class="outlink" target="_blank">Learn how to enable it.
RootsWeb.com Home Page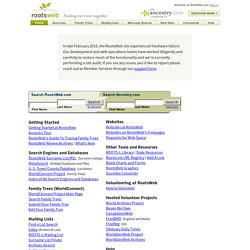 Getting StartedGetting Started at RootsWebAncestry TourRootsWeb's Guide To Tracing Family TreesRootsWeb Review Archives | SubscribeWhat's New | RootsWeb Newsroom Search Engines and DatabasesRootsWeb Surname List/RSL (Surname Listings)MetaSearch (Multiple Databases and Files)U. S. Town/County Database (Locations)WorldConnect Project (Family Trees)Index of All Search Engines and Databases Family Trees (WorldConnect)WorldConnect Project Main PageSearch Family TreesSubmit Your Family TreeEdit Your Family Tree Mailing ListsFind a List SearchIndex (Browse All Lists)ROOTS-L Mailing ListSurname List FinderArchives SearchArchives BrowseRequests for Mailing Lists
Welcome to The USGenWeb Project! We are a group of volunteers working together to provide free genealogy websites for genealogical research in every county and every state of the United States. This Project is non-commercial and fully committed to free genealogy access for everyone. Organization is by county and state, and this website provides you with links to all the state genealogy websites which, in turn, provide gateways to the counties.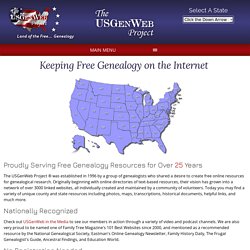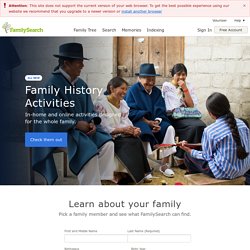 A helper number is an identification number that allows someone to use FamilySearch.org on behalf of someone else. People who already have an account on FamilySearch.org can see or edit their helper number in settings. Note: Members of The Church of Jesus Christ of Latter-day Saints have a default helper access number, which is the last 5 characters of their membership record number.
I was lucky enough to attend a great workshop this past weekend on Advanced Autosomal DNA with genetic genealogist CeCe Moore at the Association of Professional Genealogist's Professional Management Conference. Not only are the DNA testing companies updating the analysis tools that they offer, but a number of great 3rd-party tools are also available. These tools exist to help you learn something from those "cousin matches" by identifying and associating specific segments of DNA segments with specific ancestors. By comparing matching DNA segments you can sometimes determine which ancestor donated which particular segment. Here's a number of fun tools and explanations to get you started! There are charts for examining x-DNA inheritance as well!