Genealogy
Finding Funeral Cards Online for your Genealogy. Background | Search With a long tradition both in the United States and Europe dating back to the 1800's, funeral cards (also sometimes called mass, mourning or remembrance cards) are an excellent source of information for genealogists.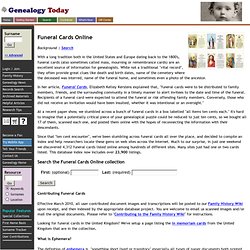 While not a traditional "vital record", they often provide great clues like death and birth dates, name of the cemetery where the deceased was interred, name of the funeral home, and sometimes even a photo of the ancestor. USGenNet. The First and Only Nonprofit Historical-Genealogical Web Hosting Service on the Internet! History, Historical, Family History, Genealogy, Genealogical. Family Values. History and Genealogy. Genealogy and History. ISP. Historic Map Works, Residential Genealogy ™ Ancestor Hunt - Free Genealogy Search Engines. Mymcpl.org - Mid-Continent Public Library.
GeneaWiki. WikiTree - Collaborative Family Tree. Find A Grave - Millions of Cemetery Records. FamilyTree.com | Genealogy, Ancestry, and Family Tree Research. Federation of Genealogical Societies - About FGS. National Genealogical Society | Home.
Historic American Newspapers. American Memory from the Library of Congress - Home Page. Resources for Genealogists and Family Historians. Skip Navigation.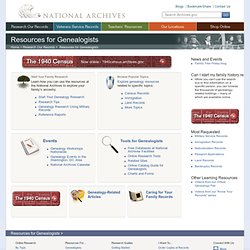 Resources for Genealogists Home > Research Our Records > Resources for Genealogists Now online - 1940census.archives.gov Start Your Family Research. Castle Garden. Ellis Island - FREE Port of New York Passenger Records Search. Genealogy Search & Family History Records. Broad Name Search Begin by searching the website for your family records using broad queries.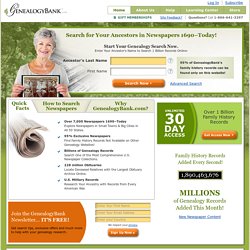 Remember, less is often times more. If your ancestor has an unusual first or last name, try searching the genealogy archives for one name at a time. Then refine your family search by adding additional information such as date range, occupation and location. Note that using both first and last name search fields will return genealogy records in which the surname is automatically "near2" the first name. Fold3 - Historical military records. RootsWeb.com Home Page. Free Genealogy and Family History Online - The USGenWeb Project.
Welcome to Cyndi's List. FamilySearch.org — Free Family History and Genealogy Records. About Genealogy - Learn How to Research Your Family Tree.
---