Knitting/Needlework
How To: Crochet a Granny Square Blanket | Apartment Therapy Ohdeedoh. Knitted Bunnies « Jo so and sew. This bunny is so simple as it is made from a knitted square – any size is fine.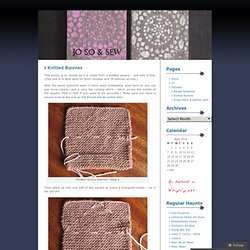 (This one is in 8ply wool on 4mm needles and 28 stitches across.) With the same coloured wool (I have used contrasting wool here so you can see more clearly) and a very big running stitch – stitch across the middle of the square (fold in half if you want to be accurate.) Make sure you have a secure knot at the end as the thread will be pulled later. Amigurumi Tutorial 3 (additional techniques) | Hook and Needles: Knitting and Crochet Blog (cool stuff, techniques, and things I find) In the first amigurumi tutorial I went over the basic crochet techniques needed to make amigurumis.
In the second installment , I explained the most common types of patterns, and how to read them. In this final amigurumi tutorial I'll cover some additional techniques often used when making amigurumis. Other Crochet Stitches Although most amigurumis are made with the single crochet stitch shown in the first tutorial, you are often required to use other stitches to shape your doll. The following is not an inclusive list (for that go to Nexstitch's crochet video tutorials ), but simply some of the stitches that you are likely to encounter when crocheting amigurumis. Knitting Stitch Patterns-Open Twisted Rib. // knitPro. KNITPRO knitPro is a free web application that translates digital images into knit, crochet, needlepoint and cross-stitch patterns.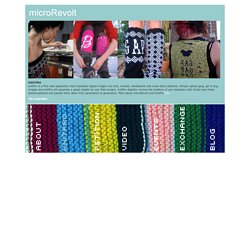 Simply upload jpeg, gif or png images and knitPro will generate a graph sizable for any fiber project. knitPro digitally mimics the tradition of pre-industrial craft circles who freely shared patterns and passed them down from generation to generation. More about microRevolt and knitPro here. Learn How | Knit Simple Magazine. Glossary. Home Page | Sublime Stitching. Sharon b's in a minute ago. I hope you find this needlework dictionary useful and with it able to improve your hand embroidery skills.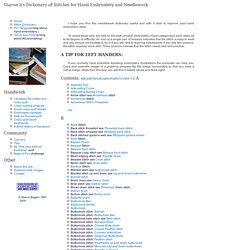 To assist those who are new to the craft of hand embroidery I have categorised each stitch as to its degree of difficulty. An icon of a single pair of scissors indicates that the stitch is easy to work and you should not hesitate to try it. If you are new to learning needlework.
---