Travel
11 million downloads on, Expedia 3.0 taps live data to create visual itineraries on iOS and Android. We last caught up with Expedia back in November, just as it had rolled out a new iOS and Android mobile app, adding flight information, special offers and high-res hotel photos.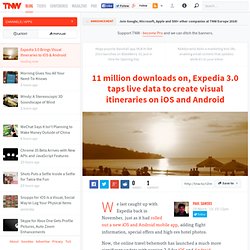 Now, the online travel behemoth has launched a much more significant update with version 3.0 for iOS and Android, introducing new visual mobile itineraries which are connected to the traveler's Expedia itinerary. Indeed, the latest mobile Expedia incarnation gives travelers up-to-date information using a set of visual cues, tapping location-aware smartphone features and time-zone updates to surface the most relevant part of the itinerary. Adventure generator for spontaneous people. Expedia Encourages You to Find Your Story with New App.
Travel and soul searching are inextricable partners.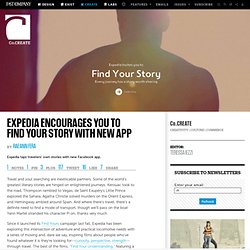 Some of the world's greatest literary stories are hinged on enlightened journeys. Kerouac took to the road, Thompson rambled to Vegas, de Saint Exupéry's Little Prince explored the Sahara, Agatha Christie solved murders on the Orient Express, and Hemingway ambled around Spain. And where there's travel, there's a definite need to find a mode of transport, though we'll pass on the boat Yann Martel stranded his character Pi on, thanks very much. Since it launched its Find Yours campaign last fall, Expedia has been exploring this intersection of adventure and practical locomotive needs with a series of moving and, dare we say, inspiring films about people who've found whatever it is they're looking for--curiosity, perspective, strength--through travel. The best of the films, "Find Your Understanding," featuring a father confronted with his feelings about his daughter's same-sex wedding, is even a legitimate tearjerker. 41 Places To See Before You Die (Part I)
No matter how advanced our cities and technology is, eventually we get tired of all the noise, stress and crowd of the city and want to be in the nature.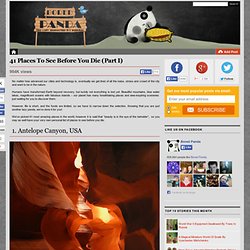 Humans have transformed Earth beyond recovery, but luckily not everything is lost yet. Beautiful mountains, blue water lakes, magnificent oceans with fabulous islands – our planet has many breathtaking places and awe-inspiring sceneries just waiting for you to discover them. However, life is short, and the funds are limited, so we have to narrow down the selection. Gogobot releases iOS travel app with discovery tools and photo filters. Travel, then, is a voyage into that famously subjective zone, the imagination, and what the traveler brings back is — and has to be — an ineffable compound of himself and the place, what's really there and what's only in him.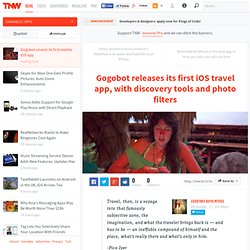 -Pico Iyer In March of this year, I wrote a post titled, "Why Gogobot makes Google and TripAdvisor look like folding car maps." The service is fast-becoming a much-loved, travel savvy community. Gogobot is a San Francisco based travel planning startup founded by MySpace's former GM International Travis Katz and Ori Zaltzman, the former Chief Architect of Yahoo Boss, that opened up its public beta in November 2010 after raising $4 million from Battery Ventures. Oyster Hotel Reviews. Vols à bas prix, hôtels, billets d'avion, billets pas chers, offres voyages à bas prix - KAYAK – Comparez des centaines de sites de voyage en même temps. Hipmunk: Better Flight Search. Best Online Travel Magazine | Best Online Travel Community -- Ma. 40 Most Useful Travel Websites That Can Save You a Fortune | Wis. Welcome Stumbled Upon & Delicious Users: You may also want to check out our 180+ Best Money Saving Tools.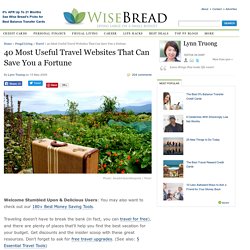 Traveling doesn't have to break the bank (in fact, you can travel for free), and there are plenty of places that'll help you find the best vacation for your budget. Get discounts and the insider scoop with these great resources. Don't forget to ask for free travel upgrades. Avis d'hôtels, restaurants, activités, voyage, hébergements et séjours. Supernews. © kulture shop india's transformation goes leaps and bounds, and just as quickly emerges an interesting new infrastructure that specifically caters to the lifestyle requirements of a savvy new generation. retail is very much at the forefront of new initiatives, and it's in the country's top-tier cities where these manifest most visibly. the newly opened kulture shop in mumbai is emblematic of this trend. situated in bandra west, an upscale suburb of this sprawling city of over 18 million inhabitants, it's an initiative of arjun charanjiva, founder and c.e.o., and kunal anand, jas charanjiva and rajeev sathe. these four professionals share a wealth of prior work experience in the creative and corporate fields both in india and abroad, and they've now joined forces to set up shop out of a sheer passion for graphic art.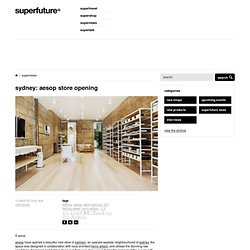 Supertravel. Supershop. Free Worldwide Travel Guides. Airline Seating Charts - Best Airplane Seats - SeatGuru. ITA Software - Solving the Travel Industry's Most Complex Problems. Hôtel Flaubert - Sur la plage de Trouville.
New York City
London. San Francisco. Mumbai.
---