Music
Un article de Wikipédia, l'encyclopédie libre. ID3 est le nom des métadonnées pouvant être insérées dans un fichier audio comme MP3. Ces métadonnées permettent d'avoir des informations sur le contenu du fichier comme le titre, le nom de l'interprète, les commentaires, ou encore la date de sortie. Les versions[modifier | modifier le code]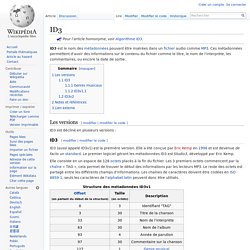 ID3
Leave it to those ambitious, young grad students to show us the objects of our desire that we didn't even realize we desired. Thanks to Jordi Parra, an Interaction Design student at the Umeå Institute of Design in Sweden, we now have a futuristic new music player that lets you listen to Spotify from the comfort of your living room. (Only if your living room is in Europe, however, as Spotify is not yet available in the U.S.) At first glance, the player — which Parra made as part of his final design project in collaboration with Spotify — looks like a digital lovechild of Jonathan Ive and the brilliant Swedes at Ikea.
Spanish Design Student Creates Sleek New Spotify Gadget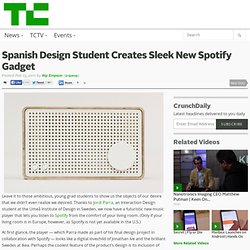 Notre service est la vidéo la plus fiable to MP3 Converter sur Internet. Nous avons consacré serveurs fonctionnant 24 heures par jour pour vous le convertisseur mp3 le plus rapide jamais porter! Nous n'avons pas besoin de vous inscrire ou de vous identifier pour utiliser ce service. Totalement illimitées.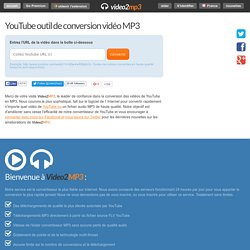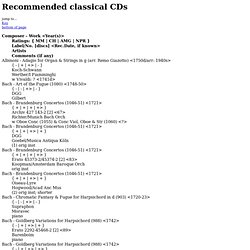 Recommended classical CDs
jump to... Keybottom of page Composer - Work <Year(s)> Ratings: { MM | CH | AMG | NPR } Label/No. [discs] <Rec.Date, if known>
Other Music Digital: MP3 Music Downloads
Juan Wauters, the creative force behind Queens' joyful garage-pop weirdos the Beets, celebrates the release of his debut solo album, N.A.P. North American Poetry, on Captured Tracks, on Monday, February 3rd at Other Music. Folkier and more personal than his stuff with the band, Wauters solo is no less original and engaging, and we hope you'll join us for this special record release performance. Monday, February 3 @ 8 p.m.Free Admission | Limited Capacity