Mobile
Facebook plans suite of standalone mobile apps for 2014
Facebook's new Messenger app is lightning fast and utilitarian — a vision of the "mobile first" mentality Facebook promised one year ago. In an earnings call two weeks after Messenger launched, CEO Mark Zuckerberg reflected on how the company had "historically" moved forward by building a lot of features into its core app — and how things were about to change. "We also have a few separate apps that are widely used, such as Instagram and Messenger, our standalone messaging app," he said. "In the future, we expect to develop more of these services to help people share." At the time, Zuckerberg's statement didn't generate any headlines or much attention, but The Verge has learned that he was hinting at the company's 2014 strategy: Facebook plans to produce a number of slick, standalone apps designed for mobile. If you're into mobile games you'll be interested to know that Angry Birds Go! – Rovio's bird-filled take on Mario Kart — just landed. The title has gone live in the Windows Phone Store, App Store, Google Play Store, and BlackBerry World today, as planned.
Angry Birds Go! is Now Available
Dropbox Unveils Sync API For Mobile Developers, Allows Apps To Work With Cloud-Based Files As If They Were Local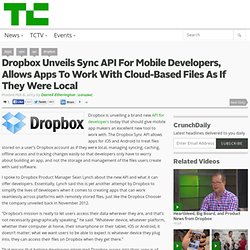 Dropbox is unveiling a brand new API for developers today that should give mobile app makers an excellent new tool to work with.
Dave Morin, the chief executive of the private mobile social network app Path, was onstage at MobileBeat 2012 this morning with Michael Copeland, the senior editor of Wired.
Path CEO Dave Morin speaks on design and bringing the future to the world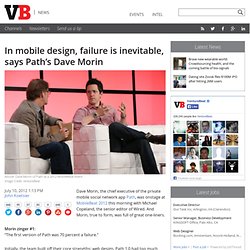 custom_1294275775943_106890922
With Square in Its Sights, PayPal Debuts Mobile-Payment Hardware | Epicenter
SAN FRANCISCO — E-payments service PayPal unveiled new hardware for its payments system on Thursday, signaling in no uncertain terms the company's intent to fight Square — Twitter co-founder Jack Dorsey's up-and-coming mobile payments company — for the hearts of customers and retailers everywhere.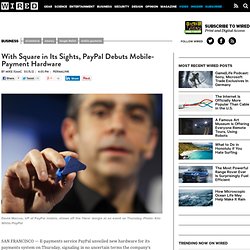 Netflix Deal Reveals Apple's Secret Sauce: iTunes Pay Channel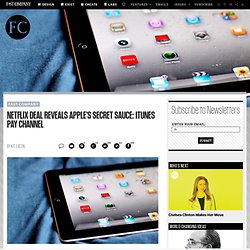 As announced this week, the new Apple TV brings a new UI, better internal specs, and full HD capability to the table. But there's the business equivalent of an Easter egg hidden in it for Netflix subscribers: From now on, if you want to join Netflix you can do it through your Apple TV, and Apple handles the payments via its iTunes back channel. Essentially it works like this: The Apple TV functionality hinges on your iTunes user account, the same kind that's powered 25 billion app downloads to date.
Why Twitter Bought Posterous: Talent And Apple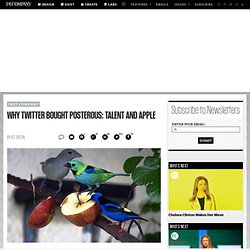 Yesterday Twitter revealed it bought Posterous, a lifeblogging/microblogging/sharing site.
From the HTC One to the Samsung Galaxy Beam, check out some of the most interesting smartphones from Mobile World Congress 2012. 1 of 11 Mobile World Congress is paradise for the gadget-obsessed.
9 Coolest Smartphones At Mobile World Congress -- InformationWeek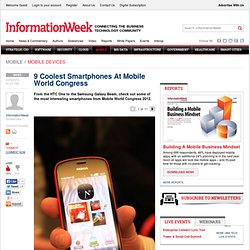 Jenkins: Obama and the Smartphone Wars
Live Stream: The Launch Of The Apple iPhone 4S From NYC's Flagship Apple Store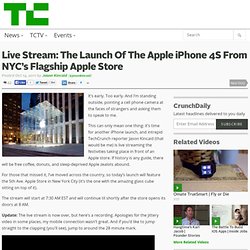 It's early.
Mary Meeker's Latest Awesome Web 2.0 Presentation About The State Of The Web
Le browsing sur mobile est déjà une réalité - Site mobile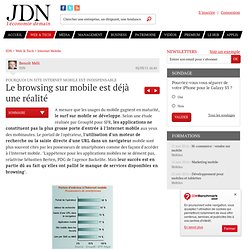 A mesure que les usages du mobile gagnent en maturité, le surf sur mobile se développe. Selon une étude réalisée par GroupM pour SFR, les applications ne constituent pas la plus grosse porte d'entrée à l'Internet mobile aux yeux des mobinautes.
Nielsen: 32 Percent Of New Smartphone Owners Choose Android Phones
According to August data from The Nielsen Company, Android has passed the iPhone and BlackBerry to become the popular operating system for people who bought a smartphone in the past six months. Over the past six months, 32 percent of new smartphone owners chose an phone with an Android operating system, while 25 percent chose the iPhone OS and 26 percent chose RIM's Blackberry smartphones. The data, which covers a period that includes a full-month of iPhone 4 availability, also shows that Blackberry still holds largest share of the smartphone market with 31 percent of the market.
Pinger Now Turns Your iPod Touch Into A Free Cell Phone
Earlier this month we took a look at Pinger, the company behind Textfree, a massively popular application for the iPhone and iPod Touch that gives users free, unlimited text messaging.
Forget The Facebook Phone, Here's Mozilla Seabird — An Open Web Concept Phone
Much as been made of the so-called Facebook Phone.
With the company in-between CEOs, it was left to Niklas Savander, Executive Vice President, Markets, to deliver the opening keynote at today's Nokia World in London.
Nokia World: "Nokia is back", claims handset maker with three new devices but MeeGo is M.I.A.
Mobile Password Authentication System - One Time Passwords | FireID
Mobile Authentication Technology Company FireID Raises $6.4 Million
It's not every day we get to post about venture capital flowing to a Southern African company with global ambitions, but here goes: FireID, a provider of security applications for mobile authentication, has secured 5 million euros (roughly $6.4 million) from Jersey-based early-stage investment firm 4Di Capital.
Smartphone App Market Reached More Than $2.2 Billion In The First Half Of 2010
research2guidance | The mobile research specialists
RIM's Flickering Torch Should Signal Defeat For The "Consumer-Grade" Blackberry
jkOnTheRun