Social Media
Cabana
Customize your facebook fanpage for free !! :.
App Directory | Facebook Business Apps & Tools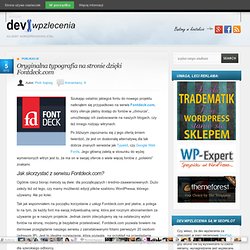 lut 5 2012 Szukając ostatnio jakiegoś fontu do nowego projektu natknąłem się przypadkowo na serwis Fontdeck.com , który oferuje płatny dostęp do fontów w "chmurze", umożliwiając ich zastosowanie na naszych blogach, czy też innego rodzaju witrynach. Po bliższym zapoznaniu się z jego ofertą śmiem twierdzić, że jest on doskonałą alternatywą dla tak dobrze znanych serwisów jak Typekit , czy Google Web Fonts .
Oryginalna typografia na stronie dzięki Fontdeck.com « dev.wpzlecenia
Eventcookie (beta) | Aktualna lista eventów | Nie zbieraj okruszków. Zdobywaj wiedzę.
5 Reasons You Need FanBridge Today
Superior Client Service. From real, live people. Our platform is backed by people, not just computers.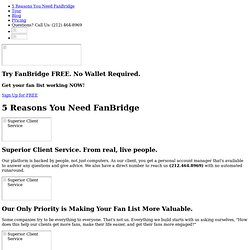 Analytics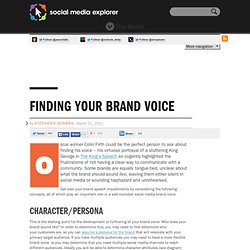 Oscar winner Colin Firth could be the perfect person to ask about finding his voice – his virtuoso portrayal of a stuttering King George in The King's Speech so cogently highlighted the frustrations of not having a clear way to communicate with a community. Some brands are equally tongue-tied, unclear about what the brand should sound like, leaving them either silent in social media or sounding haphazard and unrehearsed. Get over your brand speech impediments by considering the following concepts, all of which play an important role in a well-rounded social media brand voice. Character/Persona This is the starting point for the development or furthering of your brand voice: Who does your brand sound like? In order to determine this, you may need to first determine who your customers are, so you can assume a persona for the brand that will resonate with your primary target audience.
Finding Your Brand Voice
science-of-social-timing-part-2-sm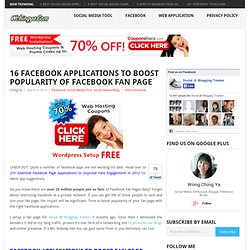 CHECK OUT: Quite a number of facebook apps are not working till date. Head over to 23+ Essential Facebook Page Applications to Improve Fans Engagement in 2012 for latest app suggestions. Do you know there are over 20 million people join as fans of Facebook Fan Pages daily? Forget about restricting Facebook as a private network. If you can get 5% of those people to land and join your fan page, the impact will be significant. Time to boost popularity of your fan page with the right Facebook applications.
Create a mobile site for your blog or website in minutes - MobStac
I loved JSFiddle ever since I first used it. Being able to test something almost instantly and without littering my hard drive opened new possibilities for me. I use it daily for experiments, browser bug testcases, code snippet storage, code sharing and many other things. However, there were always a few things that bugged me: JSFiddle is very JS oriented, as you can tell even from the name itself JSFiddle is heavily server-side so there's always at least the lag of an HTTP request every time you make an action. It makes sense not to run JS on every keystroke (JSBin does it and it's super annoying, even caused me to fall in an infinite loop once) but CSS and HTML could be updated without any such problems.
Introducing dabblet: An interactive CSS playground