Sewing
Tales of love and chocolate: One cloth - five ways! My morning, so far, was spent procastinating.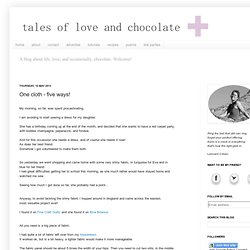 I am avoiding to start sewing a dress for my daughter. She has a birthday coming up at the end of the month, and decided that she wants to have a red carpet party, with kiddies champagne, paparazzis, and fondue. And for this occassion she needs a dress, and of course she needs it now! As does her best friend. Versatile Scarf - Cardigan Pattern (e.g. Bina Brianca Wrap Tutorial) Socks into Fingerless Gloves. Sweatshirt liposuction. Pillowcase nightgown tutorial. They are so easy it's embarrassing so I thought I would just write out what I did with some of my super fantastic hand drawn pictures instead of making you wait until I feel like making another pair, which might be until the weather gets a lot warmer.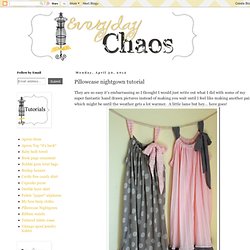 A little lame but hey… here goes! They are basically a modified pillowcase dress made out of knit. Easy peasy. The two I made were about a girls size 10 so my directions are based on that. The Easiest Skirt in the World (x2) « handmademess. I'm the queen of cheap and easy sewing projects.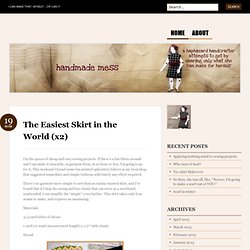 If there's a fun fabric around and I can make it wearable, in garment form, in an hour or less, I'm going to go for it. This weekend I found some fun printed upholstery fabrics at my local shop that suggested immediate and simple fashions with barely any effort required. Minis. Raised fishbone stitch. This stitch is typically used for leaf patterns.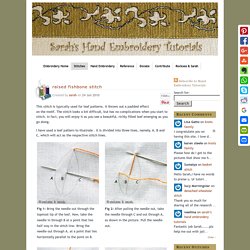 It throws out a padded effect on the motif. The stitch looks a bit difficult, but has no complications when you start to stitch. Crafty Tutorial: Super-Chunky Crocheted Infinity Scarf [Giveaway!] By popular demand, you can now download the PDF for this pattern here!!!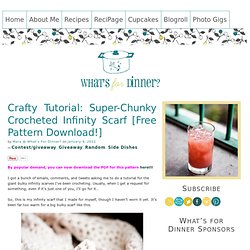 I got a bunch of emails, comments, and tweets asking me to do a tutorial for the giant bulky infinity scarves I've been crocheting. Usually, when I get a request for something, even if it's just one of you, I'll go for it… So, this is my infinity scarf that I made for myself, though I haven't worn it yet. It's been far too warm for a big bulky scarf like this. This post was an entire weekend in the making. How To Make A Custom Laptop Bag. I have been wanting to share how to draft a custom bag pattern for awhile, but knew it would take just the right project to do it.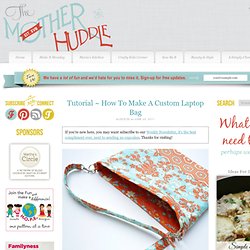 I think this is it. I made this laptop bag tutorial for Jessica's Pattern Remix Event with the idea that you could customize it for any size laptop. But really, this concept can be used for anything from an ipod case on up to a laundry bag (kids going to college?). I first learned the technique from Carrie at Gracie Lou's Quilt Shoppe in Salem, UT. V and Co how to: shag pillow. *no animals or plants were hurt in the making of this project.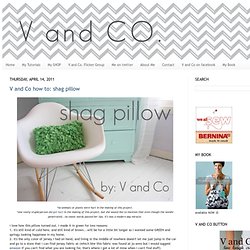 *one really stupid person did get hurt in the making of this project, but she would like to mention that even though the needle penetrated...no swear words passed her lips. it's was a modern day miracle. i love how this pillow turned out. i made it in green for two reasons: 1. it's still kind of cold here, and still kind of brown...will be for a little bit longer so i wanted some GREEN and springy looking happiness in my home. 2. it's the only color of jersey i had on hand, and living in the middle of nowhere doesn't let me just jump in the car and go to a store that i can find jersey fabric at (which btw this fabric was found at jo-anns but i would suggest amazon if you can't find what you are looking for, that's where i get a lot of mine when i can't find stuff)
The Vintage Embroidery Patterns Pool. Circle Zip Earbud Pouch Tutorial - Dog Under My Desk. UPDATE: I have completely re-written this tutorial with all new photos and better instructions and it is available as a licensed pattern in my pattern shop.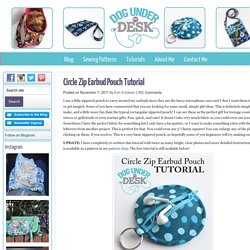 The free tutorial for personal use is still available below! I use a little zippered pouch to carry around my earbuds since they are the fancy microphone ones and I don't want them to break or get tangled. Some of you have commented that you are looking for some small, simple gift ideas.
---