PaperProjects
Pixelated popup card. Handmade Paper… | kiss the groom. 1.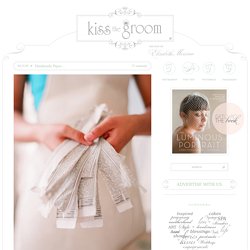 Select the pieces of paper to be recycled. You can even mix different types to create your own unique paper. 2. Rip the paper into small bits, and place into the blender. (about half full). Guest blogger - Sasha from The Guilded Bee: Here's another DIY project from our sweet friend, Sasha - from the The Gilded Bee.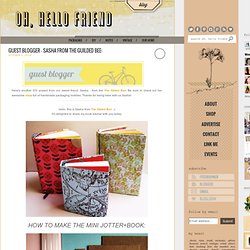 Be sure to check out her awesome shop full of handmade packaging lovelies. Thanks for being here with us Sasha! I'm delighted to share my book tutorial with you today: Supplies you'll need to make this project: Make This - Stab Bound Notebooks - Luxe DIY - How Did You Make This? I find myself writing things down for people all the time – web addresses, directions, the name of a glue, the name of a bar, etc.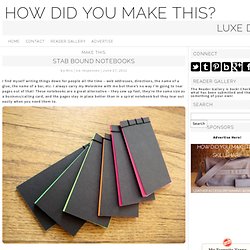 I always carry my Moleskine with me but there's no way I'm going to tear pages out of that! These notebooks are a great alternative – they sew up fast, they're the same size as a business/calling card, and the pages stay in place better than in a spiral notebook but they tear out easily when you need them to. What do you think it is? Think of it only a paper cup old ... _ I empty picture sharing. Craft DIY Projects, Patterns, How-tos, Fashion, Recipes @ Craftzine.com - Felting, Sewing, Knitting, Crocheting, Home & More. Quilling, the coiling and shaping of narrow paper strips to create a design, has been around for years — hundreds, in fact.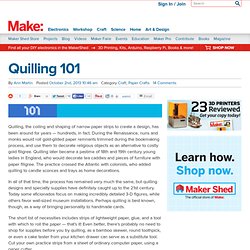 During the Renaissance, nuns and monks would roll gold-gilded paper remnants trimmed during the bookmaking process, and use them to decorate religious objects as an alternative to costly gold filigree. Quilling later became a pastime of 18th and 19th century young ladies in England, who would decorate tea caddies and pieces of furniture with paper filigree. The practice crossed the Atlantic with colonists, who added quilling to candle sconces and trays as home decorations. In all of that time, the process has remained very much the same, but quilling designs and specialty supplies have definitely caught up to the 21st century. Today some aficionados focus on making incredibly detailed 3-D figures, while others favor wall-sized museum installations. How to Make a 3d Paper Star.
I was in need of a star to top a rolled paper Christmas tree I am working on, so to be all matchy matchy, I made it out of paper.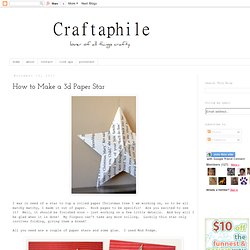 Book pages to be specific! Are you excited to see it? Well, it should be finished soon - just working on a few little details. You Give Me A Book & I'll Give You a Flower. Map love. DIY: Paper-bead bookmark. Christmas 2005 was the holiday of the "book stuff".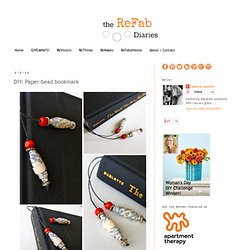 I churned out book clocks (something I'll post about one day) and what I called "book-Its" by the dozen, both as gifts and to make a little extra cash. Turns out those book-Its started to show a little wear towards the end of 2011 and a few friends have asked for another one... because it's their "go to" bookmark. Since I'm making them anyway, here's a little how to. They could not be simpler to make! So here goes ... Modern Wall Art with Paint Swatches! Looking for a way to fill that blank wall but don't have permission to paint?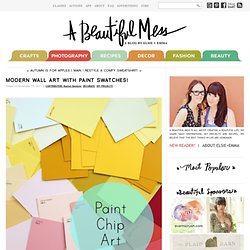 All you need is a trip to a major hardware store and an afternoon in front of a good movie to take care of that little dilemma. Supplies Needed: Large frame with paper insert, a ton of pretty paint chips, double-sided tape squares, and vinyl letters appropriate to the size of your frame or phrase (4" - 6"). I went with a color scheme that involved a variety of tones from some of my favorite colors.
Geometric Photo Art Project. Amanda, of Indie Jane, and I have been dreaming up extra pretty projects for you this coming season.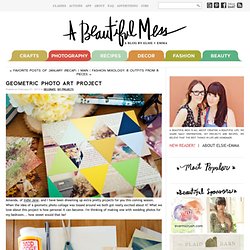 When the idea of a geometic photo collage was tossed around we both got really excited about it! What we love about this project is how personal it can become. I'm thinking of making one with wedding photos for my bedroom... how sweet would that be? Supplies Needed: Poster board (cut slightly larger than the frame you wish to use), glue or double-sided tape, scissors, triangle template to trace (mine was 2.5 inches on each side of the triangle using a ruler), paint swatches in colors you love, vintage book pages, and a few of your favorite photos.
DIY Magazine Envelopes. As promised, here is a tutorial on making your own envelopes for stationery sets.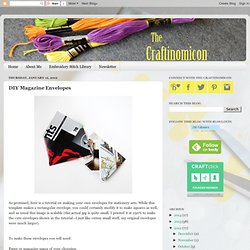 While this template makes a rectangular envelope, you could certainly modify it to make squares as well, and as usual this image is scalable (the actual jpg is quite small, I printed it at 250% to make the cute envelopes shown in the tutorial--I just like cutesy small stuff, my original envelopes were much larger). To make these envelopes you will need: Paper or magazine pages of your choosing. scissors or an X-Acto knife a ruler Envelope template (below) glue (elmer's or glue sticks work just fine--if you do not have glue, you can go without and use stickers to close your envelope as well) Start by printing the following template to your desired size: Cut out your template and trace it onto your paper of choice. Gift Ideas for poor creative souls (6)
You know how it goes, a friend calls you and invites you to dinner at the last minute.
OMG! What gift can you take?! You scrabble around the cupboards trying to find a box of chocolates or a bottle of wine but find that most of the chocolates have been eaten and the wine has gone. D.I.Y. Instagram Calendar. As you know, I've made it my New Year's goal to complete 52 crafts projects in 2012. Just simple and fun projects to use for my home, get organized, to wear and sometimes to give as gifts. Even though it's not quite yet the new year, I decided to go ahead and get rolling!
As part of my mother's Christmas present I decided to make her a calendar for 2012 that featured a different picture of my dog for each month (she's just about as crazy for my dog as I am!). I used instagram photos c/o Postal Pix. Supplies needed: 12 subject images (I used instagram pictures of my dog), plain poster board, a mini calendar (or you can create your own calendar pages), scissors, glue, yarn and decorative paper for the cover (I used silver glitter craft paper).
---