Awesome
The knife song!
Welcome | Sex Pistols | The Official Website
Koalas to the Max dot Com
- StumbleUpon
- StumbleUpon
Okay, so we're only three weeks in to this whole thing and I'm already showing you a tame look after I totally promised some of you that I'd do a newsprint nail tutorial this week. Newsprint we can do next week, but for right now I wanted/needed a manicure by a professional. As I told you in the first "Get Yo' Nails Did", it's important to include real manicures in your nail routine if you're not comfortable cutting your cuticles and getting into the real work at home. I am not.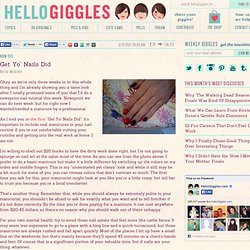 Get Yo' Nails Did
Where Professional Models Meet Model Photographers - ModelMayhem
Sleeveface
HugeURL
O.B.® Triple Sorry
Moss graffiti HOW TO
O.B.® Triple Sorry
Anonymous Confessions
As they say, what happens in Vegas stays in Vegas – but what if we could share with full discretion?