Interesting news to check on
Found in the Trash: A Box of Otherworldly Notes
You know why the internet is awesome?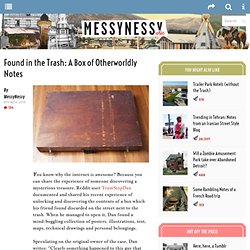 27 Mind Blowing Facts They Didn't Teach You At School | Viral Circus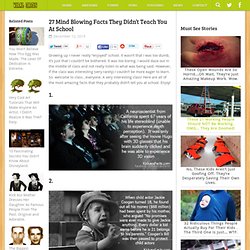 Home / Awesome / 27 Mind Blowing Facts They Didn't Teach You At School
Mozilla's Lightbeam add-on lets you see who is tracking you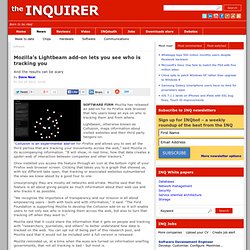 SOFTWARE FIRM Mozilla has released an add-on for its Firefox web browser that lets users keep an eye on who is tracking them and from where. Lightbeam, otherwise known as Collusion, maps information about visited websites and their third party hangers-on. "Collusion is an experimental add-on for Firefox and allows you to see all the third parties that are tracking your movements across the web," said Mozilla in its accompanying information.
5 greatest unsolved enigmas of humanity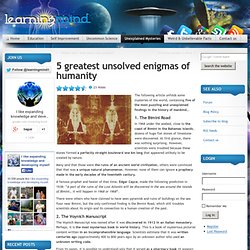 The following article unfolds some mysteries of the world, containing five of the most puzzling and unexplained findings in the history of mankind… 1. The Bimini Road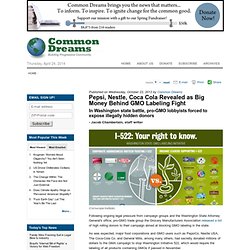 Pepsi, Nestle, Coca Cola Revealed as Big Money Behind GMO Labeling Fight
(Cornucopia Institute)Following ongoing legal pressure from campaign groups and the Washington State Attorney General's office, pro-GMO trade group the Grocery Manufacturers Association released a list of high rolling donors to their campaign aimed at blocking GMO labeling in the state. As was expected, major food corporations and GMO users such as PepsiCo, Nestle USA, The Coca-Cola Co. and General Mills, among many others, had secretly donated millions of dollars to the GMA campaign to stop Washington Initiative 522, which would require the labeling of all products containing GMOs if passed in November.
World's first bio-robot runs on Russian artificial intelligence technology
i-Free, a Russian mobile applications and games developer and publisher, provided the artificial intelligence (AI) technology used in the world's first bionic man, a bio-robot named Frank, created by UK-based Shadow Robot Co. The Bionic Man showcases the latest achievements in bionics and prosthetics.
Voynich manuscript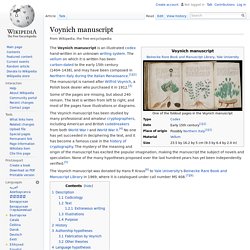 The Voynich manuscript is an illustrated codex hand-written in an unknown writing system. The book has been carbon-dated to the early 15th century (1404–1438), and may have been composed in Northern Italy during the Italian Renaissance.[1][2] The manuscript is named after Wilfrid Voynich, a book dealer who purchased it in 1912.[3] The pages of the codex are vellum. Some of the pages are missing, but about 240 remain. The text is written from left to right, and most of the pages have illustrations or diagrams.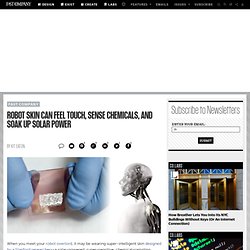 Robot Skin Can Feel Touch, Sense Chemicals, and Soak Up Solar Power
When you meet your robot overlord, it may be wearing super-intelligent skin designed by a Stanford researcher--a solar-powered, super-sensitive, chemical-sampling covering that makes your meatbag covering look pathetic. Zhenan Bao is behind the advances, and the recent development centers on a stretchable solar cell system that can expand and shrink along two different axes, making it perfect for incorporation into artificial skin for robots, human prosthetic limbs, or even clothing. Bao's earlier successes with artificial skin have resulted in a highly flexible and durable material, which is part of a flexible organic-chemistry transistor, built on a thin polymer layer. When the skin is subjected to pressure, the current flowing through the transistors is modified as tiny pyramid shapes molded into the polymer layer compress, resulting in a super-sensitive transducer that can apparently detect the pressure from a house-fly's feet.
Google X labs confirms augmented reality glasses project, releases video demo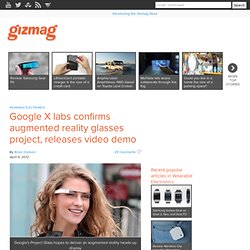 Google's Project Glass hopes to deliver an augmented reality heads-up display
Raspberry Pi SBC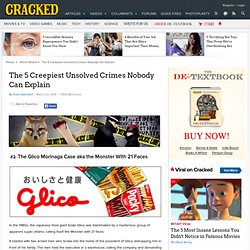 The Glico Morinaga Case aka the Monster With 21 Faces In the 1980s, the Japanese food giant Ezaki Glico was blackmailed by a mysterious group of apparent super villains, calling itself the Monster with 21 faces. It started with two armed men who broke into the home of the president of Glico, kidnapping him in front of his family. The men held the executive in a warehouse, calling the company and demanding 100 million Yen and 100 kilos of gold bullion.
The 5 Creepiest Unsolved Crimes Nobody Can Explain
PORTLAND, Maine — A treasure hunter said Wednesday he has located the wreck of a British merchant ship that was torpedoed by a German U-boat off Cape Cod during World War II while carrying what he claims was a load of platinum bars now worth more than $3 billion. If the claim proves true, it could be one of the richest sunken treasures ever discovered.
Treasure hunter claims to have found $3 billion wreck - US news - Life