Fabmap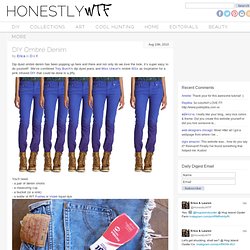 Dip dyed ombré denim has been popping up here and there and not only do we love the look, it's super easy to do yourself! We've combined Tory Burch 's dip dyed jeans and Miss Unkon 's ombré 501s as inspiration for a pink infused DIY that could be done in a jiffy. Start by rinsing your shorts with water.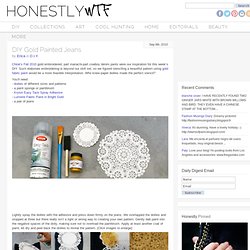 Chloé's Fall 2010 gold embroidered, part mariachi-part cowboy denim pants were our inspiration for this week's DIY. Such elaborate embroidering is beyond our skill set, so we figured stenciling a beautiful pattern using gold fabric paint would be a more feasible interpretation.
Art of Crochet by Teresa - How to make the Crochet Crocodile Scale Stitch
So here comes a tutorial on how to do lattice smocking, the smock on the left in this picture. Just as in honeycomb smocking one have a net of dots on the fabric, this time we are marking them out on the backside of the fabric.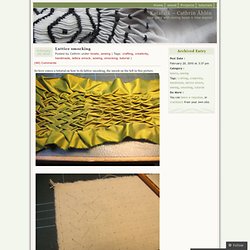 Lattice smocking « learningtofly – Katafalk
Marie Grace Designs: Smocking by Hand...
Okay... here we go... let's smock!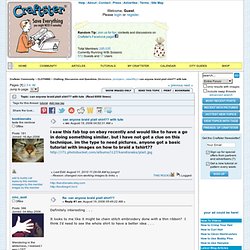 can anyone braid plait shirt?? with tute
I didn't have any scrap fabric...so this is a plastic tablecloth...but it will do for this tutorial.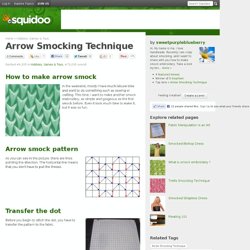 Arrow Smocking Technique
In the weekend, mostly I have much leisure time and want to do something such as sewing or crafting. This time, I want to make another smock embroidery, as simple and gorgeous as the first smock before.
Trellis Smocking Technique is one of the beautiful smock.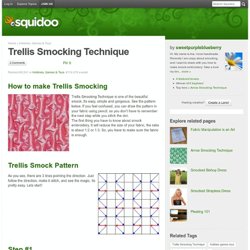 Trellis Smocking Technique
I made this costume for a client last spring as part of my 2nd year of a bachelor degree in Costume making.
Owl Costume + fabric feather tutorial *I finally have modelled photos*