Fabmap
DIY Ombré Denim. Dip dyed ombré denim has been popping up here and there and not only do we love the look, it's super easy to do yourself!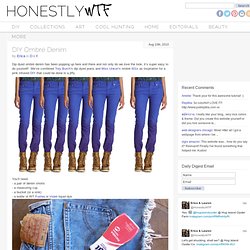 We've combined Tory Burch's dip dyed jeans and Miss Unkon's ombré 501s as inspiration for a pink infused DIY that could be done in a jiffy. Start by rinsing your shorts with water. DIY Gold Painted Jeans. Chloé's Fall 2010 gold embroidered, part mariachi-part cowboy denim pants were our inspiration for this week's DIY.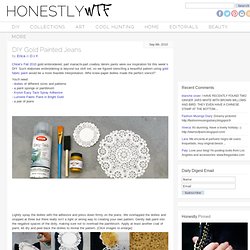 Such elaborate embroidering is beyond our skill set, so we figured stenciling a beautiful pattern using gold fabric paint would be a more feasible interpretation. Who knew paper doilies made the perfect stencil? Lightly spray the doilies with the adhesive and press down firmly on the jeans. We overlapped the doilies and stopped at three but there really isn't a right or wrong way to creating your own pattern. Gently dab paint into the negative spaces of the doily, making sure not to overload the paintbrush. Art of Crochet by Teresa - How to make the Crochet Crocodile Scale Stitch. Lattice smocking « learningtofly – Katafalk. So here comes a tutorial on how to do lattice smocking, the smock on the left in this picture.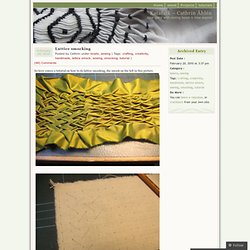 Just as in honeycomb smocking one have a net of dots on the fabric, this time we are marking them out on the backside of the fabric. To make it simple we also mark out how we are going to gather the dots this time. In this kind of smocking we are working from the back, so the result will not be visible unless you turn your work over. It is also hard to see how it looks until you have made a few rows. Like this. Marie Grace Designs: Smocking by Hand... Okay... here we go... let's smock!
This is part 2 of my pleating and smocking tutorial. Part 1, which explains how to hand-pleat fabric, can be found here. Smocking is very simple once you get a few basic rules straight. In its simplest form smocking is nothing but basic back stitching. Can anyone braid plait shirt?? with tute. I didn't have any scrap fabric...so this is a plastic tablecloth...but it will do for this tutorial.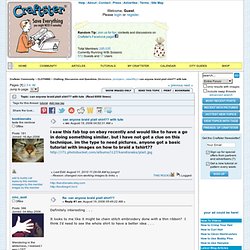 Start by folding the fabric in half with the crease where you want your 'braid'. Then cut notches like this. (do some testing on some other fabric to see how far apart and how long you want these...it will determine how large your braid looks.) Open the fabric up...see all the notches? Charming Window Pillows. Hi!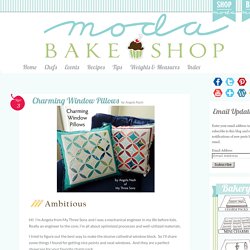 I'm Angela from My Three Sons and I was a mechanical engineer in my life before kids. Really an engineer to the core, I'm all about optimized processes and well-utilized materials. I tried to figure out the best way to make the elusive cathedral window block. So I'll share some things I found for getting nice points and neat windows. Owl Costume + fabric feather tutorial *I finally have modelled photos* I made this costume for a client last spring as part of my 2nd year of a bachelor degree in Costume making.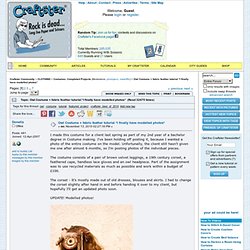 I've been holding off posting it, because I wanted a photo of the entire costume on the model. Unfortunally, the client still hasn't given me one after almost 6 months, so I'm posting photos of the individual pieces. The costume consists of a pair of brown velvet leggings, a 19th century corset, a feathered cape, handless lace gloves and an owl headpiece. Part of the assignment was to use recycled materials as much as possible and work within a budget of £100. The corset - It's mostly made out of old dresses, blouses and skirts.
---