Videos
Rosencrantz & Guildenstern Are Dead - Questions Game. Pippin, live in Toronto, 1982 (full, uncut) 7 Tips on How to Make Lucky Paper Stars. Edit Article Edited by Ansontaylor, Ian Taylor, Maluniu, Jojor1215 and 38 others Exquisite little paper stars can be used for decorations, jewelery, craft projects and gift giving.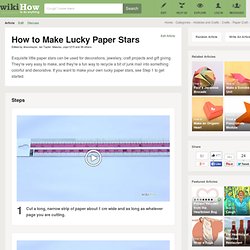 Click on "I'm UNDER 21" and enjoy. Dumb Ways to Die. Earth vs water bending gif. Ukrainian sand artist proves that reality TV's got talent | James Donaghy | Television & radio. Ukraine's Got Talent?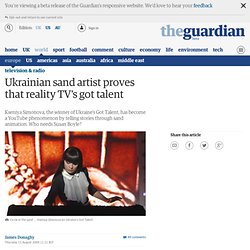 This much we already knew. There's Mikhail Bulgakov, Olga Kurylenko and the Klitschko brothers. We can now add Kseniya Simonova to that list who has won the Ukrainian version of Britain's Got Talent with sand animation. Yes, you heard right. She tells stories through sand. "Hava Nagila" + Laura Martinez = Sideways Running! Like a boss. Elephant + Trampaline gif. Extraneous Lyrics. "Fuck you" Sign language performance. "Single Ladies" ASL. "Thriller" in ASL. "Bad Romance" ASL. Dirty Sign Language. Upload dirtysignswithkristin.com Subscription preferences.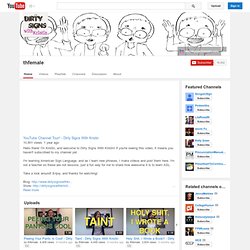 Evolution of Dance. Samuel L. Jackson narrates "Go the Fuck to Sleep" Author Adam Mansbach, after repeated struggles to get his two-year-old daughter to fall asleep, once sent out a jokey Facebook post reading: "Look out for my forthcoming children's book, 'Go the Fuck to Sleep.'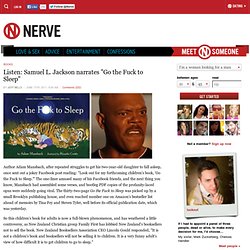 " The one-liner amused many of his Facebook friends, and the next thing you know, Mansbach had assembled some verses, and bootleg PDF copies of the profanity-laced opus were suddenly going viral. The thirty-two-page Go the Fuck to Sleep was picked up by a small Brooklyn publishing house, and even reached number one on Amazon's bestseller list ahead of memoirs by Tina Fey and Steven Tyler, well before its official publication date, which was yesterday. So this children's book for adults is now a full-blown phenomenon, and has weathered a little controversy, as New Zealand Christian group Family First has lobbied New Zealand's booksellers not to sell the book. Where the Wild Things Are (as read by Christopher Walken)
Simon's Cat in 'Double Touble'
Animal videos. Finger Gadget. Better than dominos. Epic Rube Goldberg Machine. Inspector Gadget theme song played on beer bottles. First Contact - Why We Are Left Alone. Life of a Pet AT-AT. Boba Fett Plays Zelda Song On Accordion.
---