Appetizers
Jul 04 2008 ** Happy 4th of July everyone (in the USA)!!!I miss being out of the States on this holiday.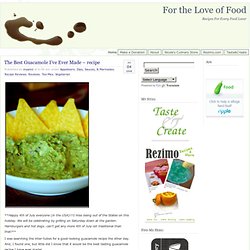 Maui Onion Dip
We are a dippy family. Yeah those you that know us probably just nodded your head yes and agreed with that statement, but I'm not talking that kind of dippy, I'm talkin' dip dip. We love dips. Be it artichoke or olive, dill, veggie or clam, (hey we are from New England after all) or even the Heluva Good dips my husband loves to keep the fridge stocked with, we love a good dippin'. Onion dip is one of our favorites and up until now we enjoyed the occasional Lipton onion dip, but sadly, that can be no more. I'm afraid I have to cast off the powdery dip in the pouch now that I have found this dip.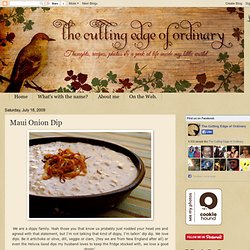 Recipe for Crispy Marinated Mozzarella at Life
When my sister came over for pizza the other night I also attempted to make some fried mozzarella. I say attempted because the first go around pretty much failed. Not one to give up on the quest to find the perfect fried cheese, I decided to give these little devils a shot again last night and I am happy to say things worked out beautifully.
You want french fries. You know you do. But it's the first week of January, and you're trying to be really good with what you eat. So, you turn down any fast food offerings that whisper sweet nothings to your tastebuds and tie a chastity ring around your lips. Goodness gracious, whatever are you making such a fuss for?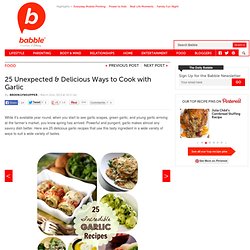 I think I have discovered the ultimate way to use up leftover mashed potatoes and the perfect appetizer for New Year's Eve cocktail parties. First you mix left over potatoes with fresh roasted garlic and shredded Gruyere cheese. Next they are coated in a mixture of regular and panko bread crumbs. Finally you take the cheesy roasted garlic potato balls and fry them until they are perfectly golden brown.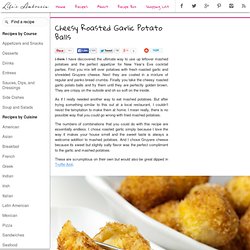 Oh dear. I never should have done this. This may be one of my biggest mistakes all year. Can't take it back now.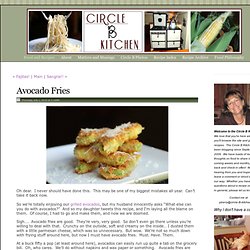 I'm not usually big on fried foods but I had a hankering for something crispy and cheesy. One Italian inspired appetizer I enjoy on occasion is toasted ravioli. Having this as an appetizer for my Pasta Party dinner was great since it featured how pasta doesn't always have to be the main course of a meal. In fact, I thought this Toasted Ravioli with Marinara Sauce rivaled versions found at restaurants! What's great about this recipe is that it's easy to make, especially if you're going with the convience of frozen ravioli.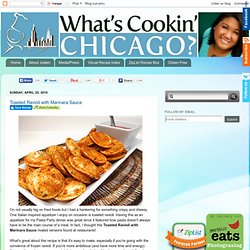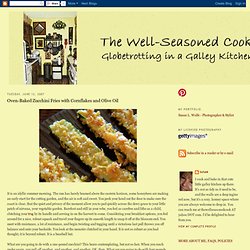 It is an idyllic summer morning. The sun has barely beamed above the eastern horizon, some honeybees are making an early start for the cutting garden, and the air is soft and sweet. You peek your head out the door to make sure the coast is clear, that the quiet and privacy of the moment allow you to pad quickly across the dewy grass to your little patch of nirvana, your vegetable garden. Barefoot and still in your robe, you feel as carefree and lithe as a child, clutching your trug by its handle and zeroing in on the harvest to come. Considering your breakfast options, you feel around for a nice, robust squash and travel your fingers up its smooth length to snap it off at the blossom end. You meet with resistance, a lot of resistance, and begin twisting and tugging until a victorious last pull throws you off balance and onto your backside.
Baseball Bats in the Backyard - Squash Fries
Our Best Bites: Baked Sweet Potato Fries with Honey-Lime Dip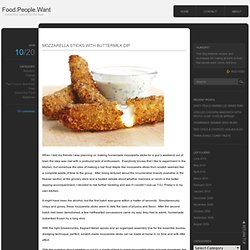 When I told my friends I was planning on making homemade mozzarella sticks for a guy's weekend out of town the idea was met with a profound lack of enthusiasm. Everybody knows that I like to experiment in the kitchen, but somehow the idea of making a bar food staple like mozzarella sticks from scratch seemed like a complete waste of time to the group. After being lectured about the innumerable brands available in the freezer section at the grocery store and a heated debate about whether marinara or ranch is the better dipping accompaniment, I decided to risk further heckling and see if I couldn't one-up T.G.I. Friday's in my own kitchen. It might have been the alcohol, but the first batch was gone within a matter of seconds. Simultaneously crispy and gooey, these mozzarella sticks seem to defy the laws of physics and flavor.
I eat a lot of salsa. A LOT. I am rather notorious for this, in fact.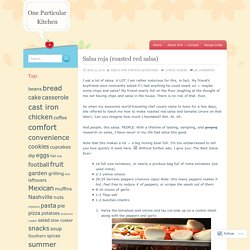 This recipe will got great with the Mama Mia's Minestrone from yesterday or any other great Italian meal. It is a recipe that I adapted from one I found in an issue of Simple and Delicious. These are easy to make because they start off with a can of refrigerated biscuit dough. However, they look fancy because you shape the dough in a knot.