Processing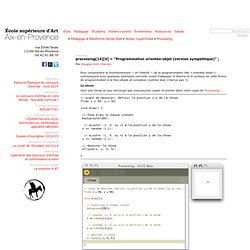 Processing tutorial in french
Pour comprendre le fonctionnement — et l'intérêt — de la programmation dite « orientée-objet », commençons avec quelques exemples concrets, avant d'attaquer la théorie et le syntaxe de cette forme de programmation à la fois simple et complexe (comme tout, n'est-ce pas ?). La chose Voici une chose un peu nerveuse que vous pouvez copier et animer dans votre copie de Processing :
friends of ED has been a part of the Apress family for eight years, and while we're not changing anything editorially, we are going to be transferring friendsofed.com over to apress.com. I'd like you to come with us to apress.com , where we can offer you the full selection of web development books and source code that we're creating for you, across both friends of ED and Apress. As you know, the landscape of web development has shifted massively over the last few years—the emergence of HTML5 and CSS3 with JavaScript, and related technologies, has brought web standards into main stream development areas. So from apress.com you'll see all the friends of ED books you expect, plus great web development titles from Apress in one location—so you can get the full technology picture.
Processing: Creative Coding and Computational Art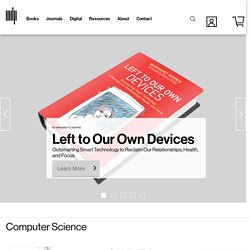 Climate engineering—which could slow the pace of global warming by injecting reflective particles into the upper atmosphere—has emerged in recent years as an extremely controversial technology. And for good reason: it carries unknown risks and it may undermine commitments to conserving energy. Some critics also view it as an immoral human breach of the natural world.
Nov 11, 2013 | Marius Watz: Sound as Data Workshop, ITP NYUDownload: See GitHub As part of my on-going ITP residency I am doing a few workshops on specialized code topics. This weekend I revisited my previous work on using sound as an input for visuals or geometry, using Processing and Minim. It was only a 3 hour workshop, but we covered the basics: Opening line in or sound file inputsAccessing sound bufferNormalizing volumeUsing damping to control FFT behavior All code has been posted on GitHub, original description below.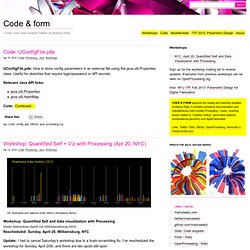 CodeTree
A paradigm has set in the development of industry networks lately for your development of mobile website development. This growth has changed the behavior of customers. The introduction of Mobile Internet site Development has completely altered the way in which, men and women search about the "Internet".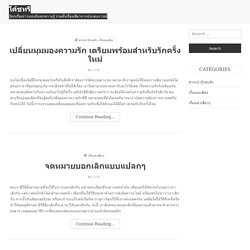 lateral.net
de.bezier.mysql
The History of Sampling
flock to neighbor
TomC's Processing Sketchbook
artificial.dk
Bubble Chamber | Processing exhibition, November 2003
Rosetta Stone of Basic Programs Used At ITP
Proce55ing sketchbook by Alessandro Capozzo
toxi: generative interactive objects, art, demos, games, source
toxi: Processing works
:. beyondThree v.4 .:. mikkel . crone . koser .:. interaction de