Recipes
Muffin Recipes. Chocolate Chocolate-Chip Muffins Recipe : Nigella Lawson. Bolos e bolinhos. Duas receitas de bolo de chocolate fofo, saboroso(venham ver, tenho fotos novas) Olá pessoal!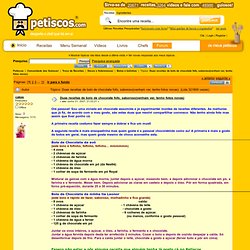 Sou uma viciada em chocolate assumida e já experimentei montes de receitas diferentes. As melhores que já fiz, de acordo com o meu gosto, são estas duas que resolvi compartilhar convosco. O segundo melhor bolo de chocolate do mundo. Chocolate Recipes. Bake at 350. Would You Like Chocolate With That? ~ Chocolate Cinnamon Bread. It's Friday again (already?)!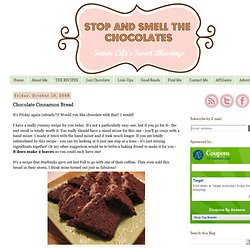 Would you like chocolate with that? I would! I have a really yummy recipe for you today. It's not a particularly easy one, but if you go for it - the end result is totally worth it. Would You Like Chocolate With That? ~ Rich Chocolate Chip Toffee Bars. Whenever I take these fabulous bars somewhere, I am asked for the recipe.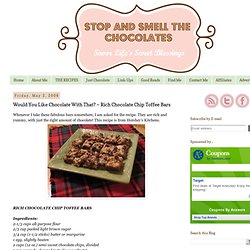 They are rich and yummy, with just the right amount of chocolate! This recipe is from Hershey's Kitchens. Ingredients: 2-1/3 cups all-purpose flour 2/3 cup packed light brown sugar 3/4 cup (1-1/2 sticks) butter or margarine 1 egg, slightly beaten 2 cups (12 oz.) semi-sweet chocolate chips, divided 1 cup coarsely chopped nuts (I use walnuts) 1 can (14 oz.) sweetened condensed milk (not evaporated milk) 1-1/3 cups (8 oz.) toffee bits, dividedDirections:1. Easy Chocolate Chip Fudge. Easy Chocolate Chip Fudge: 2 c. (12 oz. pkg.)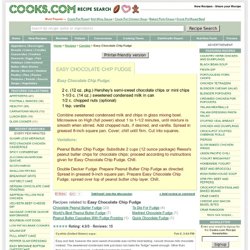 Hershey's semi-sweet chocolate chips or mini chips 1-1/3 c. (14 oz.) sweetened condensed milk in can 1/2 c. chopped nuts (optional) 1 tsp. vanilla. Stop and Smell the Chocolates.
---