recipes
Get flash to fully experience Pearltrees
Ingredients 1 3/4 cups all-purpose flour 2 teaspoons baking powder 1/2 teaspoon baking soda 2 tablespoons best quality cocoa powder 3/4 cup superfine sugar 3/4 cup semisweet chocolate chips, plus 1/4 cup for sprinkling 1 cup milk 1/3 cup plus 2 teaspoons vegetable oil 1 egg 1 teaspoon pure vanilla extract Directions Special equipment: Muffin tin with paper muffin cases Preheat the oven to 400 degrees F.
Olá pessoal! Sou uma viciada em chocolate assumida e já experimentei montes de receitas diferentes. As melhores que já fiz, de acordo com o meu gosto, são estas duas que resolvi compartilhar convosco.
It's Friday again (already?)!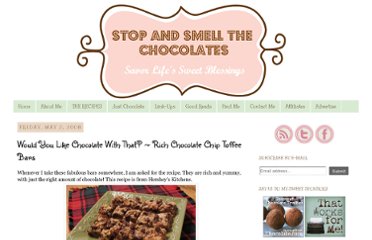 Whenever I take these fabulous bars somewhere, I am asked for the recipe.
Easy Chocolate Chip Fudge: 2 c. (12 oz. pkg.) Hershey's semi-sweet chocolate chips or mini chips 1-1/3 c. (14 oz.) sweetened condensed milk in can 1/2 c. chopped nuts (optional) 1 tsp. vanilla