Emprendedores
Vigiliam -La red empresarial útil para empresas y autónomos. Socios Inversores - Web de Financiación Colectiva - 10 Online Tools and Tips for the Budding Entrepreneur. Scott Gerber is a serial entrepreneur, syndicated columnist, public speaker and author of Never Get a "Real" Job.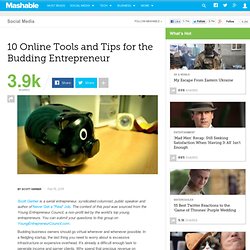 The content of this post was sourced from the Young Entrepreneur Council, a non-profit led by the world's top young entrepreneurs. You can submit your questions to this group on YoungEntrepreneurCouncil.com. Budding business owners should go virtual wherever and whenever possible. In a fledgling startup, the last thing you need to worry about is excessive infrastructure or expensive overhead. Verkami. Lanzanos.com.
Las Redes Sociales como Herramienta para Emprender. Gate2growth.com. SeedRocket.
---