Fashion
Welcome - GIANT VINTAGE - Vintage and Retro Sunglasses 70s 80s. Nany's Klozet. Tie-a-Tie.net | Learn How to Tie a Tie. Graduation Outfits - What to wear for the big day | SHINING TRENDS. If you are reading this, you're either a "local" or have been searching for lovely graduation outfits, what to wear for this big event – under the robe or as a guest.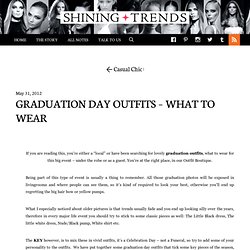 You're at the right place, in our Outfit Boutique. Being part of this type of event is usually a thing to remember. All those graduation photos will be exposed in livingrooms and where people can see them, so it's kind of required to look your best, otherwise you'll end up regretting the big hair bow or yellow pumps. What I especially noticed about older pictures is that trends usually fade and you end up looking silly over the years, therefore in every major life event you should try to stick to some classic pieces as well: The Little Black dress, The little white dress, Nude/Black pump, White shirt etc.
The KEY however, is to mix these in vivid outfits, it's a Celebration Day – not a Funeral, so try to add some of your personality to the outfits. Wholesale Evil Eye Lampwork Beads - Buy Cheap Evil Eye Lampwork Beads Lots for Jewelry Making, P1, 30. Boots fashion girls of years 60s 70s • Moda stivali e minigonne anni 1960 1970. Mental_floss Blog & The Quick 10: The Real People Behind 10 Fashion Houses. DIY Fringe Scarf | Lakeland Local. Everyone needs a go-to fringe scarf in their fashion repertoire.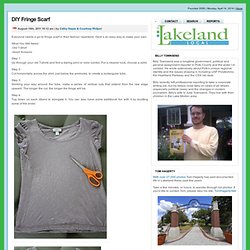 Here's an easy way to make your own. What You Will Need: -Old T-Shirt -Good Scissors Step 1: Go through your old T-shirts and find a daring print or color combo. Rings : Spotted Moth, Chic and sweet clothing and accessories for women. StyleMint. Modern Disney. Chloe Loves Charlie - Cute Dresses, fashion clothing and accessories for young women, teens & juniors. Vintage Inspired Dresses & Affordable Clothing. Wholesale Clothing (Asian, Korean, Japanese, Chinese) Fashion Clothing, Shoes, Handbags, Jewelry. Welcome to KNOW.LABEL. - home. Retro Indie Clothes & Vintage Inspired Clothing & Cute Fashion. Fashion & Beauty | Nicole Richie. Style Fundamentals. Live Action Getup: A Solid Base – Worn 3 Ways Categories: Learn Dressing well doesn't have to be hard, and one of the easiest ways to dress better without a lot of stress is to start with a great foundation.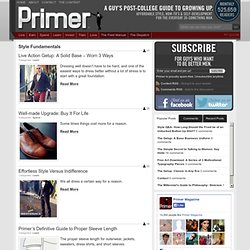 Read More. h2_C.I.52.24.2a,b.jpg 300×661 pixels. Art Inspired Outfits III. 15 Chic and Creative Ways to Tie a Scarf. How to tie a half-bow scarf To tie the half-bow scarf, you should first loop the scarf around your neck and tie once– like the first step of tying your shoelaces.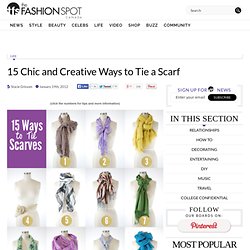 Then, take one side of the scarf and make a one loop, as if you were only tying one side of the bow on your shoes. DIY Sweat-sacoche diy-laptop-sweat - the Trendy Girl - StumbleUpon. Do You Want to Wear Mary-Kate and Ashley's T Shirts? | How Life Works - StumbleUpon. Fashion Accessories for Women, Fashion for Women | UncommonGoods - StumbleUpon. Login 0 items 888.365.0056 . live chat wish list & registry. check order status.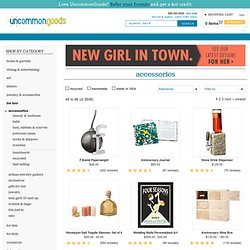 Jewelry Making| How to make jewelry| Beaded Jewelry Making. Watermark Tee by Sweet Verbana. Hello U-Create readers!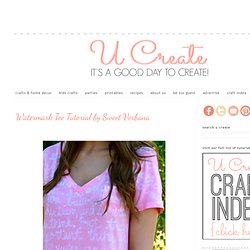 I am so excited to be guest posting here today. It just so happens to be my first guest post and I'm still a little shocked that it's here at Ucreate, one of my favorite blogs! A little bit about me.. P.S.- I made this... Single Loop Lace Infinity Scarf Tutorial. Materials: 1/ 2 yd Lace 1/2 yd Backing Fabric Matching thread (ignore the elastic thread shown in the pic) Tutorial: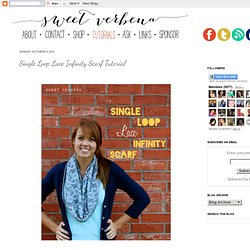 Shoe Makeover. I love the simple, carefree style of laceless tennis shoes, especially in the summer.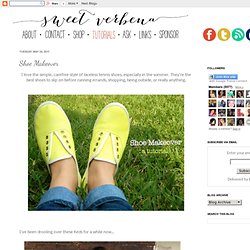 They're the best shoes to slip on before running errands, shopping, being outside, or really anything. I've been drooling over these Keds for a while now... However $50 for one pair of shoes really isn't in my budget. So when I saw plain white Keds knock offs at Walmart for only $5 , I knew exactly what I wanted to do. Materials Needed:
---