Tips and Tutorials
PersonalNote. Did you know on an average week I may be approached by as many as 20-35 artists looking for gallery representation?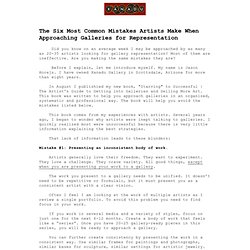 Most of them are ineffective. Are you making the same mistakes they are? How To Give Your Photos a Dark Processed Lomo Effect. Follow this step by step post processing guide to give your photos a dark lomo style effect with high contrast, blue tones and vignette burns.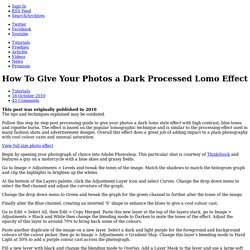 The effect is based on the popular lomographic technique and is similar to the processing effect used in many fashion shots and advertisement designs. Overall this effect does a great job of adding impact to a plain photography with cool colour casts and unusual saturation. Today's art assignment... Best Practices of Combining Typefaces - Smashing Magazine. Advertisement Creating great typeface combinations is an art, not a science.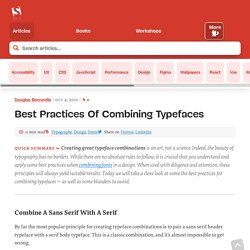 Indeed, the beauty of typography has no borders. While there are no absolute rules to follow, it is crucial that you understand and apply some best practices when combining fonts in a design. When used with diligence and attention, these principles will always yield suitable results. Today we will take a close look at some the best practices for combining typefaces — as well as some blunders to avoid. Adobe InDesign CS5, Advanced Typography and Special Characters. Adobe's InDesign is considered to be the most advanced multi-page editor software, but we need to take advantage of it's full power to quickly create and deliver professionally formatted documents.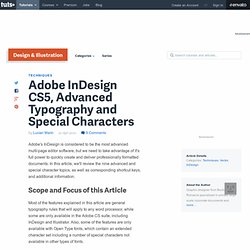 In this article, we'll review the nine advanced and special character topics, as well as corresponding shortcut keys, and additional information. Scope and Focus of this Article.
---