Health
The making of an action hero body - Entertainment - Movies. When I was hired to train an actor for an action film, the studio executives would express how important it was to transform their body so they looked like an action hero.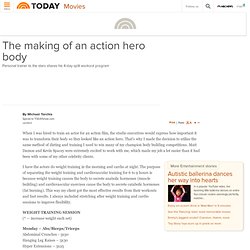 That's why I made the decision to utilize the same method of dieting and training I used to win many of my champion body building competitions. Matt Damon and Kevin Spacey were extremely excited to work with me, which made my job a lot easier than it had been with some of my other celebrity clients. I have the actors do weight training in the morning and cardio at night. The purpose of separating the weight training and cardiovascular training for 6 to 9 hours is because weight training causes the body to secrete anabolic hormones (muscle building) and cardiovascular exercises cause the body to secrete catabolic hormones (fat burning). How to: 6 minute work out. Hi BodyRockers, Today Freddy and I are starting to pack for our move and we are crazy busy.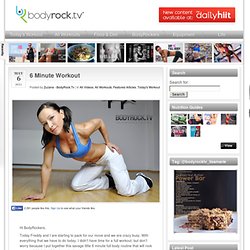 With everything that we have to do today, I didn't have time for a full workout, but don't worry because I put together this savage little 6 minute full body routine that will rock you out. I think that it is always better to do something than to skip your training completely, and this workout may come in a small package, but as you can see in the video, if you are pushing it at your max effort – full throttle – you won't have anything left after 6 minutes. This is a perfect solution if you find yourself really busy and pressed for time – and you can also extend the torture by doing this 2 times back to back.
How to: 4 minute work out. How to: Seemingly Simple excercises. One-legged squats don't seem very tricky—after all, you did manage to pick up that cotton ball you dropped without putting your newly pedicured foot on the floor—but squatting on one leg seriously challenges your balance.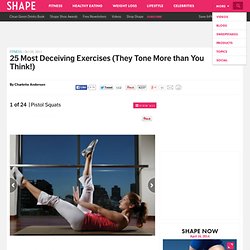 It also activates your core and just about every other muscle in your lower body, including your glutes, hamstrings, and calves. Try it: Stand holding your arms straight out in front of your body and raise your right leg off the floor. Push your hips back and lower your body as far as you can. Pause, then push your body back to the starting position. How to: Body work out w/ no gym. I have had horrible RSI and have gotten a lot better — I'm afraid what helped me was being able to take months off typing, and some weekly or biweekly Pilates.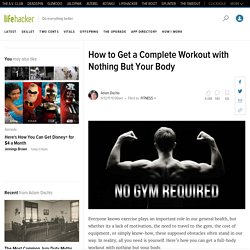 Luxury, insofar as `not crippled' is a luxury. I don't know what you can do while you have acute RSI, because every body is different etc etc., but this is what I came up with at the time: How to: Excercise finder for Women. Core Blasting Workout Without Sit-ups or Crunches. How to Get in Shape Without Weights. CHEST The first muscle we will talk about training is the chest, mainly due to it's one of the most popular and easily trained muscles.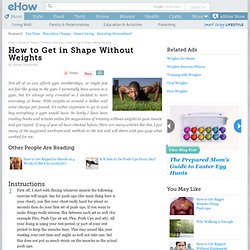 In my routine I do not say do 15 reps or 20 reps, the reps in push ups is up to you. So I use my max push ups (the most I can do until I can not push myself back off the floor). Then I cut that in half. The best workout songs and playlists for your running pace | Workout songs and playlists - jog.fm.
---